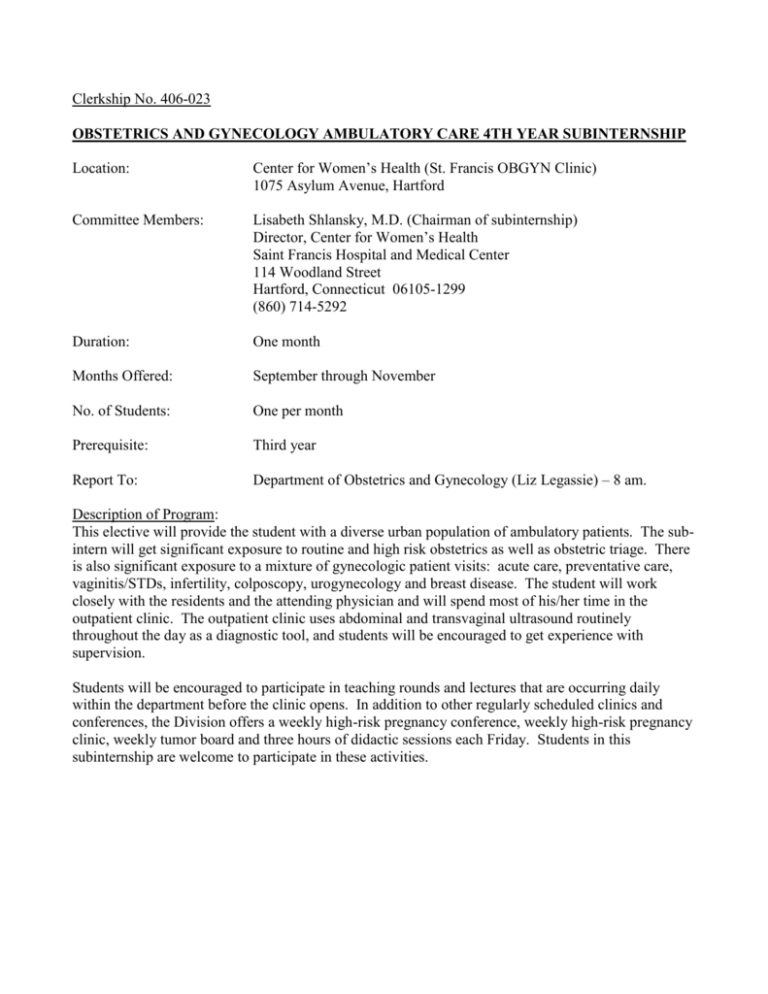 Clerkship No. 406-023
OBSTETRICS AND GYNECOLOGY AMBULATORY CARE 4TH YEAR SUBINTERNSHIP
Location:
Center for Women's Health (St. Francis OBGYN Clinic)
1075 Asylum Avenue, Hartford
Committee Members:
Lisabeth Shlansky, M.D. (Chairman of subinternship)
Director, Center for Women's Health
Saint Francis Hospital and Medical Center
114 Woodland Street
Hartford, Connecticut 06105-1299
(860) 714-5292
Duration:
One month
Months Offered:
September through November
No. of Students:
One per month
Prerequisite:
Third year
Report To:
Department of Obstetrics and Gynecology (Liz Legassie) – 8 am.
Description of Program:
This elective will provide the student with a diverse urban population of ambulatory patients. The subintern will get significant exposure to routine and high risk obstetrics as well as obstetric triage. There
is also significant exposure to a mixture of gynecologic patient visits: acute care, preventative care,
vaginitis/STDs, infertility, colposcopy, urogynecology and breast disease. The student will work
closely with the residents and the attending physician and will spend most of his/her time in the
outpatient clinic. The outpatient clinic uses abdominal and transvaginal ultrasound routinely
throughout the day as a diagnostic tool, and students will be encouraged to get experience with
supervision.
Students will be encouraged to participate in teaching rounds and lectures that are occurring daily
within the department before the clinic opens. In addition to other regularly scheduled clinics and
conferences, the Division offers a weekly high-risk pregnancy conference, weekly high-risk pregnancy
clinic, weekly tumor board and three hours of didactic sessions each Friday. Students in this
subinternship are welcome to participate in these activities.