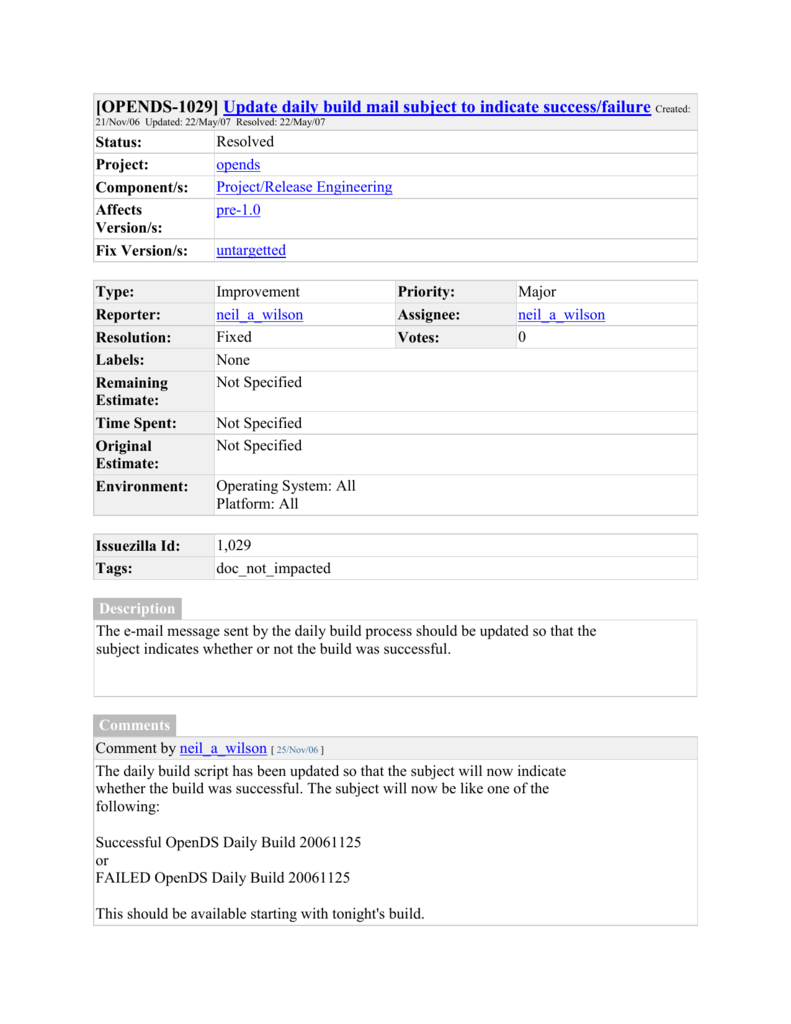 [OPENDS-1029] Update daily build mail subject to indicate success/failure Created:
21/Nov/06 Updated: 22/May/07 Resolved: 22/May/07
Status:
Project:
Component/s:
Affects
Version/s:
Fix Version/s:
Resolved
opends
Project/Release Engineering
pre-1.0
Type:
Reporter:
Resolution:
Labels:
Remaining
Estimate:
Time Spent:
Original
Estimate:
Environment:
Improvement
neil_a_wilson
Fixed
None
Not Specified
Issuezilla Id:
Tags:
1,029
doc_not_impacted
untargetted
Priority:
Assignee:
Votes:
Major
neil_a_wilson
0
Not Specified
Not Specified
Operating System: All
Platform: All
Description
The e-mail message sent by the daily build process should be updated so that the
subject indicates whether or not the build was successful.
Comments
Comment by neil_a_wilson [ 25/Nov/06 ]
The daily build script has been updated so that the subject will now indicate
whether the build was successful. The subject will now be like one of the
following:
Successful OpenDS Daily Build 20061125
or
FAILED OpenDS Daily Build 20061125
This should be available starting with tonight's build.
Comment by mkc [ 22/May/07 ]
From the summary, and perhaps a cursory look, this issue does not seem to affect
the documentation to be reviewed separately. This enhancement might be an
internal feature for OpenDS developers, and may be something that is seen in the
Javadoc by OpenDS extension developers, or seen by those running tests.
Generated at Wed Feb 10 02:21:32 UTC 2016 using JIRA 6.2.3#6260sha1:63ef1d6dac3f4f4d7db4c1effd405ba38ccdc558.