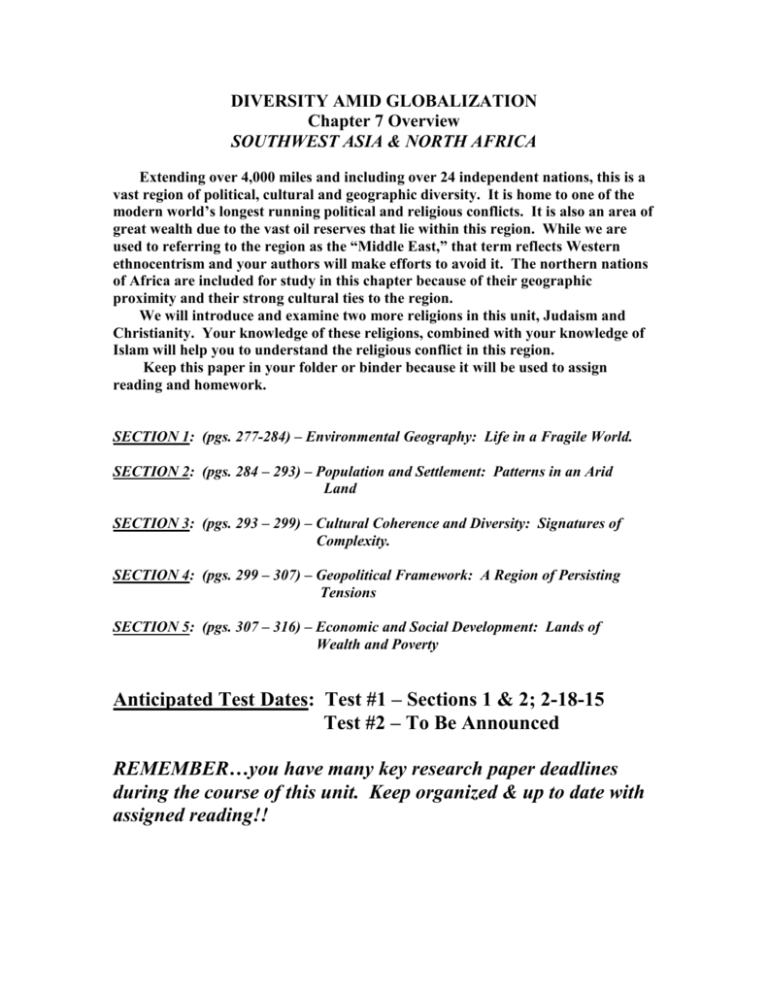 DIVERSITY AMID GLOBALIZATION
Chapter 7 Overview
SOUTHWEST ASIA & NORTH AFRICA
Extending over 4,000 miles and including over 24 independent nations, this is a
vast region of political, cultural and geographic diversity. It is home to one of the
modern world's longest running political and religious conflicts. It is also an area of
great wealth due to the vast oil reserves that lie within this region. While we are
used to referring to the region as the "Middle East," that term reflects Western
ethnocentrism and your authors will make efforts to avoid it. The northern nations
of Africa are included for study in this chapter because of their geographic
proximity and their strong cultural ties to the region.
We will introduce and examine two more religions in this unit, Judaism and
Christianity. Your knowledge of these religions, combined with your knowledge of
Islam will help you to understand the religious conflict in this region.
Keep this paper in your folder or binder because it will be used to assign
reading and homework.
SECTION 1: (pgs. 277-284) – Environmental Geography: Life in a Fragile World.
SECTION 2: (pgs. 284 – 293) – Population and Settlement: Patterns in an Arid
Land
SECTION 3: (pgs. 293 – 299) – Cultural Coherence and Diversity: Signatures of
Complexity.
SECTION 4: (pgs. 299 – 307) – Geopolitical Framework: A Region of Persisting
Tensions
SECTION 5: (pgs. 307 – 316) – Economic and Social Development: Lands of
Wealth and Poverty
Anticipated Test Dates: Test #1 – Sections 1 & 2; 2-18-15
Test #2 – To Be Announced
REMEMBER…you have many key research paper deadlines
during the course of this unit. Keep organized & up to date with
assigned reading!!