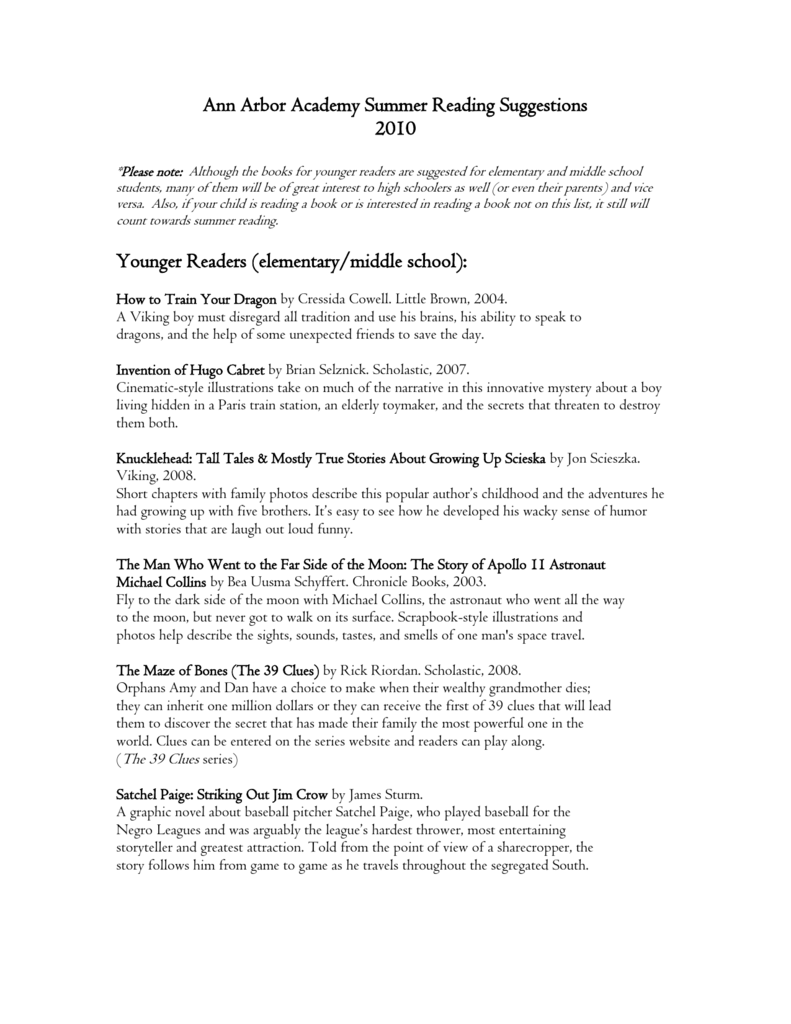 Ann Arbor Academy Summer Reading Suggestions
2010
*Please note: Although the books for younger readers are suggested for elementary and middle school
students, many of them will be of great interest to high schoolers as well (or even their parents) and vice
versa. Also, if your child is reading a book or is interested in reading a book not on this list, it still will
count towards summer reading.
Younger Readers (elementary/middle school):
How to Train Your Dragon by Cressida Cowell. Little Brown, 2004.
A Viking boy must disregard all tradition and use his brains, his ability to speak to
dragons, and the help of some unexpected friends to save the day.
Invention of Hugo Cabret by Brian Selznick. Scholastic, 2007.
Cinematic-style illustrations take on much of the narrative in this innovative mystery about a boy
living hidden in a Paris train station, an elderly toymaker, and the secrets that threaten to destroy
them both.
Knucklehead: Tall Tales & Mostly True Stories About Growing Up Scieska by Jon Scieszka.
Viking, 2008.
Short chapters with family photos describe this popular author's childhood and the adventures he
had growing up with five brothers. It's easy to see how he developed his wacky sense of humor
with stories that are laugh out loud funny.
The Man Who Went to the Far Side of the Moon: The Story of Apollo 11 Astronaut
Michael Collins by Bea Uusma Schyffert. Chronicle Books, 2003.
Fly to the dark side of the moon with Michael Collins, the astronaut who went all the way
to the moon, but never got to walk on its surface. Scrapbook-style illustrations and
photos help describe the sights, sounds, tastes, and smells of one man's space travel.
The Maze of Bones (The 39 Clues) by Rick Riordan. Scholastic, 2008.
Orphans Amy and Dan have a choice to make when their wealthy grandmother dies;
they can inherit one million dollars or they can receive the first of 39 clues that will lead
them to discover the secret that has made their family the most powerful one in the
world. Clues can be entered on the series website and readers can play along.
(The 39 Clues series)
Satchel Paige: Striking Out Jim Crow by James Sturm.
A graphic novel about baseball pitcher Satchel Paige, who played baseball for the
Negro Leagues and was arguably the league's hardest thrower, most entertaining
storyteller and greatest attraction. Told from the point of view of a sharecropper, the
story follows him from game to game as he travels throughout the segregated South.
Rick Yancy. The Extraordinary Adventures of Alfred Kropp.
Through a series of dangerous and violent misadventures, teenage loser Alfred Kropp rescues
King Arthur's legendary sword Excalibur from the forces of evil.
Eoin Colfer. Airman. This is a fast-paced, highly entertaining tale of flying machines, criminals,
martial arts, swordplay, princesses, poisons, and evil villains, mixed with themes of justice, revenge,
romance, good triumphing over evil, realizing one's dreams, blackmail, conspiracy, corruption, and
betrayal. From the author of Artemis Fowl.
Karen Hesse. The Music of the Dolphins.
After rescuing an adolescent girl from the sea, researchers learn she has been raised by dolphins
and attempt to rehabilitate her to the human world.
E. L. Konigsburg. The Outcasts of 19 Schuyler Place.
Upon leaving an oppressive summer camp, twelve-year-old Margaret Rose Kane spearheads a
campaign to preserve three unique towers her grand uncles have been building in their back yard
for over forty years.
Cynthia Lord. Rules.
Twelve-year-old Catherine just wants a normal life. Which is near impossible when you have a
brother with autism and a family that revolves around his disability. She's spent years trying to
teach David the rules-from "a peach is not a funny-looking apple" to "keep your pants on in
public"-in order to stop his embarrassing behaviors. But the summer Catherine meets Jason, a
paraplegic boy, and Kristi, the next-door friend she's always wished for, it's her own shocking
behavior that turns everything upside down and forces her to ask: What is normal? Newbery
Honor Book.
Stephanie Tolan. Surviving the Applewhites.
Jake, a budding juvenile delinquent, is sent for home schooling to the arty and eccentric
Applewhite family's Creative Academy, where he discovers talents and interests he never knew he
had. Newbery Honor Book
Bridge to Terabithia
by Katherine Paterson, Donna Diamond (illus.)
An extraordinarily powerful tribute to friendship, this Newbery Award-winning novel recounts the
unlikely friendship of a country boy, Jess, and his neighbor, an uprooted city girl named Leslie.
When Leslie is killed during a storm while trying to reach Terabithia, their secret hiding place, Jess
must gather all his strength to come to terms with his loss and find a way to heal.
Catherine, Called Birdy
by Karen Cushman
Catherine, the spirited and inquisitive daughter of an English country knight, narrates in diary
form the story of her 14th year -- in the year 1290. Here, she records the events of her life,
particularly her longing for adventures beyond the usual role of women and her efforts to avoid
being married off.
The Midwife's Apprentice
by Karen Cushman
In medieval England, a nameless, homeless girl is taken in by a sharp-tempered midwife and in
spite of obstacles and hardship, eventually gains the three things she wants most: a full belly, a
contented heart, and a place in this world.
The Phantom Tollbooth
by Norton Juster, Jules Feiffer (illus.)
This ingenious fantasy centers around Milo, a bored ten-year old who comes home to find a large
toy tollbooth sitting in his room. Joining forces with a watchdog named Tock, Milo drives
through the tollbooth's gates and begins a memorable journey. He meets such characters as the
foolish yet lovable Humbug, the Mathemagician, and the not-so-wicked "Which," Faintly
Macabre, who gives Milo the "impossible" mission of returning two princesses to the Kingdom of
Wisdom. Along his journey, Milo learns the importance of words and numbers -- and learns to
appreciate life.
L 'Engle, Madeleine, A Wrinkle in Time
Charles, Wallace, and Meg make a difficult journey to find their vanished father and
free him from the hateful force that holds him captive
Older Readers (middle/high school):
Neil Gaiman. The Graveyard Book. Newbery Award Winner The orphan Bod, short for
Nobody, is taken in by the inhabitants of a graveyard as a child of eighteen months and raised
lovingly and carefully to the age of eighteen years by the community of ghosts and otherworldly
creatures.
Jack London. The Call of the Wild.
Buck, who is half St. Bernard and half Scotch shepherd, is abducted and taken to the Klondike
where he reverts to the wild and becomes a leader of a pack of wolves.
Lee, Harper, To Kill a Mockingbird
Lawyer Atticus Finch defends a black man accused of raping a white woman in a small
Alabama town
Card, Orson Scott
Ender's Game - Intense is the word for Ender's Game. Aliens have attacked Earth twice and almost
destroyed the human species. To make sure humans win the next encounter, the world government
has taken to breeding military geniuses -- and then training them in the arts of war.
Faulkner, William
The Bear - Considered to be one of the greatest hunting stories of all time, but is also one of the
finest stories about the initiation of a young man into adulthood. Faulkner deals with sin, tainted
wealth, duty to fellow human, and many other significant social issues.
Gardner, John
Grendel - In the Old English epic Beowulf the hero of the title slays Grendel, the half-human
monster that nightly came to assault the citadel of the Danish king. When Grendel's even more
formidable mother comes to avenge him, Beowulf chases her back to her lair and dispatches her, as
well. In 1971 American novelist John Gardner achieved deserved celebrity for retelling these above
events from Grendel's point of view.
King, Laurie
The Beekeeper's Apprentice: Or on the Segregation of the Queen - King has created a wonderfully
original and entertaining story that is funny, heartwarming, and full of intrigue, with Holmes and
his young apprentice, Mary Russell, matching wits with some of the finer criminal minds of the
times, including the brilliantly diabolic daughter of Holmes' old enemy, Professor Moriarty.
The Complete Chronicles of Narnia
by C. S. Lewis, Chris Van Allsburg (illus.)
Enter the magical land of Narnia, where enchanted creatures live and battles are fought between
good and evil! The seven volumes of C. S. Lewis's famed fantasy series come boxed in a hardcover
case.
Achebe, Chinua, Things Fall Apart
A proud village leader is driven to murder and suicide by European changes to his
traditional Ibo society
Adams, Douglas, A Hitchhiker's Guide to the Universe
Hilarious travel guide to the galaxies
Allende, Isabelle, House of the Spirits
Ghosts and strange occurrences in the life an upper class family in South America
Austen, Jane, Pride and Prejudice
Can Mrs. Bennet find husbands for her five daughters?
Bradbury, Ray, Fahrenheit 451
Reading is a crime and firemen bum books in this futuristic society
Camus, Albert, The Stranger
Existential novel about a pointless murder by Nobel Prize winning author
Clarke, A. C., Childhood's End
The Overlords' conquest of the earth is peaceful until. . .
Cooper, Susan, Over Sea. Under Stone
Children enter the world of King Arthur; four other novels complete the adventures in the
series The Dark is Rising
Courtenay, Bruce, The Power of One
A young white boy growing up in South Africa deals with racial and other issues while he
strives to be a boxing champion. Beautifully written; great story
Hammett, Dashiel, The Maltese Falcon
First of the Sam Spade detective stories; hard-boiled characters in suspenseful plot
Maclean, Norman, A River Runs Through It
"In our family, there was no clear line between religion and fly fishing." Three beautifully
written stories of the West, fly fishing, and family.
Mahfouz, Naguib, Palace Walk
Fascinating story of a Muslim family in Cairo by Nobel Prize winning author
Poe, Edgar Allan, Tales
Chilling tales of the supernatural are not for the faint of heart
Shaara, Michael, The Killer Angels
Pulitzer Prize winning novel of the Battle of Gettysburg. Lee, Chamberlain, Pickett and
others come alive in this meticulous re-enactment of the great battle
Stewart, Mary, The Crystal Cave
The illegitimate son of a Welsh prince becomes the wizard Merlin. The sequel is The
Hollow Hills in which Merlin's adventures continue. Two more novels complete the set
of the Arthurian legend.
Vonnegut, Kurt, Slaughterhouse-Five or the Children's Crusade,
Billy Pilgrim, free in time, shuttles between the cellars of Dresden during the firebombing
of World War II and a luxurious zoo run by aliens
Wright, Richard, Native Son
Set in Chicago, this first major novel by the author of Black Boy tells of a young man's
victimization by racism and his inevitable lashing out.