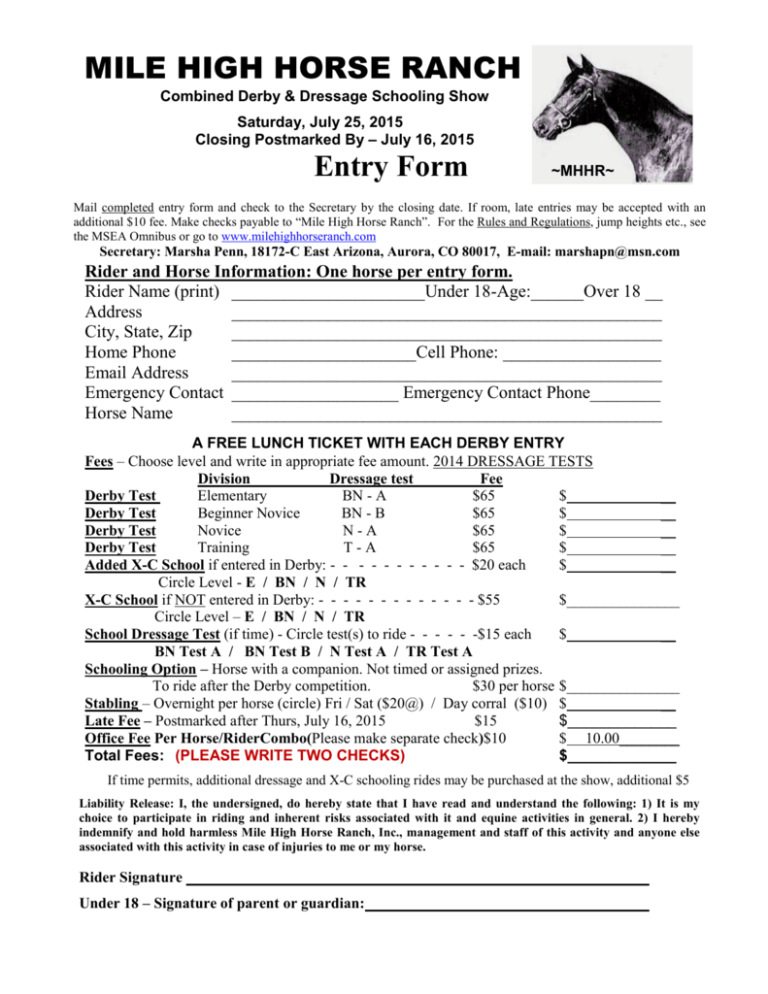 MILE HIGH HORSE RANCH
Combined Derby & Dressage Schooling Show
Saturday, July 25, 2015
Closing Postmarked By – July 16, 2015
Entry Form
~MHHR~
Mail completed entry form and check to the Secretary by the closing date. If room, late entries may be accepted with an
additional $10 fee. Make checks payable to "Mile High Horse Ranch". For the Rules and Regulations, jump heights etc., see
the MSEA Omnibus or go to www.milehighhorseranch.com
Secretary: Marsha Penn, 18172-C East Arizona, Aurora, CO 80017, E-mail: marshapn@msn.com
Rider and Horse Information: One horse per entry form.
Rider Name (print) ______________________Under 18-Age:______Over 18 __
Address
_________________________________________________
City, State, Zip
_________________________________________________
Home Phone
_____________________Cell Phone: __________________
Email Address
_________________________________________________
Emergency Contact ___________________ Emergency Contact Phone________
Horse Name
_________________________________________________
A FREE LUNCH TICKET WITH EACH DERBY ENTRY
Fees – Choose level and write in appropriate fee amount. 2014 DRESSAGE TESTS
Division
Dressage test
Fee
Derby Test
Elementary
BN - A
$65
$
__
Derby Test
Beginner Novice
BN - B
$65
$
__
Derby Test
Novice
N-A
$65
$
__
Derby Test
Training
T-A
$65
$
__
Added X-C School if entered in Derby: - - - - - - - - - - - $20 each
$
__
Circle Level - E / BN / N / TR
X-C School if NOT entered in Derby: - - - - - - - - - - - - - $55
$_______________
Circle Level – E / BN / N / TR
School Dressage Test (if time) - Circle test(s) to ride - - - - - -$15 each
$
__
BN Test A / BN Test B / N Test A / TR Test A
Schooling Option – Horse with a companion. Not timed or assigned prizes.
To ride after the Derby competition.
$30 per horse $_______________
Stabling – Overnight per horse (circle) Fri / Sat ($20@) / Day corral ($10) $
__
Late Fee – Postmarked after Thurs, July 16, 2015
$15
$_____________
Office Fee Per Horse/RiderCombo(Please make separate check)$10
$ 10.00________
Total Fees: (PLEASE WRITE TWO CHECKS)
$_____________
If time permits, additional dressage and X-C schooling rides may be purchased at the show, additional $5
Liability Release: I, the undersigned, do hereby state that I have read and understand the following: 1) It is my
choice to participate in riding and inherent risks associated with it and equine activities in general. 2) I hereby
indemnify and hold harmless Mile High Horse Ranch, Inc., management and staff of this activity and anyone else
associated with this activity in case of injuries to me or my horse.
Rider Signature
Under 18 – Signature of parent or guardian:
FYI
If you are entered in the Derby, your first dressage ride and your first cross-country
round at the same level will count for the Derby results. You can enter one (1) level below as
a schooling round. Example: You can enter a schooling round at Elementary and compete in
the Derby at BN, but if you ride twice in the BN Dressage or X-C, your first ride will count for
the Derby results.
If you decide you want to ride the cross-country again and you are not already signed up,
let the Starter or the Secretary know and she will give you a time in the level you want to ride,
immediately after the final competitor in the level has finished the course. Be sure you pay
MHHR for your extra round before you leave.
Please note: No more than two rounds of cross-country per horse.
Dressage: The dressage will be outside in the upper arena. Please park in the upper
pasture – follow signs past the hay shed and up the hill.
The old water jump will be filled and open for schooling. The new water jump will be part of
the Derby courses.
Schooling Option: If you have a super green horse and want to ride with another person
as in a pair pace to train your horse on the X-C, your round won't apply for the Derby and will
only cost $30 per horse plus the office fee. Any fences on the course may be taken or
omitted and you will not be timed.
JUMP FAULTS:
1st refusal on the same fence – 4 faults, 2nd – 8 faults, 3rd – Elimination, but can continue
3 refusals allowed on the entire course – 4th refusal – Elimination, but allowed to continue
Knock down a stadium jump rail – 4 faults
Rider falls off – Elimination. May not continue.
Take a warm-up jump the wrong way – 4 time faults will be added to score.
SCHOOLING:
Come school the X–C with an insured instructor ($25 per horse) except the week
preceding each Derby weather permitting. Have your instructor call 303-841-0313 or e-mail
vandaw@comcast.net to make an appointment. If you don't have an instructor and want to
come school, our trainer, Lynn Klisavage will work with you. We have lots of new fun jumps
(more than 20 at each level E - T) including a water complex, ditches, banks and narrows.
We now have many Prelim fences and are building more.