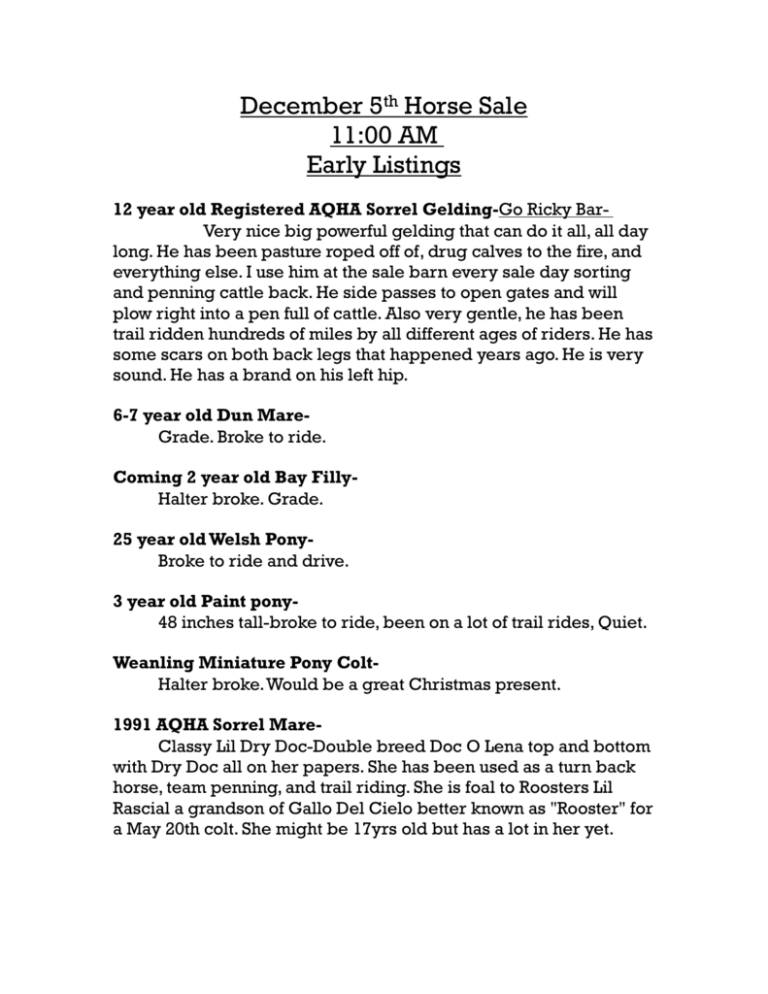 December 5th Horse Sale
11:00 AM
Early Listings
12 year old Registered AQHA Sorrel Gelding-Go Ricky BarVery nice big powerful gelding that can do it all, all day
long. He has been pasture roped off of, drug calves to the fire, and
everything else. I use him at the sale barn every sale day sorting
and penning cattle back. He side passes to open gates and will
plow right into a pen full of cattle. Also very gentle, he has been
trail ridden hundreds of miles by all different ages of riders. He has
some scars on both back legs that happened years ago. He is very
sound. He has a brand on his left hip.
6-7 year old Dun MareGrade. Broke to ride.
Coming 2 year old Bay FillyHalter broke. Grade.
25 year old Welsh PonyBroke to ride and drive.
3 year old Paint pony48 inches tall-broke to ride, been on a lot of trail rides, Quiet.
Weanling Miniature Pony ColtHalter broke. Would be a great Christmas present.
1991 AQHA Sorrel MareClassy Lil Dry Doc-Double breed Doc O Lena top and bottom
with Dry Doc all on her papers. She has been used as a turn back
horse, team penning, and trail riding. She is foal to Roosters Lil
Rascial a grandson of Gallo Del Cielo better known as "Rooster" for
a May 20th colt. She might be 17yrs old but has a lot in her yet.
1997 Bay AQHA MareOlena Misty Dawn-Broke to ride for anyone, we have her on
alot of trail rides and been behind cattle. She is in foal to Rooster's
Lil Rasical a grandson of Gallo Del Cielo better known as "Rooster"
for an April 10 colt. She has Doc O'Lena and Cutter Bill on her
papers.
2000 Buckskin Quarter/Pony Geldingwell broke, 8 year old girls rides him everywhere. Crosses
water, Loads, stands for tacking and mounting, he has been around
dogs, cats, kids, cows, good for farrier, easy going, smart, great
disposition, really nice trail horse, has a fast walk keeps up with the
big horses. He is 13hands and 750lbs.
2008 Bay AQHA FillyShe has been around dogs, cats, kids, other horses, 4wheelers, cows. She is going to be an amazing riding horse! Smart,
quick, easy going, and is willing to learn. Stands about 13.0 and
700lbs. She is going to be beautiful! I am selling because I am
going to school.
2000 Black AQHA Mare"Rascals Sport JD" #3910877. Well Broke, Sweet, Smart, Big,
Pretty, Nice mare. Well broke has been ridden by my dad, my mom,
also ridden by 9, 5, 7, year old girls. Rides in town, rode at Newton
hills. Been trail ridden a lot. Easy to catch, stands for tacking and
mounting, rides alone, nice fast walk. Does have speed but is a
really nice trail horse. 14.1 hands 1250lbs.
1999 Paint Grade MareShe rides in town, is use to dogs, cats, 4-wheelers, dirt bikes,
cows, tractors, cars, nice smooth gaits, rides bareback, also rides
double, easy keeper, no health issues, very nice trail mare. She is
14.2 and she weighs 1200lbs.
6 year old Registered POA GeldingLAZY N MR DREAMFINDER- Seal brown with blanket over
hindquarters. I had a trainer work with him this summer for 30
days. He did great on the ground, but needs more work in the
saddle. He is a beautiful horse but has trust issues. He needs
someone who will work with him everyday to gain his trust. He
wants to please. Would make an awesome barrel/roping horse.
UTD on shots and worming.
2000 Bay AQHA MareLarsons May Day Shi1999 Bay/Solid registered APHA geldingCP Kahlua Star- He is broke to ride. This Gelding is very quiet
and easy to catch. Stands while saddling and rides very nice. He is
a bay with 3 white socks and a blaze, he has no other white. He is
freeze branded, but you can not see it. He is used to all the tractors,
four-wheelers, dogs, shotguns, you name it. He is quiet, gentle, and
just a nice gelding. He would make a great 4H horse.
8 yr old grade paint gelding
Calm and kid broke, been on lots of trail rides
8 yr old grade buckskin paint gelding
Trail rides and been behind cattle
15 yr old grade grey gelding
Broke to ride
8 yr old grey welsh pony mare
Haul to lost of rodeos – hauls good
Been trail road all over the state.