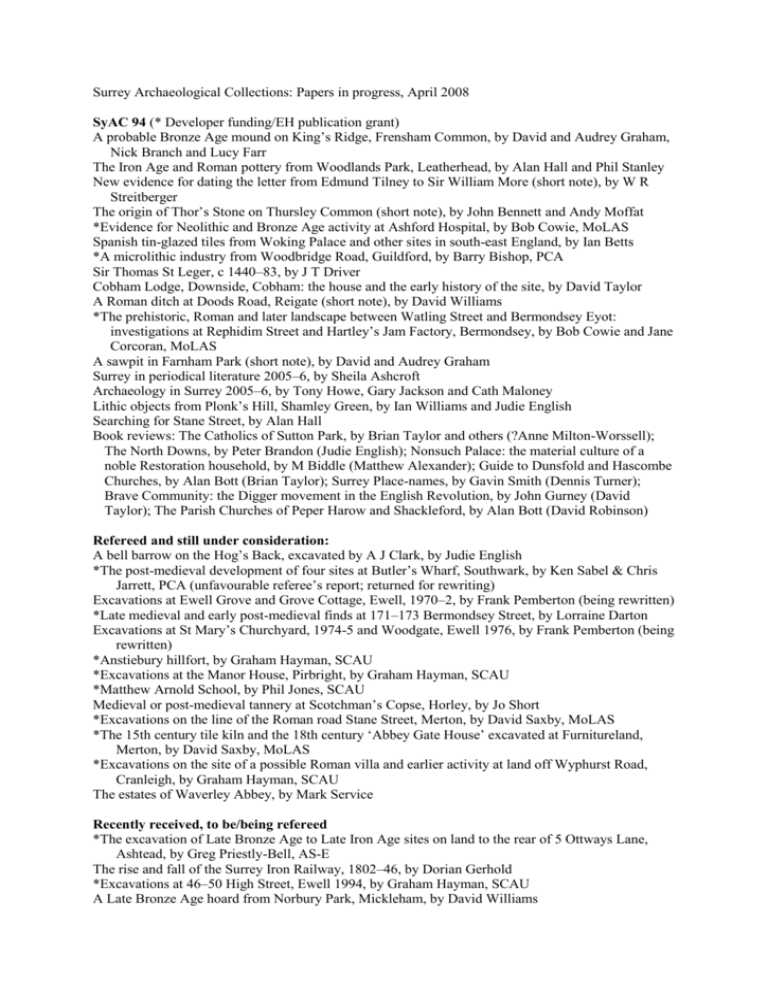 Surrey Archaeological Collections: Papers in progress, April 2008
SyAC 94 (* Developer funding/EH publication grant)
A probable Bronze Age mound on King's Ridge, Frensham Common, by David and Audrey Graham,
Nick Branch and Lucy Farr
The Iron Age and Roman pottery from Woodlands Park, Leatherhead, by Alan Hall and Phil Stanley
New evidence for dating the letter from Edmund Tilney to Sir William More (short note), by W R
Streitberger
The origin of Thor's Stone on Thursley Common (short note), by John Bennett and Andy Moffat
*Evidence for Neolithic and Bronze Age activity at Ashford Hospital, by Bob Cowie, MoLAS
Spanish tin-glazed tiles from Woking Palace and other sites in south-east England, by Ian Betts
*A microlithic industry from Woodbridge Road, Guildford, by Barry Bishop, PCA
Sir Thomas St Leger, c 1440–83, by J T Driver
Cobham Lodge, Downside, Cobham: the house and the early history of the site, by David Taylor
A Roman ditch at Doods Road, Reigate (short note), by David Williams
*The prehistoric, Roman and later landscape between Watling Street and Bermondsey Eyot:
investigations at Rephidim Street and Hartley's Jam Factory, Bermondsey, by Bob Cowie and Jane
Corcoran, MoLAS
A sawpit in Farnham Park (short note), by David and Audrey Graham
Surrey in periodical literature 2005–6, by Sheila Ashcroft
Archaeology in Surrey 2005–6, by Tony Howe, Gary Jackson and Cath Maloney
Lithic objects from Plonk's Hill, Shamley Green, by Ian Williams and Judie English
Searching for Stane Street, by Alan Hall
Book reviews: The Catholics of Sutton Park, by Brian Taylor and others (?Anne Milton-Worssell);
The North Downs, by Peter Brandon (Judie English); Nonsuch Palace: the material culture of a
noble Restoration household, by M Biddle (Matthew Alexander); Guide to Dunsfold and Hascombe
Churches, by Alan Bott (Brian Taylor); Surrey Place-names, by Gavin Smith (Dennis Turner);
Brave Community: the Digger movement in the English Revolution, by John Gurney (David
Taylor); The Parish Churches of Peper Harow and Shackleford, by Alan Bott (David Robinson)
Refereed and still under consideration:
A bell barrow on the Hog's Back, excavated by A J Clark, by Judie English
*The post-medieval development of four sites at Butler's Wharf, Southwark, by Ken Sabel & Chris
Jarrett, PCA (unfavourable referee's report; returned for rewriting)
Excavations at Ewell Grove and Grove Cottage, Ewell, 1970–2, by Frank Pemberton (being rewritten)
*Late medieval and early post-medieval finds at 171–173 Bermondsey Street, by Lorraine Darton
Excavations at St Mary's Churchyard, 1974-5 and Woodgate, Ewell 1976, by Frank Pemberton (being
rewritten)
*Anstiebury hillfort, by Graham Hayman, SCAU
*Excavations at the Manor House, Pirbright, by Graham Hayman, SCAU
*Matthew Arnold School, by Phil Jones, SCAU
Medieval or post-medieval tannery at Scotchman's Copse, Horley, by Jo Short
*Excavations on the line of the Roman road Stane Street, Merton, by David Saxby, MoLAS
*The 15th century tile kiln and the 18th century 'Abbey Gate House' excavated at Furnitureland,
Merton, by David Saxby, MoLAS
*Excavations on the site of a possible Roman villa and earlier activity at land off Wyphurst Road,
Cranleigh, by Graham Hayman, SCAU
The estates of Waverley Abbey, by Mark Service
Recently received, to be/being refereed
*The excavation of Late Bronze Age to Late Iron Age sites on land to the rear of 5 Ottways Lane,
Ashtead, by Greg Priestly-Bell, AS-E
The rise and fall of the Surrey Iron Railway, 1802–46, by Dorian Gerhold
*Excavations at 46–50 High Street, Ewell 1994, by Graham Hayman, SCAU
A Late Bronze Age hoard from Norbury Park, Mickleham, by David Williams
Politics, religion and society in selected Surrey towns [Guildford, Kingston and Reigate] during the
16th century, by James McKeran
*Medieval embankment and post-medieval development at Bermondsey Wall West, by Gary Brown
and James Taylor, PCA
Notified in preparation
Franks' Sandpit, Betchworth, by David Williams
St Mary's Barnes, by an author from MoLAS
Wallington bronze axes, by Jon Cotton & Stuart Needham
Medieval Surrey potters, by Phil Jones
Buckingham collection, by Mary Alexander
Saxon Guildford, by Mary Alexander
Paul Sowan has papers on stone quarrying, hearthstone mining and lime burning in prep.
The parish church of St Giles, Ashtead, by Howard Davies
Steve Dyer: London Heathrow (Terminal 4), 15pp; Kingston Road and George Street, Staines, 40pp;
Orchid Court, Egham, 20pp; Manor Farm, Egham, 10pp; Squires Nurseries, Shepperton, 8pp; Neo
axe from Shepperton; B&T arrowhead from Dorking; Poyle Park
*Manor Farm Buildings, Old Malden, Robin Nielsen, MoLAS
Dennis Turner: Blechingley and the Barons Wars; Excavations at Blechingley Castle; The Dammartin
family; Thunderfield; The Godalming chasse
*Excavations in Chertsey, AOC Archaeology (ca 60 pages)
Excavation at Manor Farm, Guildford, by Judie English
Ice house at Abinger, by Geoff Stonehouse
The Bagshot wall painting and domestic wall paintings in Surrey, by David Gaimster
Excavations at Guildford Park Manor, 1972–5, by Alan Crocker (expected 2008)
*TVAS: Battlebridge Lane, Merstham (IA/Roman enclosure); Burgh Heath (IA/Roman occupation);
High St, Egham (Bronze Age and medieval)
Judie English: Cranleigh Rectory medieval moated site excavation; Prehistoric and RB settlement in
the Mole Gap
A Roman chalk-cut shaft and other finds from Hatch Furlong, Ewell: fieldwork 1975–8, by Jon
Cotton
Excavations at Sutton Park, by David Bird (expected 2008)
*Excavation at Tatsfield manor house, by Spencer Smith (expected 2008)
Struck flints from the Wandle headwaters and beyond, by Jon Cotton (expected 2008)
Results of recent work on Guildford Castle keep, by Mary Alexander and Catherine Woolfitt
Farthing Down (including the material from Hope-Taylor's 1948/9 excavations), by Barry Taylor
St Mary's, Putney, by Nathalie Cohen (expected 2008)
Weston Wood, by Margaret Broomfield
The skeletal assemblage from the Guildown Saxon cemetery, by Emily Brants (expected 2008)
Report on 'Time Team' excavations at Wayneflete's Tower, Esher
Paris Garden, Southwark – a lost moated site, by Dennis Turner (expected 2008)
Hopeless Moor, Seale, by members of AARG
*Alderbrook pipeline (short note), by Mark Dover, SCAU
*Excavations at 116–126 Borough High Street, Southwark, by David Saxby, MoLAS (expected 2008)
Tolworth Court Farm, by members of KuTAS
Excavations at Cocks Farm, Abinger, by David Bird
Excavation in Bell Street, Reigate, by David Williams
Excavation at Wayneflete Tower, Esher, by Peter Harp
Excavation of a Bronze Age site at Betchworth, by Frances Raymond, Berkshire Arch. Services
Surrey Dendrochronology Project, by Rod Wild. Proposed monograph (expected 2008)
SCAU, Archaeological investigation of historic towns, 2: Reigate. Under discussion; funding to be
arranged.