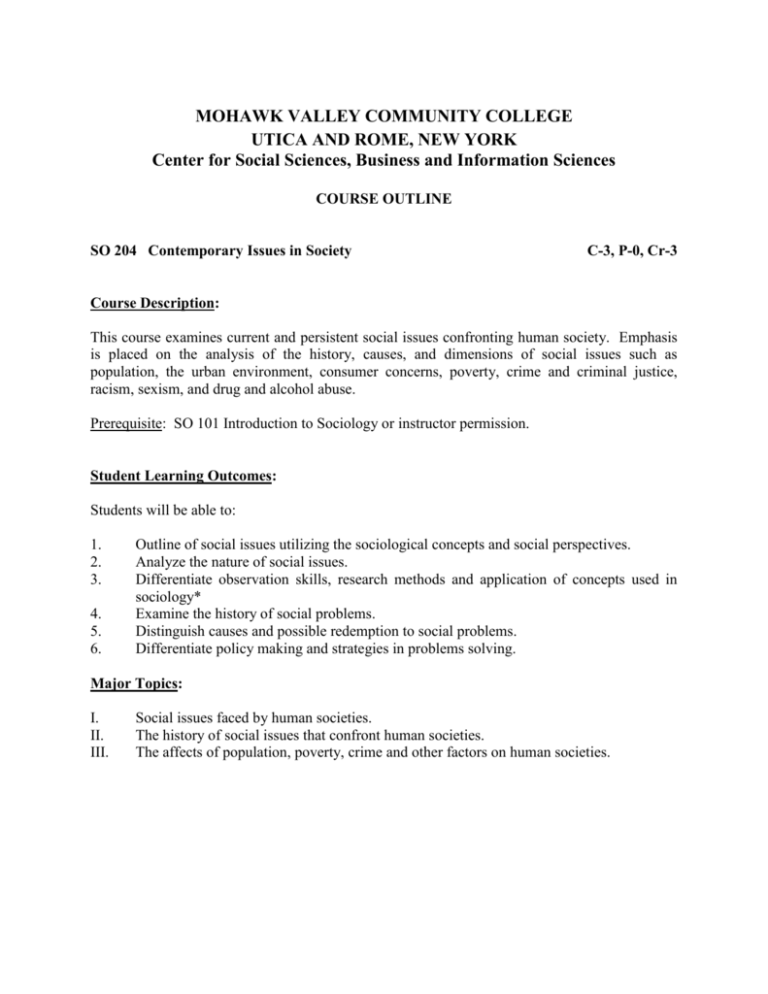 MOHAWK VALLEY COMMUNITY COLLEGE
UTICA AND ROME, NEW YORK
Center for Social Sciences, Business and Information Sciences
COURSE OUTLINE
SO 204 Contemporary Issues in Society
C-3, P-0, Cr-3
Course Description:
This course examines current and persistent social issues confronting human society. Emphasis
is placed on the analysis of the history, causes, and dimensions of social issues such as
population, the urban environment, consumer concerns, poverty, crime and criminal justice,
racism, sexism, and drug and alcohol abuse.
Prerequisite: SO 101 Introduction to Sociology or instructor permission.
Student Learning Outcomes:
Students will be able to:
1.
2.
3.
4.
5.
6.
Outline of social issues utilizing the sociological concepts and social perspectives.
Analyze the nature of social issues.
Differentiate observation skills, research methods and application of concepts used in
sociology*
Examine the history of social problems.
Distinguish causes and possible redemption to social problems.
Differentiate policy making and strategies in problems solving.
Major Topics:
I.
II.
III.
Social issues faced by human societies.
The history of social issues that confront human societies.
The affects of population, poverty, crime and other factors on human societies.