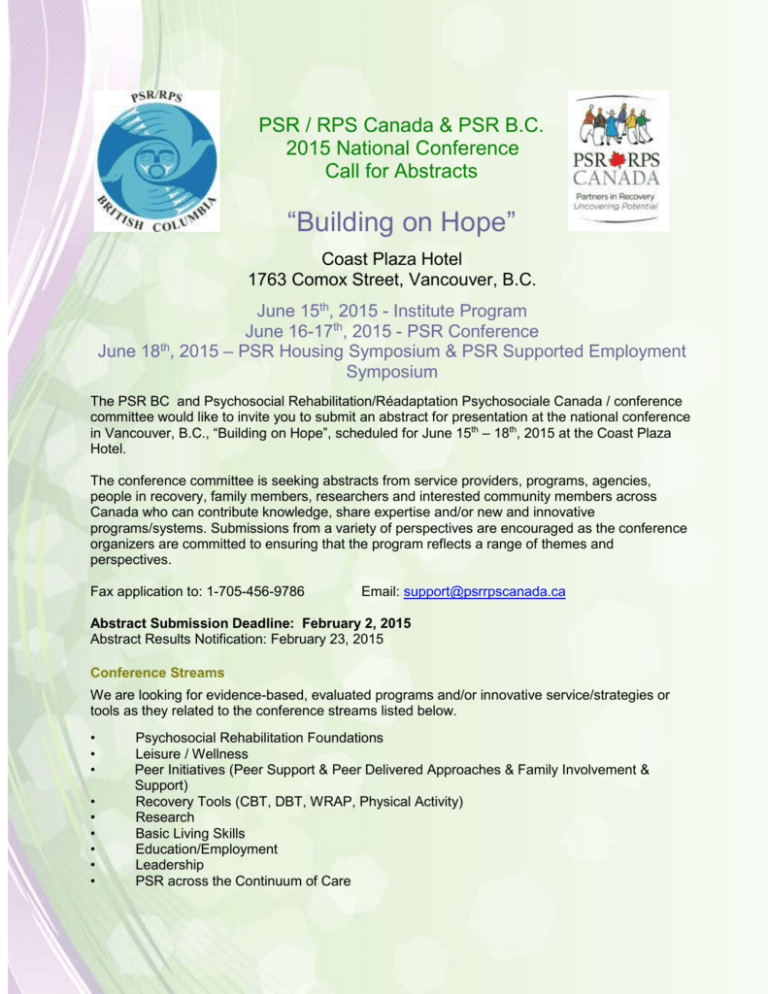 PSR / RPS Canada & PSR B.C.
2015 National Conference
Call for Abstracts
"Building on Hope"
Coast Plaza Hotel
1763 Comox Street, Vancouver, B.C.
June 15th, 2015 - Institute Program
June 16-17th, 2015 - PSR Conference
June 18th, 2015 – PSR Housing Symposium & PSR Supported Employment
Symposium
The PSR BC and Psychosocial Rehabilitation/Réadaptation Psychosociale Canada / conference
committee would like to invite you to submit an abstract for presentation at the national conference
in Vancouver, B.C., "Building on Hope", scheduled for June 15th – 18th, 2015 at the Coast Plaza
Hotel.
The conference committee is seeking abstracts from service providers, programs, agencies,
people in recovery, family members, researchers and interested community members across
Canada who can contribute knowledge, share expertise and/or new and innovative
programs/systems. Submissions from a variety of perspectives are encouraged as the conference
organizers are committed to ensuring that the program reflects a range of themes and
perspectives.
Fax application to: 1-705-456-9786
Email: support@psrrpscanada.ca
Abstract Submission Deadline: February 2, 2015
Abstract Results Notification: February 23, 2015
Conference Streams
We are looking for evidence-based, evaluated programs and/or innovative service/strategies or
tools as they related to the conference streams listed below.
•
•
•
•
•
•
•
•
•
Psychosocial Rehabilitation Foundations
Leisure / Wellness
Peer Initiatives (Peer Support & Peer Delivered Approaches & Family Involvement &
Support)
Recovery Tools (CBT, DBT, WRAP, Physical Activity)
Research
Basic Living Skills
Education/Employment
Leadership
PSR across the Continuum of Care
Abstracts for the Housing Symposium and Supported Employment Symposium are welcomed.
The PSR/RPS Canada Conference Committee is planning for 60 and 90 minute Concurrent
Presentations and Poster Presentations.
Call for Abstracts Open: December 17th, 2015
Abstract Submission DEADLINE: February 2, 2015
Results Notification: February 23rd, 2015
SUBMISSION AND ACCEPTANCE
SUBMISSION EVALUATION CRITERIA
• Relevance to the conference theme
• Clarity and coherence of submission
• Contribution to the knowledge and practice of PSR and Recovery
• Relevance and utility to participants
• Evidence that submission will encourage interaction among conference participants
• Key points of presentation and evidence of "participant take-away"
• Consistency with the values of psychosocial rehabilitation including "person first language"
PRESENTER ACCEPTANCE DETAILS





Presenters must register and pay for the full conference. We encourage all presenters to
participate as much as possible in the conference. Honoraria and travel reimbursement is not
available.
An electronic version of the presentation must be submitted to the event manager prior to the
conference to be uploaded in pdf format to the PSR/RPS Canada website and available only to
conference participants.
Presenters are responsible for providing written material to conference participants (a small
handout is recommended).
Presenters will be provided with a designated time to present by the conference committee
Bursaries may be available for presenter(s) with lived experience
TO SUBMIT
Complete the submission at www.innovative4you.com/2015abstract.htm or fax your completed
application to 1-705-456-9786 or by email at support@psrrpscanada.ca
Call for Abstract Application
Please choose the theme that relates to your submission
 Psychosocial Rehabilitation Foundations
 Housing
 Peer Initiatives
 Recovery Tools (CBT, DBT, Physical Activity)
 Research
 Stigma
 Education/Employment
 Leadership
About You
Please provide key contact. If you have more than one presenter, please include al of the
presenter names as you would like them to appear in the conference program.
Presenter Name(s) and/or Key Contact if a Panel/Team are presenting:
Affiliation:
Mailing Address (street, town, province, postal code)
Phone:
Alternate Phone: (cell, home, business):
Preferred Email:
Your Submission
The Presenter may submit multiple abstracts for the conference. One submission for each
presentation.
Your submission should identify in 300 words or less:









Title of Presentation
Presentation Type
Description of workshop/poster
Purpose of the Presentation
Educational Objectives
Interactive / Participatory Component
Presentation Key Points
Evidence of Relevance and Utility to Participants
A/V Equipment Required and Room Set up Preference (including if using video, needing
sound, etc.
Title of your Presentation (6 words or less) (shorter is better for program)
Your Presentation is a….
 60 minute Presentation
 90 minute Presentation
 Poster Presentation (Prepare on Staples/Office Supply Store stand alone poster boards)
Please include below a description of your workshop for inclusion in the conference
program (50 words or less)
Purpose of the Presentation
Educational Objectives
Interactive / Participatory Component
Presentation Key Points
Evidence of Relevance and Utlity to Participants
A/V Equipment required and Room Set up preference
Your Biography
Please include below the biography of each presenter (50 words or less each)
If you have any questions, please contact the Event Manager, Sherry Sim by email at
support@psrrpscanada.ca or by phone at 1-866-655-8548.