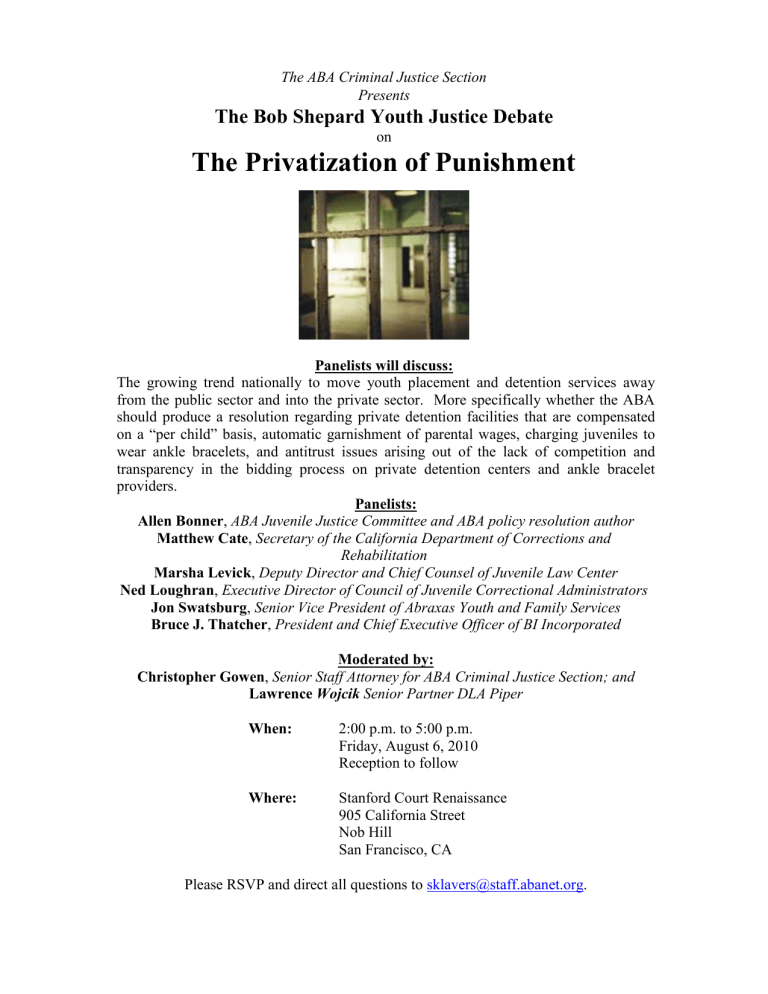 The ABA Criminal Justice Section
Presents
The Bob Shepard Youth Justice Debate
on
The Privatization of Punishment
Panelists will discuss:
The growing trend nationally to move youth placement and detention services away
from the public sector and into the private sector. More specifically whether the ABA
should produce a resolution regarding private detention facilities that are compensated
on a "per child" basis, automatic garnishment of parental wages, charging juveniles to
wear ankle bracelets, and antitrust issues arising out of the lack of competition and
transparency in the bidding process on private detention centers and ankle bracelet
providers.
Panelists:
Allen Bonner, ABA Juvenile Justice Committee and ABA policy resolution author
Matthew Cate, Secretary of the California Department of Corrections and
Rehabilitation
Marsha Levick, Deputy Director and Chief Counsel of Juvenile Law Center
Ned Loughran, Executive Director of Council of Juvenile Correctional Administrators
Jon Swatsburg, Senior Vice President of Abraxas Youth and Family Services
Bruce J. Thatcher, President and Chief Executive Officer of BI Incorporated
Moderated by:
Christopher Gowen, Senior Staff Attorney for ABA Criminal Justice Section; and
Lawrence Wojcik Senior Partner DLA Piper
When:
2:00 p.m. to 5:00 p.m.
Friday, August 6, 2010
Reception to follow
Where:
Stanford Court Renaissance
905 California Street
Nob Hill
San Francisco, CA
Please RSVP and direct all questions to sklavers@staff.abanet.org.