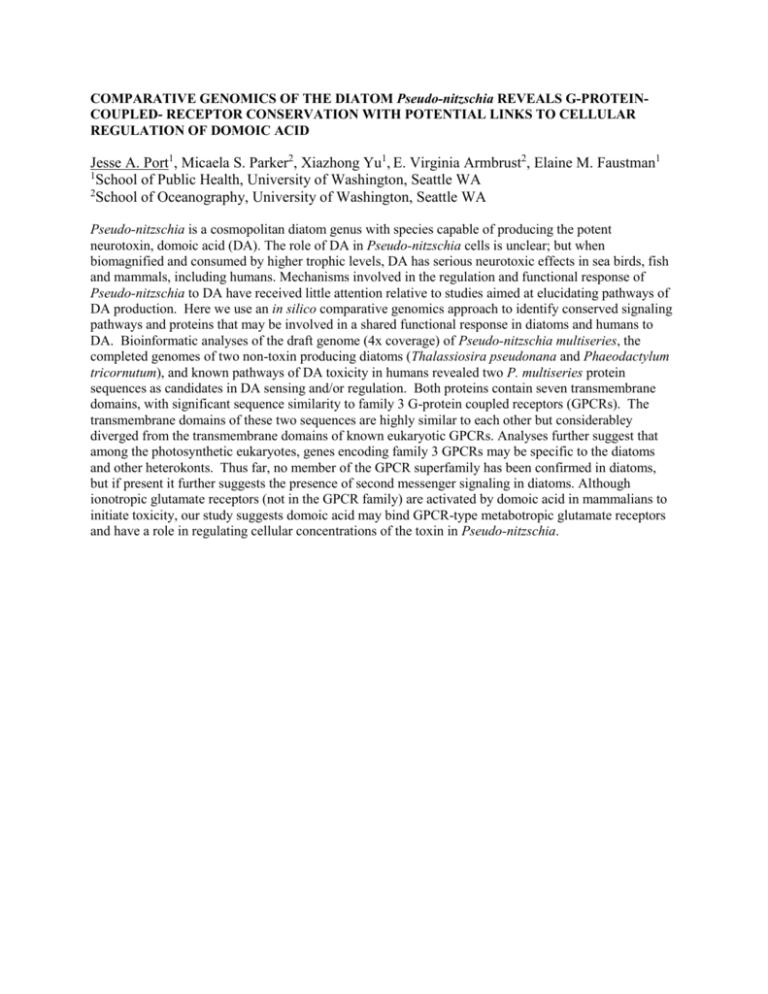 COMPARATIVE GENOMICS OF THE DIATOM Pseudo-nitzschia REVEALS G-PROTEINCOUPLED- RECEPTOR CONSERVATION WITH POTENTIAL LINKS TO CELLULAR
REGULATION OF DOMOIC ACID
Jesse A. Port1, Micaela S. Parker2, Xiazhong Yu1, E. Virginia Armbrust2, Elaine M. Faustman1
1
School of Public Health, University of Washington, Seattle WA
2
School of Oceanography, University of Washington, Seattle WA
Pseudo-nitzschia is a cosmopolitan diatom genus with species capable of producing the potent
neurotoxin, domoic acid (DA). The role of DA in Pseudo-nitzschia cells is unclear; but when
biomagnified and consumed by higher trophic levels, DA has serious neurotoxic effects in sea birds, fish
and mammals, including humans. Mechanisms involved in the regulation and functional response of
Pseudo-nitzschia to DA have received little attention relative to studies aimed at elucidating pathways of
DA production. Here we use an in silico comparative genomics approach to identify conserved signaling
pathways and proteins that may be involved in a shared functional response in diatoms and humans to
DA. Bioinformatic analyses of the draft genome (4x coverage) of Pseudo-nitzschia multiseries, the
completed genomes of two non-toxin producing diatoms (Thalassiosira pseudonana and Phaeodactylum
tricornutum), and known pathways of DA toxicity in humans revealed two P. multiseries protein
sequences as candidates in DA sensing and/or regulation. Both proteins contain seven transmembrane
domains, with significant sequence similarity to family 3 G-protein coupled receptors (GPCRs). The
transmembrane domains of these two sequences are highly similar to each other but considerabley
diverged from the transmembrane domains of known eukaryotic GPCRs. Analyses further suggest that
among the photosynthetic eukaryotes, genes encoding family 3 GPCRs may be specific to the diatoms
and other heterokonts. Thus far, no member of the GPCR superfamily has been confirmed in diatoms,
but if present it further suggests the presence of second messenger signaling in diatoms. Although
ionotropic glutamate receptors (not in the GPCR family) are activated by domoic acid in mammalians to
initiate toxicity, our study suggests domoic acid may bind GPCR-type metabotropic glutamate receptors
and have a role in regulating cellular concentrations of the toxin in Pseudo-nitzschia.