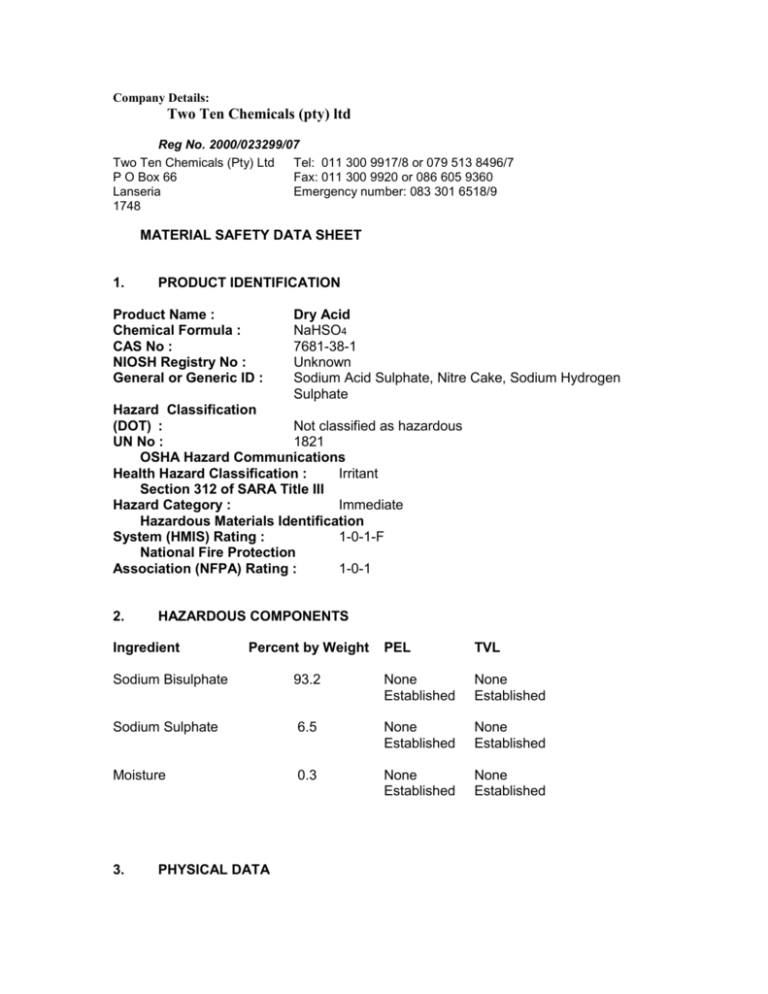 Company Details:
Two Ten Chemicals (pty) ltd
Reg No. 2000/023299/07
Two Ten Chemicals (Pty) Ltd
Tel: 011 300 9917/8 or 079 513 8496/7
P O Box 66
Fax: 011 300 9920 or 086 605 9360
Lanseria
Emergency number: 083 301 6518/9
1748
MATERIAL SAFETY DATA SHEET
1.
PRODUCT IDENTIFICATION
Product Name :
Chemical Formula :
CAS No :
NIOSH Registry No :
General or Generic ID :
Dry Acid
NaHSO4
7681-38-1
Unknown
Sodium Acid Sulphate, Nitre Cake, Sodium Hydrogen
Sulphate
Hazard Classification
(DOT) :
Not classified as hazardous
UN No :
1821
OSHA Hazard Communications
Health Hazard Classification :
Irritant
Section 312 of SARA Title III
Hazard Category :
Immediate
Hazardous Materials Identification
System (HMIS) Rating :
1-0-1-F
National Fire Protection
Association (NFPA) Rating :
1-0-1
2.
HAZARDOUS COMPONENTS
Ingredient
Percent by Weight
PEL
TVL
Sodium Bisulphate
93.2
None
Established
None
Established
Sodium Sulphate
6.5
None
Established
None
Established
Moisture
0.3
None
Established
None
Established
3.
PHYSICAL DATA
Property
Value
Melting Point
350
Bulk Density
83 lbs/Cu.Ft.
Solubility
100%
Percent Volatile
Non Volatile
Description : Off-White, Beadlike, Granular, Dry Material
4.
FIRE AND EXPLOSION DATA
Flash Point : Not applicable, will not burn
Explosive Limits : Upper : Not applicable Lower : Not applicable
Extinguishing Media : Water or dry chemical as appropriate for combustibles in area.
Avoid water contact to material if possible.
Hazardous Thermal Decomposition Products : At temperatures over 570F,
Product will decompose generating oxides of sulphur.
Unusual Fire and Explosion Hazards : Product readily dissolves in water to form a
weak sulphuric acid solution. No gases or toxic fumes are emitted from this reaction, but
precautions for exposure to sulphuric acid should be followed.
Special Fire Fighting Procedures : If water is used to extinguish combustibles and
product is dissolved in water forming sulphuric acid, wear acid protective equipment. If
elevated temperatures (>570F) are reached, self-contained breathing apparatus should
be worn.
5.
HEALTH HAZARD DATA
Principal health hazard, including significant routes, effects, and symptoms of over
exposure as well as medical conditions aggravated by exposure may be :
Eye : Mild to severe irritant. May cause burns if not flushed with water.
Skin : Moderate irritant. May cause burns if not flushed with water.
Inhalation : Irritant. May irritate or burn nose, throat and lungs. No exposure limits
established.
Ingestion : Irritant. May irritate or burn mouth, esophagus or stomach. Animal test
data : LD50 RAT 2800 Mg/Kg.
Carcinogenicity : Not listed as carcinogen by NTP, IARC or OSHA.
FIRST AID ;
In Eyes : Immediately flush with water for 15 minutes, lifting eyelids to thoroughly flush.
Get prompt medical attention.
On Skin : Immediately flush with water for 15 minutes. If burns occur, get medical help.
If Inhaled : Move to fresh air location. If irritation or discomfort persists, seek medical
attention.
If Swallowed : Drink large quantities of water or milk. Follow with milk of magnesia,
beaten eggs or vegetable oil. Do not induce vomiting. Contact physician immediately.
Notes to Physician :
Eyes : Natural watering of eyes will dissolve the product forming a weak sulphuric acid
solution which may cause burns. Flush affected area thoroughly with water. Do not use
chemical antidotes or neutralising solutions.
Skin : Mild burns may occur if not thoroughly flushed previously.
Inhalation : Mild burning sensations may occur to mucous membranes and upper
respiratory tract.
Ingestion : Body water content will react with the product to form a weak sulphuric acid
solution, which may burn tissues in mouth, esophagus or stomach. Solution should be
diluted to reduce burning effect.
6.
REACTIVITY DATA
Stability : Stable
Incompatibility : Avoid contact with strong alkaline materials such as caustic. Reacts
with water to form weak sulphuric acid solution. Do not mix with liquid chlorine bleach or
similar products.
Conditions to avoid : Store in dry area to avoid moisture contact.
Hazardous Decomposition : None, unless heated over 570F at which sulphur dioxide
and sulphur trioxide are formed.
7.
SPILL OR LEAK PROCEDURES
Small Spill : Material is a granular product and can be swept up from surfaces.
Large Spill : Pick up as much as possible with shovel or other tool. Neutralise balance
of spill with weak alkaline solution and wash down sewer if federal, state and local
regulations permit.
Waste Disposal Method : Comply with all local, state and federal regulations.
8.
PROTECTIVE EQUIPMENT TO BE USED
Ventilation : Local ventilation to a dust collector is recommended.
Respiratory Protection : NIOSH or MSA certified dust mask should be worn while
handling product to control exposure below nuisance dust limits of 10 MG?CU.M.
Protective Gloves : Wear acid resistant gloves such as rubber or neoprene.
Eye Protection : Wear safety glasses or protective goggles.
Other Protective Equipment : Clothes should completely cover skin to avoid skin
contact. Coats, overalls or aprons are recommended.
9.
SPECIAL PRECAUTIONS
Avoid contact with skin, eyes or clothing.
Do not store where exposed to moist conditions or near strong alkalies.
Keep containers tightly closed.
Wear all recommended protective equipment when handling.
The data in this material safety data sheet relates only to the specific material
designated herein and does not relate to use in combination with any other material in
any process. The information set forth herein is furnished free of charge and is based
on technical data that Two Ten Chemicals believes to be reliable. It is intended for use
by persons having technical skill and at their own discretion and risk. Since conditions of
use are outside our control, we make no warranties, express or implied, and assume no
liability in connection with any use of this information. Nothing herein is to be taken as a
licence to operate under or a recommendation to infringe any patents.
Date of Revision : 3 March 2004.