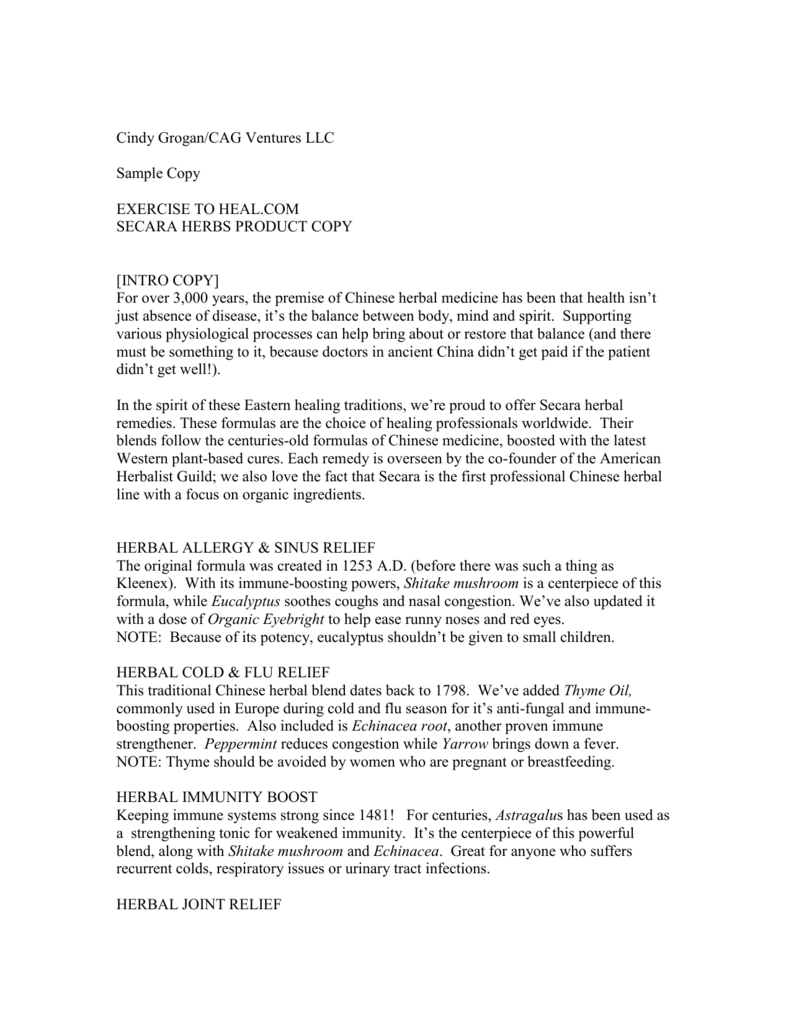 Cindy Grogan/CAG Ventures LLC
Sample Copy
EXERCISE TO HEAL.COM
SECARA HERBS PRODUCT COPY
[INTRO COPY]
For over 3,000 years, the premise of Chinese herbal medicine has been that health isn't
just absence of disease, it's the balance between body, mind and spirit. Supporting
various physiological processes can help bring about or restore that balance (and there
must be something to it, because doctors in ancient China didn't get paid if the patient
didn't get well!).
In the spirit of these Eastern healing traditions, we're proud to offer Secara herbal
remedies. These formulas are the choice of healing professionals worldwide. Their
blends follow the centuries-old formulas of Chinese medicine, boosted with the latest
Western plant-based cures. Each remedy is overseen by the co-founder of the American
Herbalist Guild; we also love the fact that Secara is the first professional Chinese herbal
line with a focus on organic ingredients.
HERBAL ALLERGY & SINUS RELIEF
The original formula was created in 1253 A.D. (before there was such a thing as
Kleenex). With its immune-boosting powers, Shitake mushroom is a centerpiece of this
formula, while Eucalyptus soothes coughs and nasal congestion. We've also updated it
with a dose of Organic Eyebright to help ease runny noses and red eyes.
NOTE: Because of its potency, eucalyptus shouldn't be given to small children.
HERBAL COLD & FLU RELIEF
This traditional Chinese herbal blend dates back to 1798. We've added Thyme Oil,
commonly used in Europe during cold and flu season for it's anti-fungal and immuneboosting properties. Also included is Echinacea root, another proven immune
strengthener. Peppermint reduces congestion while Yarrow brings down a fever.
NOTE: Thyme should be avoided by women who are pregnant or breastfeeding.
HERBAL IMMUNITY BOOST
Keeping immune systems strong since 1481! For centuries, Astragalus has been used as
a strengthening tonic for weakened immunity. It's the centerpiece of this powerful
blend, along with Shitake mushroom and Echinacea. Great for anyone who suffers
recurrent colds, respiratory issues or urinary tract infections.
HERBAL JOINT RELIEF
If you suffer pain from arthritis, sciatica or degenerative disc disease, consider this timehonored Chinese herb blend. It's enhanced with Boswellia, used for centuries to reduce
inflammation and improve blood flow. Modern clinical trials have caught on to what
herbalists have known for eons: the compounds in Boswellia are now proven to block a
chemical reaction that leads to inflammation.
HERBAL PAIN RELIEF
Whether it's a headache or pain from repetitive stress disorders, tendonitis, arthritis or
other muscular-skeletal problems, give this formula a try. At its heart is White Willow
Bark, used throughout Europe and North America to reduce pain and inflammation (it has
some of the same compounds used in aspirin). Best of all, clinical trials show that White
Willow Bark relieves pain without the GI distress sometimes associated with OTC drugs.
We've also added soothing Skullcap, Valerian, Lavender and Hawthorn to the mix, all of
which have calming effects.
NOTE: Should not be taken by pregnant women, those suffering excessive menstrual
bleeding or anyone suffering from active blood disorders.
HERBAL SLEEP AID
If the sheep-counting thing just isn't working, this might do the trick. The formula was
created all the way back in 220 A.D.; we've updated it with a boost of Skullcap for
calming,Hawthorn for easing anxiety and Passionflower to soothe a frazzled nervous
system. Also included is a touch of Lavender Oil (a proven anti-depressant) and Valerian
Oil, which has been shown to help relieve insomnia.
NOTE Use with caution if taking barbituates, sedative medications, anti-psychotic and
anti-epilectic drugs.
HERBAL STRESS RELIEF
When the modern world is just too much to handle, turn to the ancient world for help.
This centuries-old remedy (circa 1085 A.D.) also contains Artichoke Leaf extract to
strengthen the liver and help the digestive system work properly (a good thing when
you're on your second week of late-night pizza runs). Plus, Peppermint Oil has a relaxing
effect on systems that are wound just a little too tight.