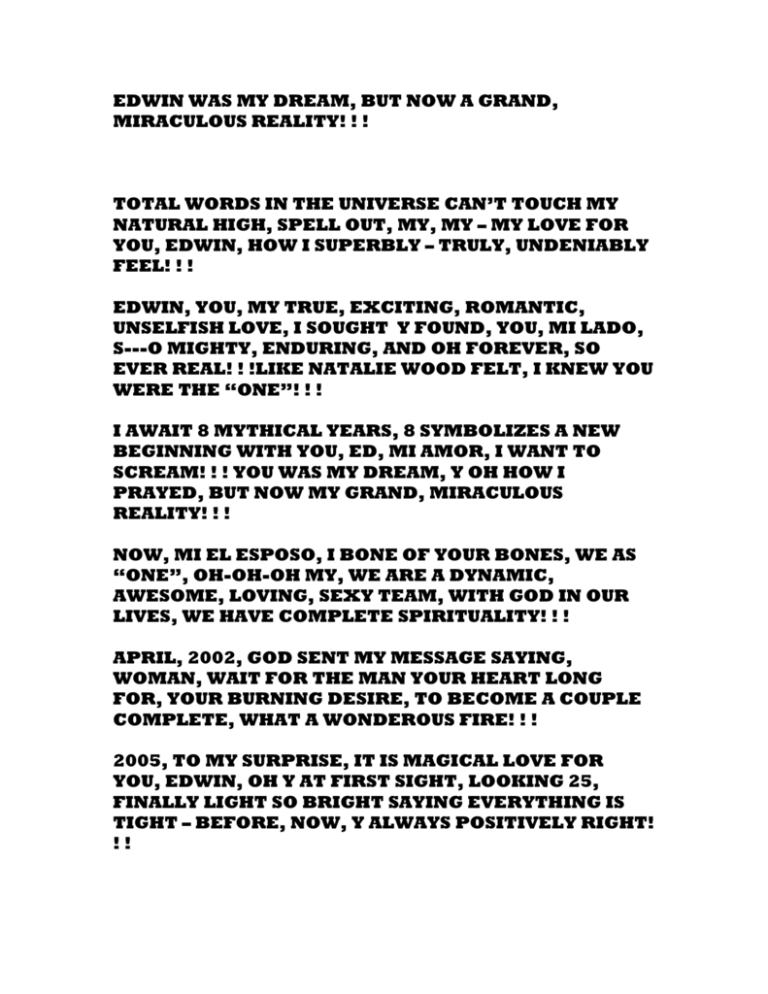 EDWIN WAS MY DREAM, BUT NOW A GRAND,
MIRACULOUS REALITY! ! !
TOTAL WORDS IN THE UNIVERSE CAN'T TOUCH MY
NATURAL HIGH, SPELL OUT, MY, MY – MY LOVE FOR
YOU, EDWIN, HOW I SUPERBLY – TRULY, UNDENIABLY
FEEL! ! !
EDWIN, YOU, MY TRUE, EXCITING, ROMANTIC,
UNSELFISH LOVE, I SOUGHT Y FOUND, YOU, MI LADO,
S---O MIGHTY, ENDURING, AND OH FOREVER, SO
EVER REAL! ! !LIKE NATALIE WOOD FELT, I KNEW YOU
WERE THE "ONE"! ! !
I AWAIT 8 MYTHICAL YEARS, 8 SYMBOLIZES A NEW
BEGINNING WITH YOU, ED, MI AMOR, I WANT TO
SCREAM! ! ! YOU WAS MY DREAM, Y OH HOW I
PRAYED, BUT NOW MY GRAND, MIRACULOUS
REALITY! ! !
NOW, MI EL ESPOSO, I BONE OF YOUR BONES, WE AS
"ONE", OH-OH-OH MY, WE ARE A DYNAMIC,
AWESOME, LOVING, SEXY TEAM, WITH GOD IN OUR
LIVES, WE HAVE COMPLETE SPIRITUALITY! ! !
APRIL, 2002, GOD SENT MY MESSAGE SAYING,
WOMAN, WAIT FOR THE MAN YOUR HEART LONG
FOR, YOUR BURNING DESIRE, TO BECOME A COUPLE
COMPLETE, WHAT A WONDEROUS FIRE! ! !
2005, TO MY SURPRISE, IT IS MAGICAL LOVE FOR
YOU, EDWIN, OH Y AT FIRST SIGHT, LOOKING 25,
FINALLY LIGHT SO BRIGHT SAYING EVERYTHING IS
TIGHT – BEFORE, NOW, Y ALWAYS POSITIVELY RIGHT!
!!
AS MY EYES BEHOLD THEE, I GAZE HEARTILY UPON
YOU, VOLUNTARILY, IN DAZZLE, FROM HEAD TO TOE,
OF PUERTO RICAN DESCENT, BUMPING, CALIENTE,
TAN BODY, WOW SO, SO, SO CHARMING, HANDSOME,
SEXY, ETC. – LET'S COMMENCE! ! !
YOUR EYES LIGHT BROWN, SO SHINY Y SPARKLING
LIKE A STAR IN THE SKY; HAIR STRAIGHT, OSCURO
BLACK, HEY NO GREY; CUTE EARS Y NOSE;
CAPTIVATING, LUSCIOUS, JUICY LIPS WITH WHITE,
PERFECT, ALIGNED TEETH; HIGH CHEEKBONES;
PERFECT HYGIENE, SIZE, HEIGHT FOR ME,
CHARISMATIC, LOVING SMILE – TU, MY TOTAL
FANTASY! ! ! DECEMBER, 2005 GALA SET THE MOOD
FOR US, ABREAST I DANCED LIKE NEVER BEFORE, I
TOOK IT TO THE FLOOR! ! !
OUT OF SIGHT PERSONALLITY! ! ! HONEST, TOTAL
INTEGRITY; ATHLETIC, ACTIVELY; POSITIVE,
AFFIRMATIVE; DILIGENT, HARD WORKING;
PRACTICES PURE MONOGAMY; ORGANIZED, TO THE
T; A REAL MAN, DO YOU FEEL ME; RETENTIVE,
EXCELLENT MEMORY; WISE, WISDOM EXCELS HIGH;
SHARP, BRILLANT, OH SO SMART! ! ! HUMOROUS,
WORLD'S BEST COMEDIAN; CARING, MY GUARDIAN
ANGEL, DONE SO MUCH FOR ME, MY KING! ! !
DELIGHT IN A CHALLENGE, GO WIN, WIN, WIN! ! !
FORMAL, SUIT Y TIE, INFORMAL, YOU DRESS THE
PART, FULL OF AMOR, PASSION, YOU DO TODOS WITH
A SUPERB, GRAND HEART; A GENIUS, YOU
UNDERSTAND WHAT I AM SAYING IN SPANISH TO YOU,
NOT CORRECT FORM, MY PRONUNCIATION Y
SENTENCE STRUCTURE OFF, NOT THE NORM.
YOU BLOW MY MIND, ENRAPTURED, MESMERIZED
ME, MY HIDDEN GIFTS CAME TO VISIBILILTY, ONLY
YOU, MI QUERIDO,, YOU, COULD ENTIRELY RELEASE
THEE! ! ! AQUATIC LOVE, ME Y FAMILY MORE
POSITIVE, SING AND DANCE YOU FLOURISH Y REFINE,
LEARN SPANISH IN EVERY CAPACITY, LITERARY
ARTIST, POET, SEAMSTERESS, WATERCOLORIST! ! !
INVITATIONS, DECORATIONS, TODOS, PREPARED,
WITH LOVING ENJOYMENT, BY ME, SYMBOLIZES OUR
LOVE, OUR LIFE AS ONE, FIT FOR YOU, MI KING! ! !
WE ARE ANXIOUS TO TEAR IT UP ON THE DANCE
FLOOR! ! ! ITS JUMPING OFF, BURSTING IN FAST
ACTION, SHAKING WITH ELECTRIC BOUNCE, IN
SATISFACTION! ! !
2010, MI PAPEITO, OUR YEAR, TO WED, TAKE ON
YOUR GLORIOUS NAME, & CELEBRATE, HEY, PARTY
OF THE YEAR, OUR DECEMBER 24, CHRISTMAS EVE,
ED MY PRESENT, OH, OH, OH, MY DEAR! ! !
OUR FIESTA TO INCLUDE A SCRUMPTOUS ARRAY OF
PUERTO RICAN Y SOUL FOOD, NO CATER – WE BAKE Y
COOK – SAVORY, EXQUISITE, YUMMY, UH HUH, ALL SO
DELICIOUS, AND MIGHTY GOOD! ! !
ED, TO NAME A FEW, COMPLETE LOVE, DEVOTION,
RESPECT, HONOR, SUBMISSION I GIVE YOU, AS YOUR
WIFE, JOINTLY, YOU Y MI SOUL MATE, WE HAVE SO
MUCH TO DO, Y I DO FOR YOU, O-H O-H, TO SEE! ! !
ALWAYS WHERE YOU ARE AT, SO WILL I BE! ! ! HOLD
HANDS, CUDDLE, SIT CLOSE TO YOU, NO AIR
BETWEEN! ! ! HIP TO HIP, OUR LIPS CARESSING,
TOUCHING! ! !
ED, AS WE LEAVE OUR STRIKING FIESTA, PROMINENT
WEDDING RECEPTION, OUR DEAREST WISH FINALLY
ARRIVING,TO EXPRESS OUR ENDEARING LOVE IN A
MOST UNFORGETTABLE STYLE, A 1ST FOR ME, OUR
DELIGHTFUL TREAT, MI LOLLIPOP! ! !
SENSUAL, SEXY, STEAMY, PASSIONATE, OUR BODIES
MELTING – EMBRACING, SQUEEZING, HUGGING,
KISSING – SENDING HOT MESSAGES TO EACH OTHER,
HEY HEY, NOT A WORD MORE, AS WE HIT THE DOOR
WITH AN EXCITING ROAR! ! ! TO LIVE OUR GOLDEN
DREAM! ! !
EDWIN, YOU WAS MY DREAM, BUT NOW A GRAND,
MIRACULOUS REALITY! ! !