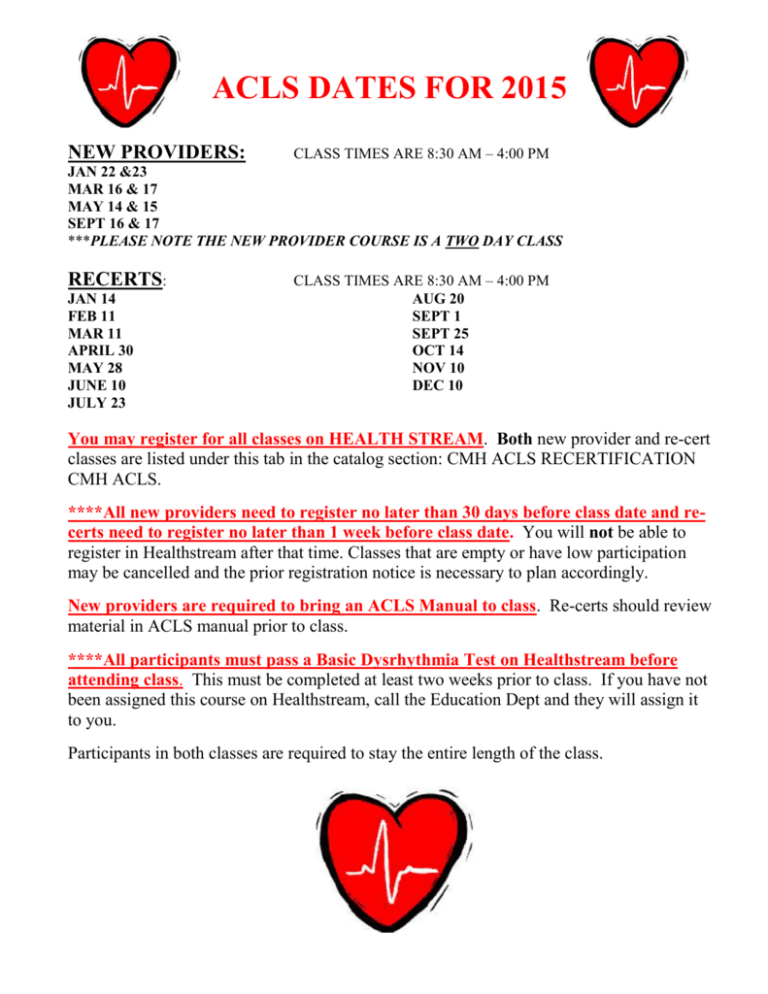 ACLS DATES FOR 2015
NEW PROVIDERS:
CLASS TIMES ARE 8:30 AM – 4:00 PM
JAN 22 &23
MAR 16 & 17
MAY 14 & 15
SEPT 16 & 17
***PLEASE NOTE THE NEW PROVIDER COURSE IS A TWO DAY CLASS
RECERTS:
JAN 14
FEB 11
MAR 11
APRIL 30
MAY 28
JUNE 10
JULY 23
CLASS TIMES ARE 8:30 AM – 4:00 PM
AUG 20
SEPT 1
SEPT 25
OCT 14
NOV 10
DEC 10
You may register for all classes on HEALTH STREAM. Both new provider and re-cert
classes are listed under this tab in the catalog section: CMH ACLS RECERTIFICATION
CMH ACLS.
****All new providers need to register no later than 30 days before class date and recerts need to register no later than 1 week before class date. You will not be able to
register in Healthstream after that time. Classes that are empty or have low participation
may be cancelled and the prior registration notice is necessary to plan accordingly.
New providers are required to bring an ACLS Manual to class. Re-certs should review
material in ACLS manual prior to class.
****All participants must pass a Basic Dysrhythmia Test on Healthstream before
attending class. This must be completed at least two weeks prior to class. If you have not
been assigned this course on Healthstream, call the Education Dept and they will assign it
to you.
Participants in both classes are required to stay the entire length of the class.
Objectives:
Upon successful completion of this program, the participant will obtain certification as a
Provider in Advanced Cardiac Life Support.
Content overview:
Pharmacology, Acute Coronary Syndrome, Stroke, ACLS algorithims, and defibrillation
will be covered in class lectures, hands-on skill stations, and question & answer sessions.
Successful Completion Requirements
 Current BLS card
 EKG (Basic Dysrhythmia) test score of at least 84%
 Written test score of at least 84%
 Successful completion of skills station to include: airway management, tachycardia,
defibrillation, pulseless V Tach or V Fib, asystole, PEA, bradycardia, and megacode
 Attendance at entire course
Any questions please contact:
PJ Sandlin, ED Manager at ext 2160
Education Dept at ext 2079
AHA Disclaimer: The American Heart Association strongly promotes knowledge and proficiency in BLS, ACLS and PALS
and has developed instructional materials for this purpose. Use of these in an educational course does not represent course
sponsorship by the American Heart Association. Any fees charged for such a course, except for a portion of fees needed for
AHA course material, do not represent income to the Association.
Kentucky Board of Nursing approval of an individual nursing continuing education provider does not
constitute endorsement of program content.