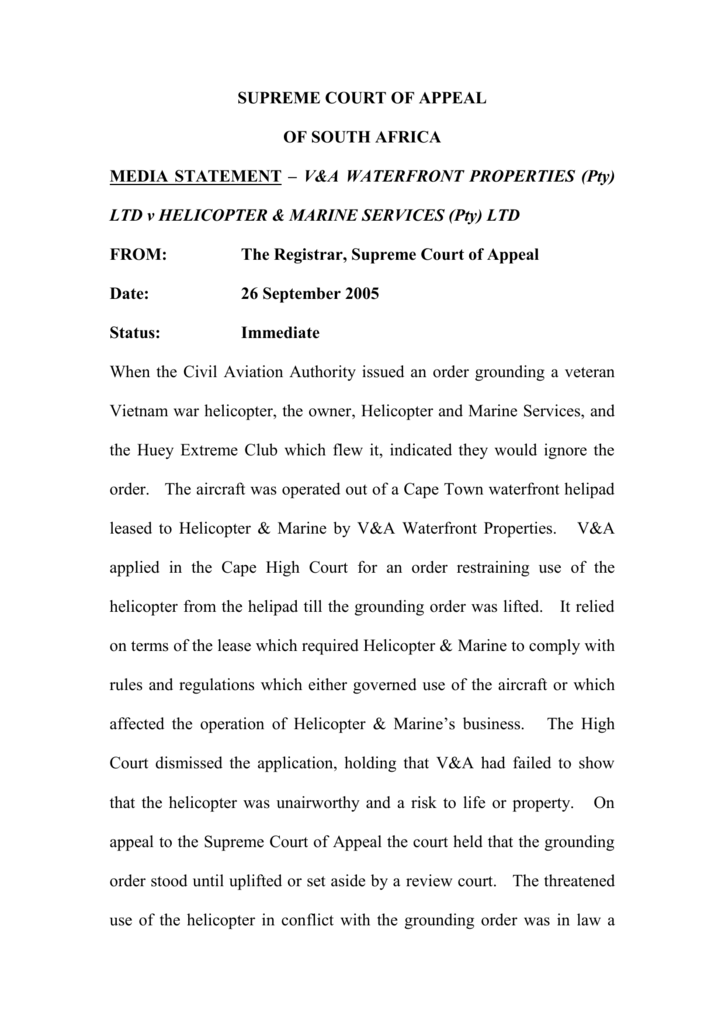 SUPREME COURT OF APPEAL
OF SOUTH AFRICA
MEDIA STATEMENT – V&A WATERFRONT PROPERTIES (Pty)
LTD v HELICOPTER & MARINE SERVICES (Pty) LTD
FROM:
The Registrar, Supreme Court of Appeal
Date:
26 September 2005
Status:
Immediate
When the Civil Aviation Authority issued an order grounding a veteran
Vietnam war helicopter, the owner, Helicopter and Marine Services, and
the Huey Extreme Club which flew it, indicated they would ignore the
order. The aircraft was operated out of a Cape Town waterfront helipad
leased to Helicopter & Marine by V&A Waterfront Properties.
V&A
applied in the Cape High Court for an order restraining use of the
helicopter from the helipad till the grounding order was lifted. It relied
on terms of the lease which required Helicopter & Marine to comply with
rules and regulations which either governed use of the aircraft or which
affected the operation of Helicopter & Marine's business.
The High
Court dismissed the application, holding that V&A had failed to show
that the helicopter was unairworthy and a risk to life or property.
On
appeal to the Supreme Court of Appeal the court held that the grounding
order stood until uplifted or set aside by a review court. The threatened
use of the helicopter in conflict with the grounding order was in law a
threat to invade V&A's clear right to stop illicit operation of the craft at
the premises.
As no other ordinary legal remedy except an interdict
could protect V&A's rights the High Court application ought to have
succeeded. In finding for V&A that all the requirements for an interdict
had been met, the Supreme Court of Appeal explained that it was
unnecessary in the circumstances for V&A to prove that the helicopter
was unairworthy.