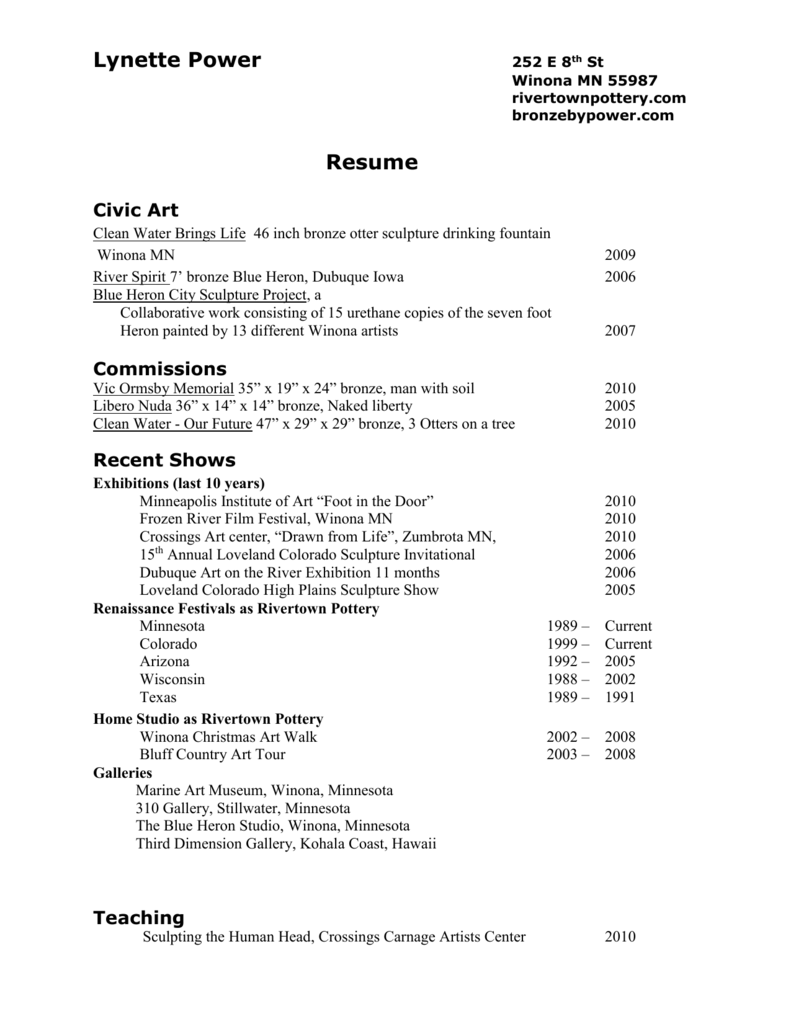 Lynette Power
252 E 8th St
Winona MN 55987
rivertownpottery.com
bronzebypower.com
Resume
Civic Art
Clean Water Brings Life 46 inch bronze otter sculpture drinking fountain
Winona MN
River Spirit 7' bronze Blue Heron, Dubuque Iowa
Blue Heron City Sculpture Project, a
Collaborative work consisting of 15 urethane copies of the seven foot
Heron painted by 13 different Winona artists
2009
2006
2007
Commissions
Vic Ormsby Memorial 35" x 19" x 24" bronze, man with soil
Libero Nuda 36" x 14" x 14" bronze, Naked liberty
Clean Water - Our Future 47" x 29" x 29" bronze, 3 Otters on a tree
2010
2005
2010
Recent Shows
Exhibitions (last 10 years)
Minneapolis Institute of Art "Foot in the Door"
Frozen River Film Festival, Winona MN
Crossings Art center, "Drawn from Life", Zumbrota MN,
15th Annual Loveland Colorado Sculpture Invitational
Dubuque Art on the River Exhibition 11 months
Loveland Colorado High Plains Sculpture Show
Renaissance Festivals as Rivertown Pottery
Minnesota
Colorado
Arizona
Wisconsin
Texas
Home Studio as Rivertown Pottery
Winona Christmas Art Walk
Bluff Country Art Tour
Galleries
Marine Art Museum, Winona, Minnesota
310 Gallery, Stillwater, Minnesota
The Blue Heron Studio, Winona, Minnesota
Third Dimension Gallery, Kohala Coast, Hawaii
2010
2010
2010
2006
2006
2005
1989 –
1999 –
1992 –
1988 –
1989 –
Current
Current
2005
2002
1991
2002 –
2003 –
2008
2008
Teaching
Sculpting the Human Head, Crossings Carnage Artists Center
2010
Artistic Development: Workshops with Master sculptors
and Other Training
Scottsdale Artist School, Arizona
Life Size Clay, with Barbell Diekman
Sculpt the Figure, with John Colman
Mastering the Torso, with Tuck Langland
Brookgreen Gardens, South Carolina
Bird Sculpture, with Sandy Scott
Loveland Academy of Fine Arts, Loveland Colorado
Flying Poses, with Victor Issa
Techniques of Classical Sculpture, with Valentin Okorokov
Sculpting the Head, with Philippe Faraut
Techniques of Figure Sculpture, with Valentine Okorokov
Bas Relief, with Eugene Daubs
Figure in Clay, with Paul Lucchesi
Bronze Patina, with Pat Kipper
Mold Making, with Louis Quaintance
Clay Portrait, with Sharon Gale
Figure Drawing, with Anthony Ryder
Two Week Figure Drawing Intensive, with Hollis Williford
Figure Sculpt, with Martine Vogel
Mastering the Torso, with Tuck Langland
Figure Sculpting, with Don Gale
The Figure, with Peter Vandenberg
Anderson Ranch, Snow Mall Colorado
Large Vessels, with Don Ritz
Figures with Horses, with Rudi Audio
Abstract Expressionist Symposium with Don Ritz, Paul Soldner
and Peter Voulkos
Arrowmont, Gatlinburg Tennessee
Akio Takamori
Winona Technical College
Introduction to Welding Technologies
Splitrock Arts Program
Japanese Approach to the Vessel
2009
2006
2000
2007
2005
2005
2004
2004
2004
2004
2004
2004
2003
2003
2002
2002
2000
1999
1997
1994
1993
1995
1992
1990
1986
Education
Bachelor of Arts
Winona State University, Winona, Minnesota
Certifications
Feldenkrais Method of Movement 1996
Trager Institute for Psychophysical Integration
1992
1995
Honors
The City of Winona's Fine Arts Commission Award, for service to the arts
2009
Best Presentation Award, Colorado Renaissance Festival
2008
Outstanding Woman of Arts and Humanities
Winona's Women in Business
Artisans' Guild Master
Minnesota Renaissance Festival
Artistic Growth Award
Minnesota Renaissance Festival
2008
2005
2004
Memberships
Winona Art Center
Marine Art Museum Winona, Minnesota
Artists Guild at the Minnesota Renaissance Festival
Winona Fine Arts Commission 2005-2008
Media References to My Work
Winona Daily News, Thursday, July 4, Artists get organized.
Winona Daily News, November 26, 2005, Winona's Blue Herons Go Bronze.
The Business Advocate news from the Winona Chamber of Commerce, April 2006, One of the
joys of spring - The Bluff Country Studio Art Tour.
Winona Post, Wednesday, July 2006, Loveland Sculpture Show news release.
Winona Daily News, Wednesday, August 9, 2006, the new birds in town.
365 ink Dubuque, August 24 – September 7, 2006, page 5, Art on the River
Telegraph Herald, Friday, September 1, 2006, Best Bets for weekend events.
Telegraph Herald, Thursday, Dec 14, 2006, Wouldn't you rather have sushi?
Winona Daily News, January 10, 2007, Blue Heron Project about community supporting the arts,
promoting Winona.
Winona Post, Sunday, March 25, 2007, Food shelf-fund raiser April 5.
Winona Daily News, Friday, March 30, 2007, Herons take shape.
Tourism Matters from visit Winona, April 2007 Community ready to fly with heron statues.
Post Bulletin Monday, May 28, 2007 Herons give Winona a leg up on culture.
Post-Bulletin, Monday, May 28, 2007, Heron tempts artist to paint.
Winona Post, Wednesday, April 25, 2007, Herons find their homes.
Winona Daily News, Thursday, March 1, 2007, First of blue heron statues hatched.
Winona Post, Sunday, April 15, 2007, Earth day in Winona.
Winona Post, Sunday, April 15, 2007, Heron gets hot rod look.
Winona Daily News, Saturday, October 13, 2007, Blue Heron Project was a labor of love.
Tourism Matters from Visit Winona, December 2008, Annual Winona Christmas Art Walk and
Holiday Sale.
Winona Daily News, Thursday, December 4, 2008, Annual Art Walk this weekend.
Big River Magazine January-February 2008, Herons a Success.
Winona Daily News, Friday, February 20, 2009, Winning Fountain.
Winona Daily News, Saturday, February 21, 2009, Artist hopes sculpture brings water
awareness.
Winona Post, Sunday, August 9, 2009, WSU dedication ceremony 'brings life' to renovated
fountain.
Winona Post, Wednesday, August 12, 2009, Otter fountain at Lake Park.
Big River Magazine, September- October 2009, Get a Drink.