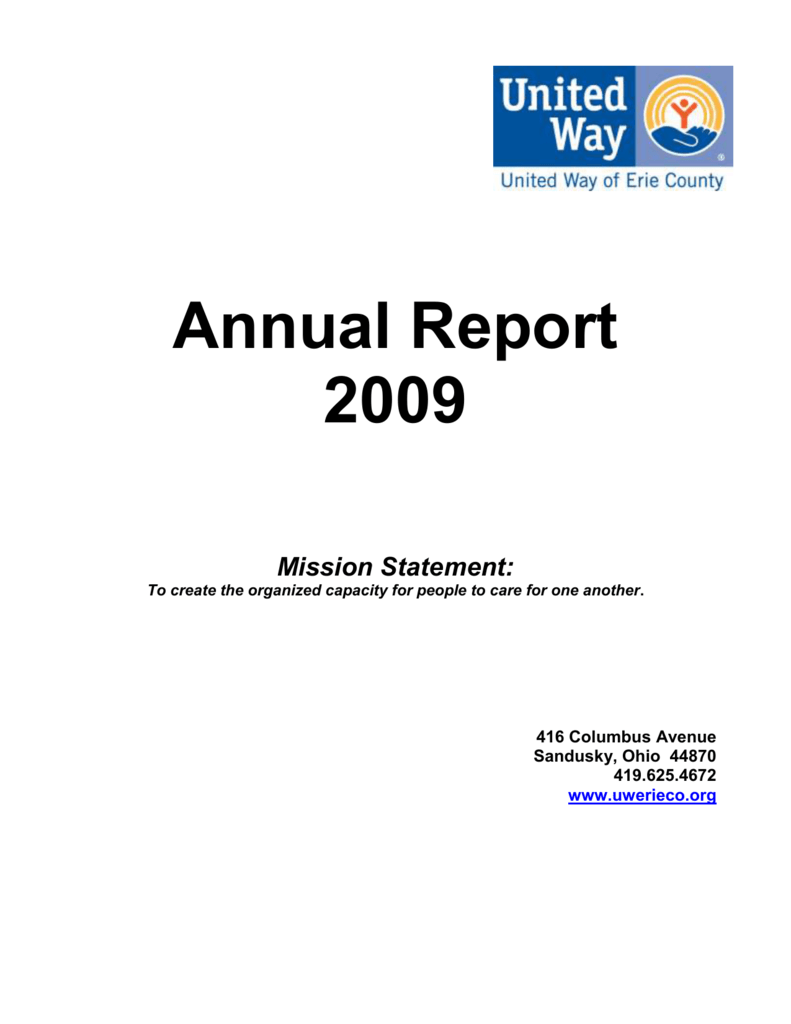 Annual Report
2009
Mission Statement:
To create the organized capacity for people to care for one another.
416 Columbus Avenue
Sandusky, Ohio 44870
419.625.4672
www.uwerieco.org
HIGHLIGHTS OF 2009
United Way of Erie County as a Community Leader and Collaborator 2009:

positioned to identify critical issues in the community.

collaborated with other community entities.

established initiatives that enable people to build stronger lives.
Save Our Homes Task Force
United Way of Erie County collaborated with businesses, social service agencies, and
government officials to discuss issues and concerns facing local homeowners. In 2009,
Foreclosure Seminars and telephone banks offered information and assistance to over 60
homeowners. Additionally, the Task Force created Mortgage Foreclosure brochures and
bookmarks and distributed them throughout the community.
United Way of Erie County is a participant of the Erie County 2-1-1 Collaborative Board with
representatives from several organizations. 2-1-1, launched in 2006, is the county's premiere
24/7 informational and referral hotline. In 2009, 2-1-1 handled 2295 calls. The top 5 needs in
Erie County, as identified by 2-1-1 were: housing assistance, utility assistance, food,
prescriptions and transportation.
United Way of Erie County is the local point of contact for Ohio Benefit Bank (OBB). With
assistance of OBB staff, training programs were provided for 15 agency staff. In addition to
promoting Ohio Benefit Bank in the community, United Way volunteers provided free tax
assistance to 20 individuals.
Erie County Community Council
United Way of Erie County working with the Volunteer Center and Sandusky Regional
Planning, has re-established Erie County Community Council. The Council meets six times
per year and provides a forum for not-for-profit agencies to meet, network and engage in
discussion.
Sandusky School Uniform Drive:
In collaboration with Sandusky City Schools, the Volunteer Center, and the Salvation Army, uniforms
were provided to 25 youth whose families were unable to afford to purchase uniforms.
Stamp Out Hunger:
On May 9th, United Way partnered with Sandusky Post Office Letter Carriers and collected over 7100
pounds of food for delivery to Care and Share.
Day of Caring:
United Way of Erie County hosted Days of Caring on June 19th, 20th and 26th. Days of Caring provided
an opportunity for local residents and business members to make a "hands on" impact with five local
United Way Partner agencies. Volunteers performed tasks that partner agencies may not otherwise
have the manpower or funds to accomplish. Volunteers from Aeropostale mentored families and
played with children at Volunteers of America Crossroads Shelter. Volunteers also provided
maintenance work for Cancer Services and served meals at the Senior Center. Additionally, all 220
Freudenberg-NOK employees participated by doing yard work for a group home owned by Erie
Residential Living and assisted the Red Cross with the Great American Bicycle Adventure. In addition
employees donated their time by contributing needed items to the wishlists of Safe Harbour, Kinship
and Cancer Services.
Make a Difference Day
United Way of Erie County, partnered with Sandusky/Erie County Community Foundation,
Second Harvest Food Bank, First Presbyterian Church and the Sandusky Register for the
"Helping Neighbors in Need Project. " Collection took place prior to October 24 th. On
October 24th, over 40 individuals volunteered their time to sort over 16,000 pounds of food
and personal hygiene items which were distributed to nine food pantries in Erie County.
United Way of Erie County Board and Staff
2009 Board of Directors
Phyllis Bransky
Citizens Banking Co.
Meg Chrislip
Business Banking Officer, First Merit Bank
Thomas E. Darden
Retired Pastor
Patrick Deville, Past President
President, Buckeye CableSystem
Sandi Foster
Retired COO/CNO Fremont Memorial Hospital
Justin Harris
Attorney, Reminger Law Firm
Twila M. Johnson
Retired, Delphi Chassis
Daniel R. Keller
Past V.P., Cedar Point
Sue Kimball
Financial Counselor, Firelands Regional Medical Center
Lynne Gast King
Asst. Law Director, Sandusky
Peter P. Kowalski, Jr., Board Vice President
Vice President, Mack Iron Works Co.
Ben K. Lindsley
John Hancock Financial
M. Lee McDermond, Jr.
Retired, City of Huron
John Moldovan, Board President
President, Chamber of Commerce
George L. Mylander
Retired, School Administrator & City Official
Charles M. Pascoe
Retired, United Pascoe Insurance
Douglas D. Phares
Publisher, Sandusky Register
George J. Poulos
Poulos & Associates Architects
Kevin Ralofsky
CEO, VacationLand Federal Credit Union
Carole Romp
Stein Hospice
Dan Schiefley
Dan Schiefley Real Estate
Susan Schultz
Schultz Designs
Greg Sherman, Board Treasurer
Sherman Gov't Financial Services
Leroy Sizemore, J
Retired, City of Sandusky Comm.
J. William Springer
Industrial Nut Corporation
Leon J. Wieber
Retired, KeyBank/Sandusky
Ad Hoc Member
Richard A. Hargrave
Vice Pres. & CFO, Sandusky International, Inc.
The staff of United Way of Erie County would not be able to do all that we do without the support of the
Board of Directors. This group of dedicated volunteers attends monthly board meetings and participates
on one or two of seven committees – Business & Operations, Finance, Community Investment Committee, Audit
Committee, Marketing & Development, Executive, and Campaign.
2009 Staff
Pamela Colbert-Brumbaugh, Executive Director
Juanita Fenton – Financial Assistant – Retired March, 2009
Ashley Schultz – Administrative Assistant –through October
Mary Bird – Administrative Assistant
Corporate and Business Donors for 2009/2010
Top 10 Corporate/Business Contributors
Buckeye Cable System
Citizen's Bank
KBI-Kylos Bearing*
Sandusky City Schools*
BGSU Firelands*
Firelands Reg. Med Center
Meijer
Cedar Point
FirstEnergy
State Employees
Corporate/Business Contributors
Allstate Insurance Co.**
Balconi Monuments Inc.*
Brady Electric, Inc. *
Brown, Leo F. Plumbing *
Center for Cultural Aware**
Crafts Lake View Lane *
Day's and Associates, LTD *
EHOVE **
Fifth Third Bank
First National Bank **
GW Samaha Antiques *
Gordon Food Service
Gundlach Sheet Metal
Herman's Furniture **
Huron Browns Backers *
Industrial Nut **
Key Bank
Label Aid/Paper Res *
Marconi's Restaurant *
Mielke Furniture Repair, Inc *
Nemecek Insurance **
Ohio Veterans Home **
Pfeil Funeral Homes, Inc *
RS Office Solutions *
Sandusky Bay Area Goodwill **
Sandusky Fence * Guard Rail *
Sandusky Register
Sandusky YMCA **
Toft Dairy Co. Inc *
Uncl Diks Inc *
Wal-Mart Stores
Alzheimer's Support Group*
American Red Cross **
Bayshore Counseling **
Big Brothers/Big Sisters**
Breckenridge Kitchen Equip. *
Bridgestone/Firestone **
Busch & Thiem **
Catholic Charities **
City of Sandusky **
Colonial Gardens*
DPD Enterprises, Inc. *
Dawson Companies **
Delahunt Appraisal *
Ebert's Garage *
Elder Beerman
Erie County Offices **
First Federal Savings **
First Merit **
Foster Chevrolet *
Fresch Electric, Inc *
Girl Scouts NE Ohio **
Goodyear Tire & Rubber**
Grange Insurance **
Groff Funeral Home *
H & R Block *
Hammer-Huber *
Hohler Furnace & Sheet Metal * Home Savings
Huron Local Schools **
Huron Market *
JC Penny Store
Janotta & Herner *
KinShip, Inc. **
Kuns Dairy Farm *
Law Brothers Autobody *
Mack Iron Works
Margaretta Schools **
Mental Health & Recovery **
Modern Dry Kleeners *
Murray & Murray Co. LPA*
News-2-You
OE Meyer Co *
Payne Nickles & Company *
Perkins Local Schools **
Poulos & Associates Arch. *
Prentice Family Chiropractic *
Raymond Schaefer, Inc *
Sandusky Central Cath. School
Sandusky Erie Co. Community Foundation **
Sandusky International **
Sandusky Machine & Tool *
Sandusky Steel & Supply
Sandusky Sweeper Service *
South Shore Marine *
Spoerr Precast Concrete *
Toft Funeral Home *
UPS **
Volunteer Center **
Vounteers of America NW Ohio**
Wolfe's Bow Wow Boutique *
Berardis Family Kitchen
Danny Boys Eatery
Jim's Pizza Box
Max & Erma's
The Pie Factory
2009/2010 Dine-Out Participants
Chet and Matt's
Eats N Treats
Kalahari Kahunaville
Mr. Smith's Coffee House
Qdoba's
* Corporate Gift Only
** Employee Gift Only
Cold Creek Café
Homestead Inn
Lee's
Perkins Restaurant
Zinc Brasserie
No Asterisk-Corporate & Employee Gift
How Donations Were Used in 2009
Total Income for 2009
$708,403.00
United Way of Erie County 2009 Expenses
7%
8%
85%
Program
Management
Fundraising
Funded Programs
ARC of Erie County
Advocacy for individuals with disabilities
Bayshore Counseling Services
Disaster Services, Services to Armed Forces,
Mental Health & Alcohol/Drug Abuse Support
Sandusky Area Alzheimer's Support Group
Community Education, Respite Care
American Red Cross, Firelands Chapter
Blood Collections, Health & Safety,
Volunteers, Youth Programs
Big Brothers Big Sisters of Erie-Seneca Cos.
One-to-One Mentoring
Cancer Services
Patient Services
Center for Cultural Awareness
School Suspension/Expulsion Program
Erie County Senior Center
Transportation
Girl Scouts of North East Ohio
Girl Scout Leadership Experiences
Safe Harbour Domestic Violence Shelter
Shelter Services
Salvation Army
Mobile Ministry, General Assistance
Sandusky Area YMCA
Scholarship Program
Volunteers of America
Crossroads Shelter
Boy Scouts/Heart of Ohio Council
Scouting & Scout Reach Programs
Catholic Charities, Diocese of Toledo
Adult Advocacy Services
Erie County CASA
Child Court Advocates
Erie Residential Living Program
Medication & Food Assistance
Kinship
Supervised Visits & Exchanges
Salvation Army- Huron & Milan Service Units
Basic Needs
Sandusky Bay Area Goodwill Industries
Organizational Employment
The Volunteer Center
Volunteer Programs and Coordination
2-1-1
Informational & Referral Hotline
Annual Audits can be reviewed on our website: www.uwerieco.org or by contacting the office.