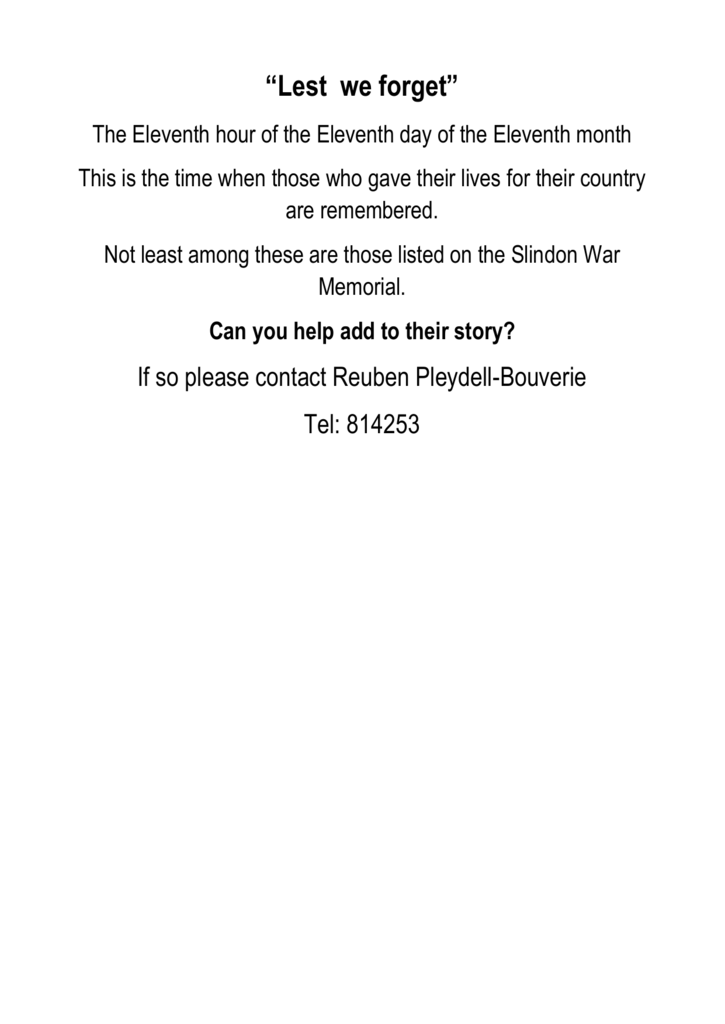 "Lest we forget"
The Eleventh hour of the Eleventh day of the Eleventh month
This is the time when those who gave their lives for their country
are remembered.
Not least among these are those listed on the Slindon War
Memorial.
Can you help add to their story?
If so please contact Reuben Pleydell-Bouverie
Tel: 814253
Slindon War Memorial Names 1914-1918
Harry (William Henry) Blunden. – Private 4150, 13th Battalion (New South Wales),
Australian Infantry. 4th Australian Division. Killed in action 4th July 1918. Aged 31.
Son of William & Ellen Blunden of Burnham Cottage, Dairy Lane, Walberton. Uncle of
Lettie Taylor of No:1, Meadsway. Native of Slindon Common. Emigrated to Australia
aged 24. Buried in Crouy British Cemetery, Crouy sur Somme F.29.
Herbert Dean. – Private G/17811, 12th Battalion,The Royal Sussex Regiment. 39th
Division. Killed in action near Becourt on the Somme 3rd September 1916. Aged 26.
Son of Mr & Mrs James Dean of 47 Park Lane, Slindon. Born in Slindon & enlisted in
Horsham . Buried in Hamel Military Cemetery F.701
Charles (William) Frost. – Private 26791, 2nd Battalion, The Wiltshire Regiment. 19th
Division. Died of wounds in base hospital at Rouen 11th November 1918. Aged 40.
Born in Kings Lynn, Norfolk & enlisted in Chichester. Son of Robert & Sarah Frost of
Stanhoe, Norfolk. Husband of Edith Frost of Warsash, Southampton. Formerly with the
Royal Sussex Regiment. Buried in St Sever Cemetery extension, Rouen. F.146
Charles (Robert) Francis. – Able Seaman J/1961/PO, H.M.S. "Tipperary", Royal Navy.
Grand Fleet Destroyers. Lost with the ship during the night action of May 31st - June
1st 1916 between the opposing cruiser and destroyer forces which followed on
immediately after the capital ships broke off the action at the battle of Jutland.
H.M.S."Tipperary" was sunk by 5.9 inch gunfire from the secondary battery of the
German Dreadnought S.M.S. "Westfalen" with the loss of 185 out of her crew of 197.
Son of Frank & Eliza Annie Francis of Burstowes Croft, Ewhurst, Surrey.
Commemorated on the Portsmouth Naval Memorial MR. 3.
(Howard ) Maurice Glover. - Private 75321, 17th Battalion, Royal Fusiliers (City of
London Regiment). Killed in action Flanders, 24th March 1918. Formerly Territorial
Reservist 18624 and before that a regular in the Royal Sussex Regiment. Buried Bay 3
Arras Memorial.
George Holden. – Private G/487, 13th (Southdown) Battalion, The Royal Sussex
Regiment. 39th Division. Killed in action during the March Retreat 21st March 1918.
Aged 20. Nephew of Elizabeth Burch of "Pine View", Slindon Common. Born in
Lambeth & enlisted in Chichester. Previously served with the 8th (Pioneer) Battalion
and was wounded on July 1st, 1916, the first day of the Battle of the Somme.
Commemorated on the Pozieres Memorial MR. 27.
Walter Huband. – Petty Offiicer 1st class 119178 of H.M.S."Viknor", Royal Navy.
H.M.S."Viknor" was an armed Merchant Cruiser lost with all hands on 13th January
1915 in heavy weather near Tory Island (off the coast of Donegal) in waters known to
have been mined by the Germans. Husband of Mrs Ellen Huband of Slindon.
Commemorated on the Portsmouth Naval Memorial, MR. 3.
Charles (Frederick) Heater. – Stoker 2nd Class K/21440, H.M.S. "Bulwark", Royal
Navy. Lost with 738 other sailors when the battleship blew up at Sheerness on 26th
November 1914. Aged 19. Son of George Heater of Elmsleigh Cottages, Slindon and
Mrs A. White (formerly Heater) of 33 Prospect Cottage, Slindon. Commemorated on
the Portsmouth Naval Memorial , MR. 3.
John ("Jack") Holston Miles. – Guardsman 34561, 5th (Reserve) Battalion,The
Grenadier Guards. While still under training died of illness at home depot on 14th July
1918. Aged 24. Buried in Brompton Cemetery, Chelsea. Son of John Miles of Slindon
Common. Had been a police constable stationed at Shooters Hill, Woolwich.
John Parrott. – 1885 Lance Sergeant. Born and brought up in Salford, Manchester.
Enlisted in the Scots Guards on January 24th 1898. Served in the Boer War from
October 1899. Promoted to Lance Corporal in 1900 ( awarded Queen's South African
War Medal with Clasps, King's South African War Medal with Clasps). Joined the
Reserve in 1905. Discharged on 25th January 1914. Married Amelia Davidson at St
Richard's Church, Slindon in 1907 and subsequently lived in Pendleton, Manchester.
(there is no record of his rejoining the Scots Guards after the outbreak of the Great
War in 1914 nor is there any Commonwealth War Graves Commission or other records
of his death. It is possible that his record in WW1 may have been part of what is
known as the "burnt collection" [60% of all the WW1 army records were destroyed by
fire during the blitz in 1940] It is probable that, similar to many experienced soldiers,
he joined one of the "Pals" regiments of Kitchener's army, perhaps one of the seven
Manchester Battalions, and was promoted to the rank of Company Sergeant Major).
There is no record of where he was killed or where he is buried and the only memorial
of his death seems to be at Slindon.
William (Alfred) Roberts. – Private G/431, 7th (Service) Battalion, The Royal Sussex
Regiment. 12th Division. Killed in action near Festubert 18th December 1915. Age 22.
Son of Charles & Emily Roberts of 58 Slindon Common, Slindon. Born in Slindon &
enlisted in Chichester. Commemorated on the Loos Memorial MR. 19.
Charles Stillwell. – He is probably Frederick Stillwell, Private 51213, 19th Battalion,
The Manchester Regiment. 30th Division. Killed in action at Third Ypres 31st July 1917.
Born in Graffam.Sussex & enlisted in Chichester. Next of kin a resident of Slindon.
Commemorated on the Menin Gate Memorial for those with no known grave, Ypres,
Belgium.
George (Frederick) White.- Private76746, 26th Battalion, Royal Fusiliers. 41st Division.
Killed in action 25th October 1918. Born in Walberton & enlisted in Chichester. Next of
kin resident of Slindon. Buried in Heerstert Military Cemetery, Belgium.
Stephen Whittington. (listed as being in the Cycle Corps on the Memorial in the
Church). Lance Corporal 43342, 9th Battalion,The Essex Regiment. 12th Division. Killed
in action 22nd July 1917. Age 40. Born in Angmering & enlisted in Shepherds Bush,
Middlesex. Husband of Mrs M. L. Whittington of 5, Council Cottages, Slindon. Buried in
Monchy British Cemetery, Monchyle Preux.
George. Strachan Campbell. 11486, Lance Sergeant 2nd Battalion Scots Guards. Killed
in action on the Somme 24th January 1916. Husband of Maggie Campbell of
"Sallandra", Crown Lane, Bromley, Kent. Buried at Merville Communal Cemetery. V1.
H. 2.
Slindon War Memorial names 1939 – 1945.
Patrick. J. Berryman Private 6399440, The Hampshire Regiment. Killed in action 13th
June 1944 with 16 others of the Regiment on D+7 near Berrierres Bocage South of
Bayeux. Buried Bayeux Cemetery. Born in Hope Cottage, School Hill, Slindon. Joined
as a regular in the Sussex Regiment in 1938. Served 4 years in North Africa and
fought at El Alamein. On return to England was re-mustered into The Hampshire
Regiment which was the spearhead of the D-Day landing on Gold Beach where they
suffered 186 casualties.
John William Hall. 1390926 Aircraftman1st Class, Royal Airforce Volunteer Reserve,
R.A.F. Regiment. Son of William Henry and Laurie Lizzie Hall of No: 7 (Church Hill)
Slindon and later of Iver Heath, Buckinghamshire. Died 1st July 1942 aged 20. Buried
in St Margaret Churchyard, Iver Heath. Sec. D. Grave 124.
George (G.K?) Mills. Private 640392, Queen's Westminster Regiment. Posted from
Royal Sussex Infantry Training Centre to 2nd Queen's Westminster Regiment
(subsequently called 12th K.R.R.C). Went to Egypt. Transferred into the Rifle
Brigade.Was wounded and captured in Tunisia in 1943. Died as a POW in Mantua,
Italy. Son of George and Emma Mills of Chichester. Buried in Padua War Cemetary.