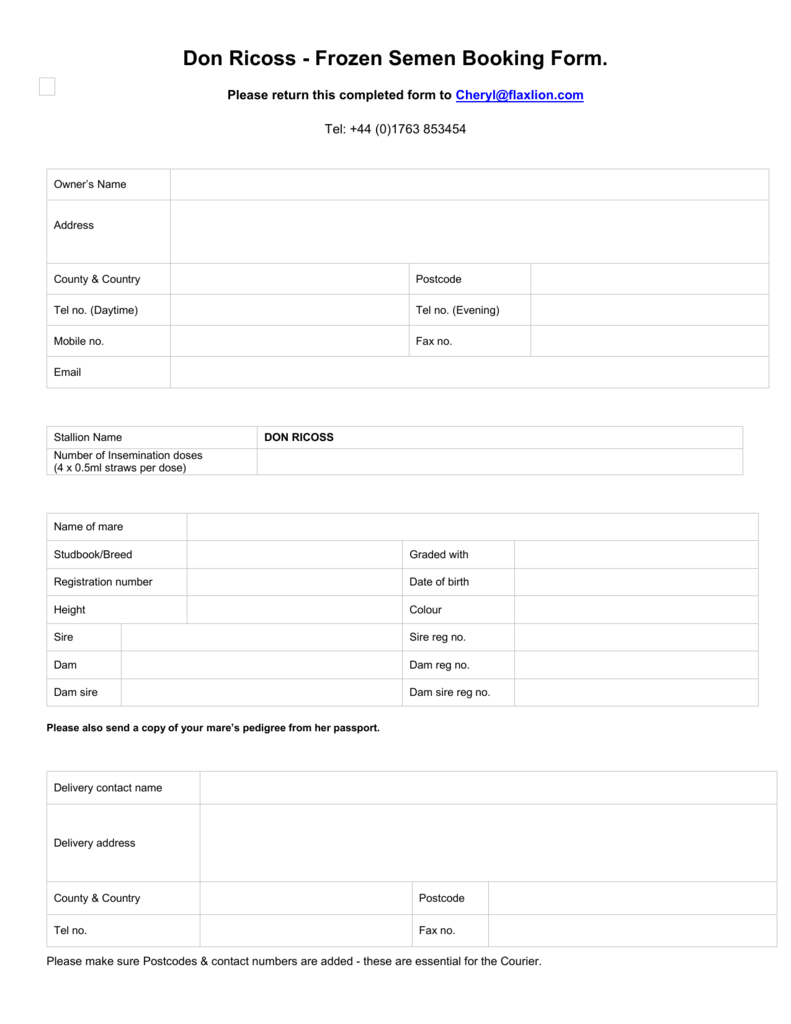 Don Ricoss - Frozen Semen Booking Form.
Please return this completed form to [email protected]
Tel: +44 (0)1763 853454
Owner's Name
Address
County & Country
Postcode
Tel no. (Daytime)
Tel no. (Evening)
Mobile no.
Fax no.
Email
Stallion Name
DON RICOSS
Number of Insemination doses
(4 x 0.5ml straws per dose)
Name of mare
Studbook/Breed
Graded with
Registration number
Date of birth
Height
Colour
Sire
Sire reg no.
Dam
Dam reg no.
Dam sire
Dam sire reg no.
Please also send a copy of your mare's pedigree from her passport.
Delivery contact name
Delivery address
County & Country
Postcode
Tel no.
Fax no.
Please make sure Postcodes & contact numbers are added - these are essential for the Courier.
Payment
Please pay the stud fee (£350 per dose, or £600 for 2 doses), to:Mrs. CA Mitchell
Barclays Bank, Woodstock, Oxon.
Sort Code: 20-98-48
Account Number: 80902896
International Payments:
SWIFTBIC:
IBAN:
BARCGB22
GB90 BARC2098 4880 9028 96
Delivery
To arrange for semen delivery, please complete the Stallion AI online order form http://www.stallionai.co.uk/order-semen/
before noon, at least 24 hours in advance of the shipment being made.
Courier payments should be made in advance of shipping direct to Stallion AI – Tel 01948 666295.
UK Round trip courier & tank hire charges are £115 + VAT for Tues – Friday (next day, before noon).
Saturday deliveries are an additional £30 + VAT.
The semen is the responsibility of the relevant carrier whilst in transport, and the responsibility of the vet or person to
whom the semen has been delivered on arrival.
If you have any problems or queries at any time please contact us immediately and we will do our very best to help!!!