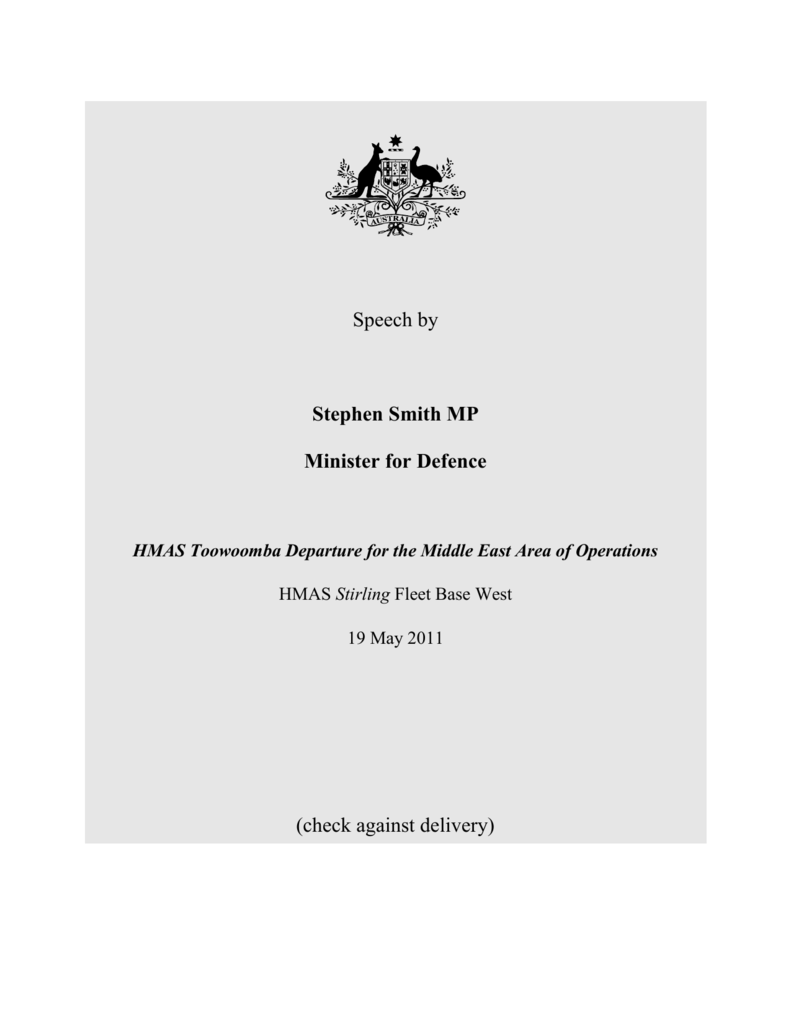 Speech by
Stephen Smith MP
Minister for Defence
HMAS Toowoomba Departure for the Middle East Area of Operations
HMAS Stirling Fleet Base West
19 May 2011
(check against delivery)
I thank the Commanding Officer, HMAS Stirling, Captain Brett Wolski for that
introduction.
I acknowledge: my Parliamentary colleagues Senator David Feeney, Senator David
Johnston, Gary Gray and Mark McGowan; Mayor Barry Sammels, Mayor of City of
Rockingham; Commander Surface Force, Commodore Stephen McDowall;
Commanding Officer, HMAS Stirling, Captain Brett Wolski; Commanding Officer, HMAS
Toowoomba, Commander Andrew Quinn; families and friends of the ship's company of
HMAS Toowoomba.
Today we farewell the ships company of HMAS Toowoomba as she departs on a six
month deployment to the Middle East on the Australian Navy's 26th rotation of
Operation SLIPPER.
In this context, I acknowledge Lieutenant General Ash Power on his recent promotion
and appointment to Chief of Joint Operations and who will commence in the role on 20
May 2011.
The Chief of Joint Operations commands Headquarters Joint Operations Command
which plans and controls operations on behalf of the Chief of the Defence Force.
Lieutenant General Power will therefore exercise command over HMAS Toowoomba on
her deployment.
Lieutenant General Power will also exercise command over the next rotation of the
Mentoring Task Force, which will commence at the end of this month.
Since the commencement of Operation SLIPPER in 2001, Australia has maintained a
maritime contribution in the Middle East Area of Operations.
From 2001 to 2008, Australia's maritime contribution focused on maritime security
operations in the northern Persian Gulf.
With the withdrawal of Australian Defence Force personnel from Iraq in 2008, the
Operation SLIPPER maritime role shifted to counterterrorism and maritime security.
The Australian maritime contribution also became involved in international counterpiracy efforts which commenced in 2009 under a United Nations Security Council
mandate.
Toowoomba was last deployed to the Middle East Area of Operations in June 2009.
She was then the first Australian Ship to commence anti-piracy operations in the Gulf of
Aden.
HMAS Toowoomba will be deployed to the US-led Combined Maritime Forces, which
patrols more than 2.5 million square miles of international waters to counter terrorism,
prevent piracy and reduce the illegal trafficking of people and drugs.
HMAS Toowoomba, along with our maritime partners will be responsible for conducting
maritime security operations in the Gulf of Aden, Gulf of Oman, the Arabian Sea, Red
Sea and the Indian Ocean.
These operations help develop and maintain maritime security and promote stability and
prosperity.
HMAS Stuart, our currently deployed ship on Operation SLIPPER, will hand over to
HMAS Toowoomba. Stuart will then return to her home port of Sydney after a successful
six month deployment to the Middle East, which commenced on 19 January 2011.
During her deployment, HMAS Stuart interdicted a Yemeni-flagged dhow and rescued
three crew members who were being held hostage by Somali pirates off the Horn of
Africa.
HMAS Toowoomba will continue the excellent work of HMAS Stuart and Royal
Australian Navy ships before her in the Middle East.
To the ships company, family and friends, the periods of absence during HMAS
Toowoomba's pre-deployment training have already been tough.
Over the past three months the ships company of HMAS Toowoomba have worked
tirelessly to prepare for Operation SLIPPER.
During this intensive training, the ships company has proved to be a capable and
professional team whose ability and determination has been tested.
You are now about to put those skills into practice in Australia's national interests and in
the international community's interests.
The six month period ahead will be filled with some apprehension but your family and
friends can be proud of what you have already achieved as a crew and be confident in
your ability to meet the challenges that lie ahead.
The men and women of the Royal Australian Navy and wider Defence Force choose,
each day, to wear their uniform with pride, representing our nation at home and abroad.
You have adopted the Navy values of Courage, Honour, Honesty, Integrity and Loyalty.
These are the values that you aspire to as officers and sailors of the Royal Australian
Navy.
These are the values expected of you by your colleagues. These are the values that
hold you in good stead with our international partners and contribute to Australia's
international standing and regard.
There will be sadness as family and friends farewell loved ones today, but the ships
company should know that we are all very proud of you.
We honour what you do. Australia honours what you do.
On behalf of the Parliament, and all Australians, we wish you every success on your
deployment.
Your family, your friends and your nation stand fast awaiting your safe return.