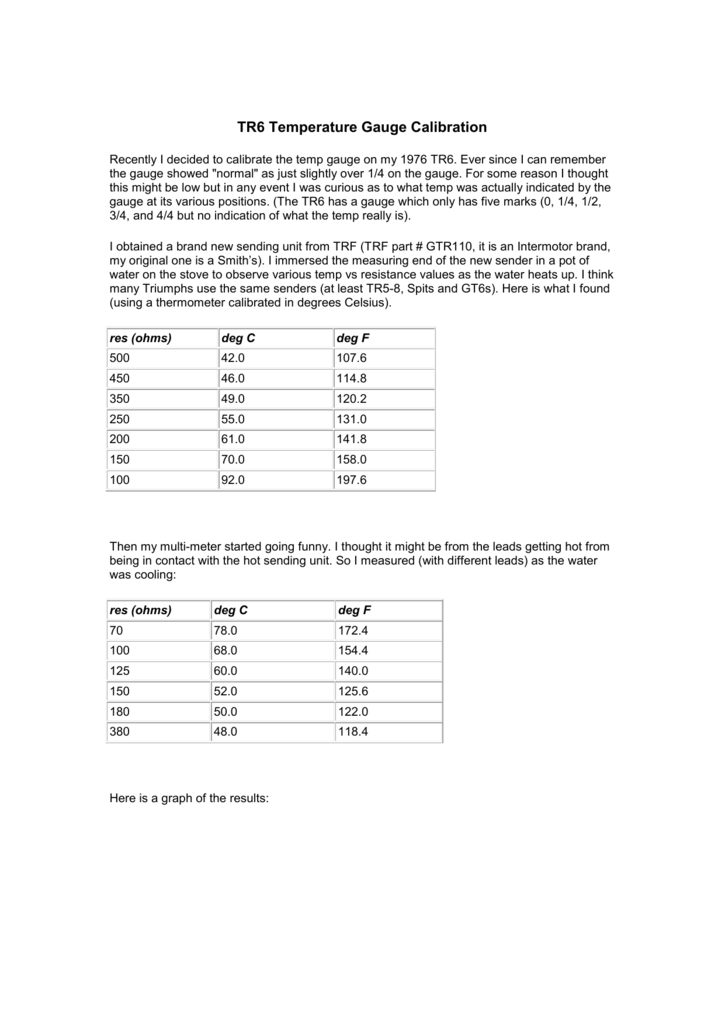 TR6 Temperature Gauge Calibration
Recently I decided to calibrate the temp gauge on my 1976 TR6. Ever since I can remember
the gauge showed "normal" as just slightly over 1/4 on the gauge. For some reason I thought
this might be low but in any event I was curious as to what temp was actually indicated by the
gauge at its various positions. (The TR6 has a gauge which only has five marks (0, 1/4, 1/2,
3/4, and 4/4 but no indication of what the temp really is).
I obtained a brand new sending unit from TRF (TRF part # GTR110, it is an Intermotor brand,
my original one is a Smith's). I immersed the measuring end of the new sender in a pot of
water on the stove to observe various temp vs resistance values as the water heats up. I think
many Triumphs use the same senders (at least TR5-8, Spits and GT6s). Here is what I found
(using a thermometer calibrated in degrees Celsius).
res (ohms)
deg C
deg F
500
42.0
107.6
450
46.0
114.8
350
49.0
120.2
250
55.0
131.0
200
61.0
141.8
150
70.0
158.0
100
92.0
197.6
Then my multi-meter started going funny. I thought it might be from the leads getting hot from
being in contact with the hot sending unit. So I measured (with different leads) as the water
was cooling:
res (ohms)
deg C
deg F
70
78.0
172.4
100
68.0
154.4
125
60.0
140.0
150
52.0
125.6
180
50.0
122.0
380
48.0
118.4
Here is a graph of the results:
I live at about 2000' above sea level so the boiling point is lower than 212 F (100 C).
With the ignition switch in the on position (engine not running) I attached the following
resistors between the new sending unit and ground and observed the following on my temp
gauge (so the voltage regulator should be doing its thing on this circuit):
res (ohms)
gauge reading
200
half way between 0 and 1/4
100
between the 1/4 and 1/2 mark (closer to the 1/2)
50
3/4 exactly
In conclusion, with the new sender the temp gauge now reads a needle width less than 1/2 when at
normal operating temperature (using a summer rated thermostat - 160 F).