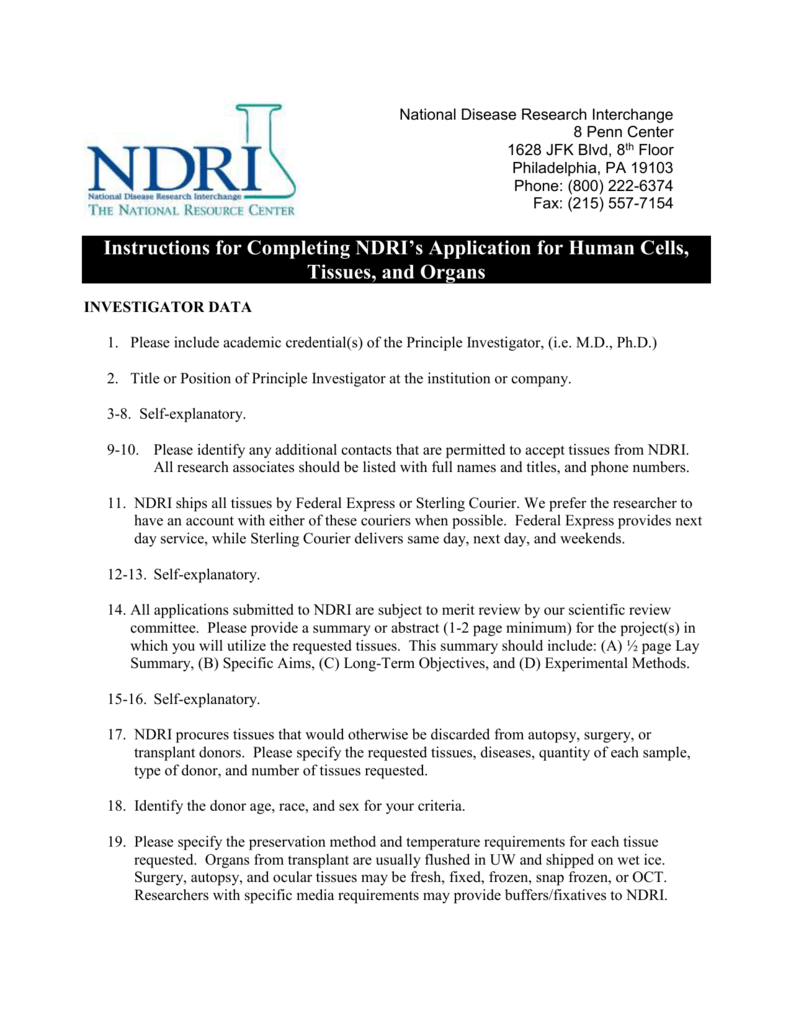 National Disease Research Interchange
8 Penn Center
1628 JFK Blvd, 8th Floor
Philadelphia, PA 19103
Phone: (800) 222-6374
Fax: (215) 557-7154
[email protected]
Instructions for Completing NDRI's Application for Human Cells,
Tissues, and Organs
INVESTIGATOR DATA
1. Please include academic credential(s) of the Principle Investigator, (i.e. M.D., Ph.D.)
2. Title or Position of Principle Investigator at the institution or company.
3-8. Self-explanatory.
9-10. Please identify any additional contacts that are permitted to accept tissues from NDRI.
All research associates should be listed with full names and titles, and phone numbers.
11. NDRI ships all tissues by Federal Express or Sterling Courier. We prefer the researcher to
have an account with either of these couriers when possible. Federal Express provides next
day service, while Sterling Courier delivers same day, next day, and weekends.
12-13. Self-explanatory.
14. All applications submitted to NDRI are subject to merit review by our scientific review
committee. Please provide a summary or abstract (1-2 page minimum) for the project(s) in
which you will utilize the requested tissues. This summary should include: (A) ½ page Lay
Summary, (B) Specific Aims, (C) Long-Term Objectives, and (D) Experimental Methods.
15-16. Self-explanatory.
17. NDRI procures tissues that would otherwise be discarded from autopsy, surgery, or
transplant donors. Please specify the requested tissues, diseases, quantity of each sample,
type of donor, and number of tissues requested.
18. Identify the donor age, race, and sex for your criteria.
19. Please specify the preservation method and temperature requirements for each tissue
requested. Organs from transplant are usually flushed in UW and shipped on wet ice.
Surgery, autopsy, and ocular tissues may be fresh, fixed, frozen, snap frozen, or OCT.
Researchers with specific media requirements may provide buffers/fixatives to NDRI.
20. Specify type of tumor (if applicable).
21. NDRI contacts researchers prior to each tissue shipment. Please specify time constraints
from death to preservation and delivery for each tissue type selected.
22. Please note if serology testing is requested for HIV and Hepatitis. Serology testing is not
available for samples from surgical tissue donors.
23. List any contraindications of the donor, such as infections, medications, substance abuse, or
diseases. Be as specific as possible, as we are procuring tissues from donors that meet your
requirements.
24-25. Self-explanatory.
IMPORTANT-PLEASE NOTE THE FOLLOWING:
1. NDRI is an interchange between sources of human biomaterials and researchers, not a tissue
bank. We will use our network to provide you with the donors and tissues you request. We
ask that you project the quantity of tissues you will need procurements are based on this
estimate.
2. NDRI requires that you handle all tissues as potentially contaminated, even if serology
reports are negative. We remind all researchers that, in accordance with OSHA Bloodborne
Pathogens Standard 1910.1030, all human tissue must be handled with universal
precautions. Guidelines for handling human tissues and bodily fluids used in research are
available upon request. NDRI does not accept tissues with known contamination, unless
specifically required for your project.
3. NDRI provides human tissues and organs for basic biomedical research, pre-clinical trials,
and product development. Should your research lead to the development of a commercial
product, NDRI requires immediate notification.
4. The indemnification agreement attached to the application MUST BE SIGNED and returned
to process your application.
5. NDRI makes every attempt to comply to your needs, however, should there be a problem,
please notify us immediately. NDRI conducts a Quality Assurance Assessment for each
tissue you receive. We encourage you to provide feedback so we can better serve your
research endeavors.
6. Researchers are required to acknowledge the use of tissues provided through NDRI in
published scientific papers and to submit a copy for the NDRI Researcher Bibliography.