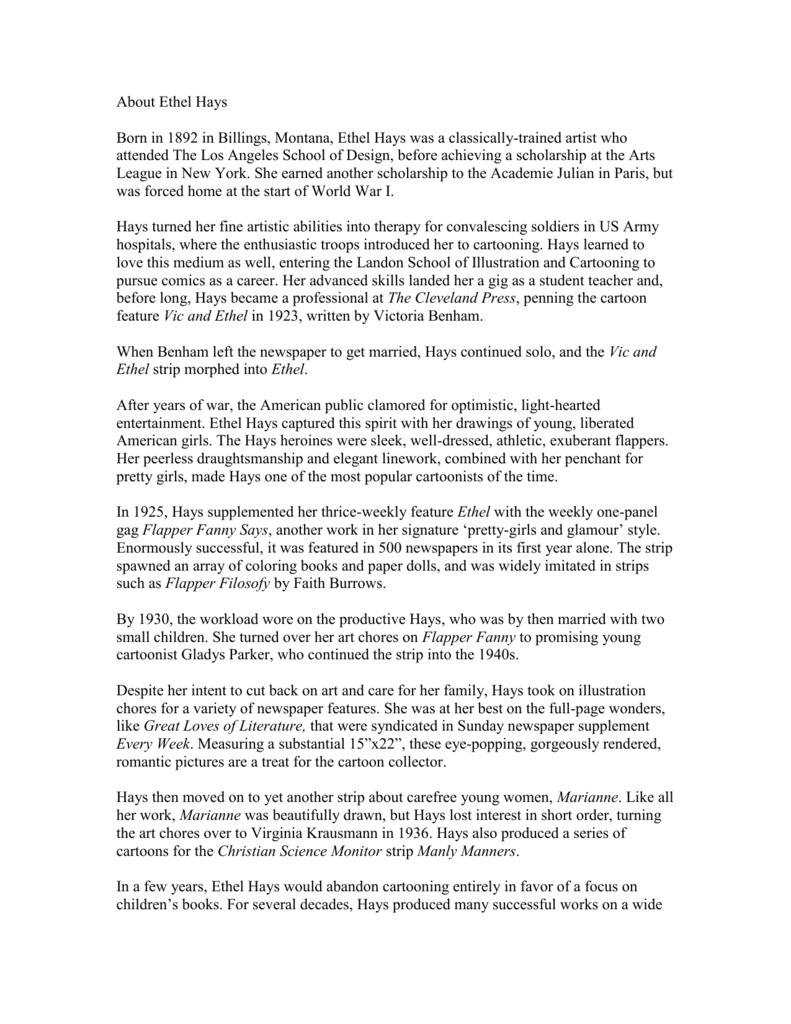 About Ethel Hays
Born in 1892 in Billings, Montana, Ethel Hays was a classically-trained artist who
attended The Los Angeles School of Design, before achieving a scholarship at the Arts
League in New York. She earned another scholarship to the Academie Julian in Paris, but
was forced home at the start of World War I.
Hays turned her fine artistic abilities into therapy for convalescing soldiers in US Army
hospitals, where the enthusiastic troops introduced her to cartooning. Hays learned to
love this medium as well, entering the Landon School of Illustration and Cartooning to
pursue comics as a career. Her advanced skills landed her a gig as a student teacher and,
before long, Hays became a professional at The Cleveland Press, penning the cartoon
feature Vic and Ethel in 1923, written by Victoria Benham.
When Benham left the newspaper to get married, Hays continued solo, and the Vic and
Ethel strip morphed into Ethel.
After years of war, the American public clamored for optimistic, light-hearted
entertainment. Ethel Hays captured this spirit with her drawings of young, liberated
American girls. The Hays heroines were sleek, well-dressed, athletic, exuberant flappers.
Her peerless draughtsmanship and elegant linework, combined with her penchant for
pretty girls, made Hays one of the most popular cartoonists of the time.
In 1925, Hays supplemented her thrice-weekly feature Ethel with the weekly one-panel
gag Flapper Fanny Says, another work in her signature 'pretty-girls and glamour' style.
Enormously successful, it was featured in 500 newspapers in its first year alone. The strip
spawned an array of coloring books and paper dolls, and was widely imitated in strips
such as Flapper Filosofy by Faith Burrows.
By 1930, the workload wore on the productive Hays, who was by then married with two
small children. She turned over her art chores on Flapper Fanny to promising young
cartoonist Gladys Parker, who continued the strip into the 1940s.
Despite her intent to cut back on art and care for her family, Hays took on illustration
chores for a variety of newspaper features. She was at her best on the full-page wonders,
like Great Loves of Literature, that were syndicated in Sunday newspaper supplement
Every Week. Measuring a substantial 15"x22", these eye-popping, gorgeously rendered,
romantic pictures are a treat for the cartoon collector.
Hays then moved on to yet another strip about carefree young women, Marianne. Like all
her work, Marianne was beautifully drawn, but Hays lost interest in short order, turning
the art chores over to Virginia Krausmann in 1936. Hays also produced a series of
cartoons for the Christian Science Monitor strip Manly Manners.
In a few years, Ethel Hays would abandon cartooning entirely in favor of a focus on
children's books. For several decades, Hays produced many successful works on a wide
variety of projects, including Raggedy Ann and Andy, a widely-licensed work for which
she was the primary artist. Her art appeared on paper dolls, coloring books, and countless
other products.
Among her extensive credits were The Town Mouse and the Country Mouse, The Little
Red Hen, and the now-controversial Little Black Sambo.
Ethel Hays remained a productive artist into the 1960s. She died in New Mexico in 1989.
Most of Hays's catalogue of cartoon work is in the public domain and widely available
online. Largely ignored by modern fans, her original cartoons can be had for a song. Her
children's books are also easy to find and very affordable via online auction sources.
The underrated and underappreciated Hays is yet another example of a woman cartoonist
of outstanding ability left behind by comics history. Hays not only produced a beautiful
catalogue of work, but supported and encouraged the careers of other young women
cartoonists. While biographical information about Hays is sketchy, her work speaks for
itself. She was an exceptional cartoonist who deserves to be remembered.