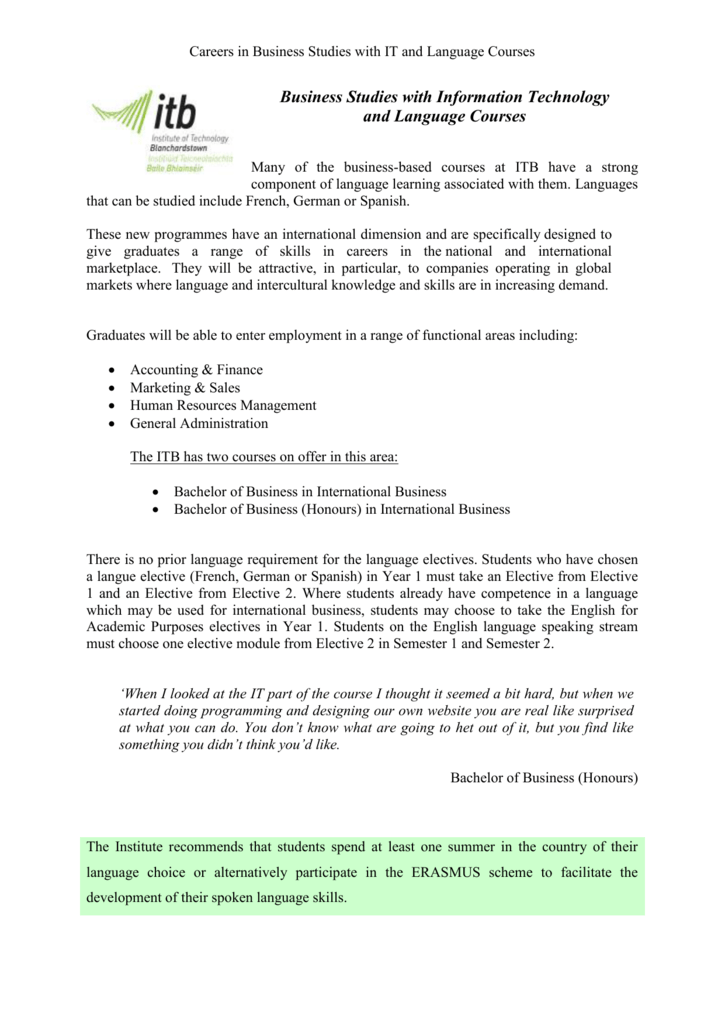 Careers in Business Studies with IT and Language Courses
Business Studies with Information Technology
and Language Courses
Many of the business-based courses at ITB have a strong
component of language learning associated with them. Languages
that can be studied include French, German or Spanish.
These new programmes have an international dimension and are specifically designed to
give graduates a range of skills in careers in the national and international
marketplace. They will be attractive, in particular, to companies operating in global
markets where language and intercultural knowledge and skills are in increasing demand.
Graduates will be able to enter employment in a range of functional areas including:




Accounting & Finance
Marketing & Sales
Human Resources Management
General Administration
The ITB has two courses on offer in this area:


Bachelor of Business in International Business
Bachelor of Business (Honours) in International Business
There is no prior language requirement for the language electives. Students who have chosen
a langue elective (French, German or Spanish) in Year 1 must take an Elective from Elective
1 and an Elective from Elective 2. Where students already have competence in a language
which may be used for international business, students may choose to take the English for
Academic Purposes electives in Year 1. Students on the English language speaking stream
must choose one elective module from Elective 2 in Semester 1 and Semester 2.
'When I looked at the IT part of the course I thought it seemed a bit hard, but when we
started doing programming and designing our own website you are real like surprised
at what you can do. You don't know what are going to het out of it, but you find like
something you didn't think you'd like.
Bachelor of Business (Honours)
The Institute recommends that students spend at least one summer in the country of their
language choice or alternatively participate in the ERASMUS scheme to facilitate the
development of their spoken language skills.