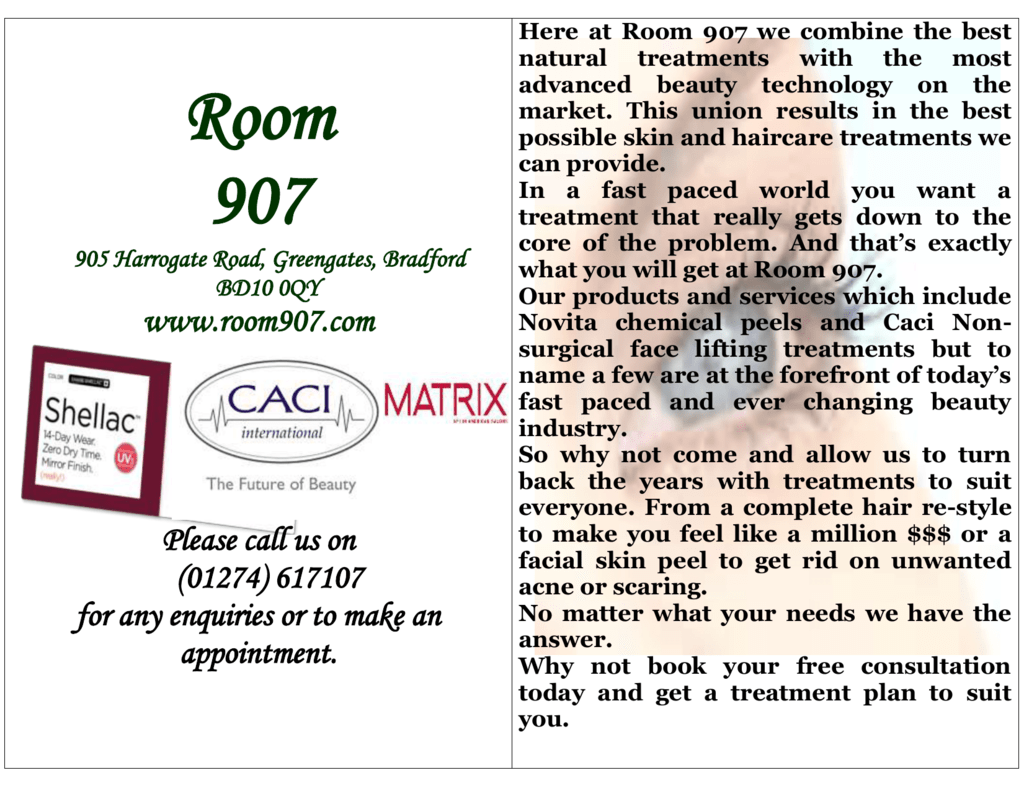 Room
907
905 Harrogate Road, Greengates, Bradford
BD10 0QY
www.room907.com
Please call us on
(01274) 617107
for any enquiries or to make an
appointment.
Here at Room 907 we combine the best
natural treatments with the most
advanced beauty technology on the
market. This union results in the best
possible skin and haircare treatments we
can provide.
In a fast paced world you want a
treatment that really gets down to the
core of the problem. And that's exactly
what you will get at Room 907.
Our products and services which include
Novita chemical peels and Caci Nonsurgical face lifting treatments but to
name a few are at the forefront of today's
fast paced and ever changing beauty
industry.
So why not come and allow us to turn
back the years with treatments to suit
everyone. From a complete hair re-style
to make you feel like a million $$$ or a
facial skin peel to get rid on unwanted
acne or scaring.
No matter what your needs we have the
answer.
Why not book your free consultation
today and get a treatment plan to suit
you.
Book ten or more of any of the following facial treatments as
a course to be used within 12 months and receive a 15%
discount.
CACI MICRO CURRENT SYSTEM
The award winning CACI (Computer Aided Cosmetology
Instrument) by Caci International has gained the
reputation as the finest micro current machine available.
The micro current system is the most publicised NON
SURGICAL FACE LIFT salon treatment system available
backed by more than 20 years research and has attracted
a strong celebrity following in the UK.
CACI has become known as "The non-surgical face lift".
By utilising a unique combination of specific waveforms
and frequencies that work in harmony with the body's
own bio-electrical field, CACI transmits tiny electrical
impulses and signals that have been documented to
stimulate muscle tone and enhance skins firmness,
suppleness and texture.
Please ask for a leaflet for more in depth information on
this amazing treatment.
Skin Consultation – free allow 15 mins
If you are having difficulties deciding what the best treatment is for
your skin concerns then why not let us help you? We will assess your
concerns and suggest the best route for you to take.
New
Caci Ultra Non-Surgical Skin Renewal £70.00 allow 120 mins
'The Queen Of Anti-Ageing Treatments.'
Using Caci, the most up to date anti aging technology available. This
non intrusive facial combines three amazing techniques into just one
treatment. 'Micro Dermabrasion' aids to rid the skin of dead cells
combined with the 'Caci Non-Surgical Face Lifting' treatment
that strengthens and tighten the neck and facial muscles. And as if all
that was not enough we will then apply a specialized mask which is
suitable for your own individual concern.
New
The Caci Classic £40.00 allow 60 mins
Using the Micro Current System to lift, tone and re-educate
the facial muscles and leave your skin feeling firmer with a more
clear and youthful appearance.
New
The Caci Ultra
£45.00 allow 75 mins
Using the Ultra Micro Current System to lift and reeducate muscles; smooth deep lines and wrinkles; improve the
elasticity of the skin; tighten, tone and lift the face and leave the skin
revitalised and glowing. The ultimate CACI Treatment.
New
AHA/BHA Derma-new - £45.00 allow 60 mins
Perfect for those dull, congested, oily skins. Including the deep
exfoliation of Micro Dermabrasion combined with the cleansing
benefits of AHA's (Alpha Hydroxy Acids). This fantastic facial is
100% cleansing and not for the faint hearted! It is ideal for spot
prone skin that does not seem to respond to any other products. Give
your skin the clean of its life.
Collagen Dermal Renewal - £45.00 allow 60mins
Does your skin always feel dry or tight? Are you constantly putting
moisturiser on? If so this is your facial. Dry skin is worsened by layers
of dead skin sitting on the surface and never being removed. So let us
rid you of dull/tight and lifeless skin. Using the exfoliating benefits of
Micro Dermabrasion we will be able to infuse your skin with
collagen to plump out fine lines and completely re-hydrate it.
New
Caci Deep Wrinkle Collagen Eye Renewal
£40.00 allow 60mins
The Ultimate Anti-aging Eye Treatment. Using Caci Micro
current technology to lift/tone and firm the muscles and tissue
around the eyes, and applying the Active Bio-collagen eye mask to
plump out fine lines are re-hydrate this delicate area.
New
Caci Eye Lifting Treatment - £30.00 allow 30 mins
This is an intensive treatment concentrating on the eyes and
surrounding area. Results will be visible after one treatment so great for
special occasions however a course of treatments is recommended for
maximum results.
Micro-Dermabrasion Facial - £35.00 Allow 60 mins
The one all of Hollywood is going crazy for. An amazing new treatment
for a dull tired skin. This treatment will remove the surface dead skin
using abrasive crystals and leave your skin feeling soft and clean. This is
also ideal for spot prone, congested, oily or acne skins.
Active Collagen-Bio Facial - £40.00 allow 60 mins
The ultimate hydrating facial treatment. This treatment hydrates and
brightens a dull tired skin.
Aromatherapy Facial - £28.00 allow 60 mins
A treatment to release the senses. Leaving you looking and feeling
rejuvenated - All skin types
Collagen Eye Treatment - £30.00 allow 45 mins
Reduce the signs of ageing on eyes - For dry/aged eyes and skin.
Thermal Modelling Facial - £30.00 allow 60 mins
A deep cleansing and purifying treatment to regenerate your
complexion - All skin types
Aqua Visage Facial -£35.00 allow 60mins
Specifically selected masks for all skins types also fantastic for dark
circles.
Male Face Cleanse -£30.00 allow 60
mins
This treatment has been designed for the
busy man and will deep cleanse, exfoliate,
balance and moisturise - All skin types
Men's Muscle Ease Massage
£25.00 allow 30 mins
Deeply relaxing, deep-tissue massage.
This intense, regenerative massage eases
stress related knots and muscular tension. The calming aromatherapy
oils and soothing aromatic vapours relieve over-active, stressed minds.
Afterwards you feel rebalanced, refreshed and ready to take on the
world!
Back Cleanse - £26.00 allow 45 mins
Purifies and deep cleans the back removing any
congested areas.
Refreshing Foot Therapy - £15.00 allow 30 min
A conditioning treatment for the feet. The cuticles are conditioned and
hard skin is removed. The treatment concludes with a relaxing and
conditioning massage.
Men's Hand Conditioning - £15.00 allow 30 mins
A treatment utilising specialist care
products to restore or maintain hands
and nails. Includes cuticle conditioning.
Manicure - £15.00 allow 30 mins
A treatment utilising specialist care products to
restore and maintain hands and nails. Includes
cuticle conditioning and classic nail paint
Luxury Manicure - £20.00 allow 45mins.
Includes a full manicure with the addition of a paraffin wax treatment
Pedicure – £18.00 allow 45 mins
Please bring flip flops or sandals if you
are having your toes painted. Also remove all
existing polish before you arrive. Incorporating
a luxurious foot bath, and energising massage
that will leave you walking on cloud nine!
Minx nails have become the latest must have fashion
accessory that has taken the States by storm, Minx is for those
who love to stand out from the crowd, - Once you've tried it,
you won't go back.
File and Minx - £20 allow 30 mins
Minx Manicure - £28 allow 1hr
Minx Pedicure - £30 allow 1hr 15 min
This includes everything from a normal manicure/pedicure
as well as the application of the Minx of your choice.
Luxury Pedicure - £23.00 allow 60mins
Includes a full pedicure with the addition of a paraffin wax treatment.
Paraffin wax hands or feet - £15.00 allow 30mins
An excellent treatment for those that need extra nourishing and
softening ideal for dry skin conditions.
File and paint hands or feet - £8.oo allow 15mins
Add £3.00 to any polish treatment for a French paint.
Gel Nails
Strong and natural looking. Gel nail extensions are the best
form of nail enhancement on the market.
Hollywood Toes - £25 allow 60mins
Full Set Natural - £30 allow 60 mins
Full Set French/Colour - £35 allow 90 mins
French overlays/Colour - £23 allow 60 mins
(This gives your own nails a semi-permanent French/Colour finish)
2-3 week Infills - £25 allow 60 mins (inc upto 2 nail repairs.)
Infill after 3 weeks - from £30 (inc up to 3 nail repairs)
Removal of full set – from £20
Nail Repair - £5 per nail
Nail Art – from 25p
Book four or more of any of the following body treatments
as a course to be used within 6 months and receive a 15%
discount.
Dead Sea Mineral Exfoliation
£20.00 allow 30 mins
The body is exfoliated using Dead Sea Mineral Salts,
which have a healing, softening and rejuvenating
effect on the skin. The treatment concludes with an
application of mineral body lotion or alternatively, it
can be combined with a massage for more relaxing
benefits.
Dead Sea Mud Envelopment –
£45.00 allow 60 mins
If you can't bathe in the Dead Sea in Israel, then we
bring you the next best thing. After a full body
exfoliation, a layer of gently warmed black Dead Sea
mud is applied to the skin as a heat wrap. You will
receive a soothing scalp massage whilst the minerals
from the mud cleanse and re-mineralise your skin.
Concluding with an application of mineral body
lotion, your skin feel smooth and nourished.
Algae Purifying Envelopment
£45.00 allow 60 mins
Deeply Detoxifying Treatment
Combining the richness of sea plants and marine algae
with aromatherapy, this treatment is deeply
detoxifying at all levels. A warm seaweed body mask is
applied before you are cocooned, in a comforting heat
wrap. Let your thoughts drift away, whilst you have a
soothing scalp massage and let the active ingredients
work to detoxify and decongest. Can help with weight
loss.
Deep Cleansing Back Treatment - £30.00 allow 60 mins
A unique deep cleansing as well as purifying and balancing treatment to
decongest, hydrate and restore clarity to this area where the condition
of the skin is easy to neglect. Ideal for all problem skin conditions.
Essential Oil Top To Toe Treatment - £63.00 allow 120 mins
The ultimate de-stress customised face and body treatment for the best
skin-therapy. Take one of the unique advanced performance Susan
Molyneux facials and combine it with the relaxing effects of the
aromatherapy body massage for pure indulgence.
Relaxing body massage
£35.00 allow 60mins
Relaxing back massage
£20.00 allow 30mins
A relaxing Swedish style massage to soothe
away tension.
Stimulating Body Massage - £40.00 allow 60 mins
An invigorating treatment concentration on any specific areas of
concern. This is a detoxifying treatment.
Stress Therapy Back And Scalp
Massage £30.00 - allow 45 mins
Help get yourself back into balance with a
treatment that treats mind, body and soul
Indian Head Massage
£30.00 - allow 30 mins
£35.00 - allow 45 mins
This is a combination of stroking, kneading, friction, percussion and
pressure point techniques either with or without the use of selected
aromatic oils. This invigorating treatment usually includes the back,
shoulders, neck, scalp, face and higher energy centres which means it is
the perfect antidote for stress.
Aromatherapy Full Body Massage - £65.00
allow 120 mins
There is an Aroma-massage treatment perfect for
your every need, whether it is to de-stress and rebalance, to stimulate and energise, to detoxify and
slim or to tone and firm. Natural aromatic oils
specially selected for you, combined with the
soothing touch of the therapists' hands simply
melt away tension. This treatment includes facial
and scalp pressure points and massage.
Customised
NEW
Bowen Therapy
Do you suffer from Back Pain/Achy Legs/Stiff Neck/Tennis
Elbow or any of the other various aches and pains we acquire
throughout our daily lives. Bowen is ideal to treat your specific
aches and pains. Following an in-depth consultation you will receive a
treatment tailored to your individual needs.
Deep Tissue Back Massage £25.00 allow 30 minutes
This is a firm massage which will
give immediate relief from back
and shoulder pain
Scalp massage
£15.00 allow 15mins
Ease tension instantly with this deeply
soothing head massage. Using a
concentration of essential oils this
massage also strengthens the hair and
restores vitality and shine. Relaxing.
£15.oo or just £10 on Tuesdays!!
With two different shades to choose
from Fake Bake will suit any skin.
Want that sun kissed look of a sunny
weekend in a Yorkshire pub garden?
Then choose Fake Bake Original.
OR
Why not make all your friends jealous
and go for a look that says "I just spent
two fantastic weeks in the Caribbean
and loved it!" by going for Fake Bake
Darker.
Nb. Before treatment you need to
remove and excess hair the day before
and exfoliate your face and body well.
And please do not come wearing any
perfumes/make-up or deodorant. As
this will affect the outcome of the tan
and we do not allow time for make-up
removal. Please also wear loose dark
clothing and preferably flip flips and
something to tie your hair back if
needed.
After the tan you cannot shower for a
minimum of 7 hours.
Available to both men and women
Full leg - £15.00
Half leg - £12.00
High Leg Bikini - £10.00
Brazilian – from £20.00
(leaves a strip on pubic bone)
Hollywood – from £20.00
(all hair is removed)
Full leg and bikini - £20.00
Half leg and bikini - £15.00
Half leg, underarm and
bikini - £18.50
Lip and chin - £8.00
Full arm - £13.00
½ arm - £10.00
The following waxing prices will be
discounted when combined with
any other treatment.
Eye brows – £8.00
Lip or chin - £8.00
Under arm - £8.00
Bikini - £8.00
Bottom - £5-£10
Shoulders - £7.00
Full back - from £10
Chest - from £15
Back and chest - from £20
Arms – from £15.00
(Never wear mascara again)
Patch test needed 24 hrs prior to treatment
Eye lash tint - £8.00 allow 15 mins
Brow tint - £5.00 allow 15 min
Lash and brow tint - £10.00 allow 30
mins
Eye brow shape - from £8.00 allow 15
mins
Eye package (lash/brow tint and shape) £15.00 allow 30 mins
Eyelash perm - £20 allow 60 mins
Or £25 with an eyelash tint for a more
striking finish.
£15.00
No more smeared
mascara. Whether
you want your lashes
to look longer or just
fuller we will be able
to give you the
perfect finish.
These lashes are designed
to last up to a week and are
ideal for a one off special
occasion. Available as a
natural finish or why not go
crazy with our special diamante lashes.
Finishing Touches
Semi Permanent Eyelash Extensions
- £60 allow 60 mins
Lasts up to 3 months with 2-3 weekly infills.
Which includes a Free Eyelash Tint to gain maximum effect
and achieve the ultimate Wow factor.
Your finished look can be as glamorous or as subtle as you
like. And your infills will be from £15-£30 depending on how
you have maintained them.
What is a skin peel?
A skin peel is a facial/body peel designed to reduce the appearance of
adult acne blemishes, wrinkles, sun damaged skin, and to soften acne
facial scars. Skin peels concentrations vary and are selected after a
detailed free consultation based on the skins condition by your highly
qualified skin specialist.
There are 3 types of peel however a combination of the peels may be
used for maximum benefit.
When can I expect to see a result?
Immediately after the treatment your skin will feel amazingly soft
however depending on the desired result and the condition of the skin
to begin with it is impossible to say how many treatments will be
needed. Some of your will get your desired results after just one
treatment others may need several treatments over the course of 6-9
months.
What does it cost?
A single skin peel is £40 however depending on your reasons for
wanting a peel your therapist may advise that you have AHA/BHA
Dermabrasion treatments prior to the peel for maximum benefits.
Discounts are available for people who require more that one peel.
Please ask for a more in depth quote. Or for more information.
Hair Treatment List
This is just a selection of what our hair salon offers.
Short
Long
19.00
10.00
10.00
15.00
26.00
16.00
15.00
30.00
Special Occasion Packages
Ladies
Wash, Cut & Finish
Style & Finish
Shampoo & Set
Hair Put-up/Curling/Styling
Wedding Hair
POA
Colour Treatments
All prices include wash, cut and finish
Full Head
Half Head
Bleach Bath &
Full head Colour
Cap Highlights
Root Tint
Specialist Colour Correction
35.00
25.00
50.00
40.00
POA
From 30.00
30.00
POA
40.00
Foils
All prices inc wash, cut and blow dry
Half Head
Full Head
Additional Colour
35.00
52.00
7.00
50.00
70.00
7.00
Hair Treatments
Because we want your hair in the best possible condition we have a range of
treatments that will re-hydrate your hair after colour has been applied and will
make your colour last better and longer. Your stylist will recommend these to you.
Conditioning treatments
from 6.00
Gents
Dry Cut
Wash, Cut & Style
from 9
from 12
We have various special offers going on all the time including Senior Citizens
discount. Please pick up a full hair treatment list or visit our website at
www.room907.com to view these and let us have your email address and we will
add you to our mailing list to be the 1st to know of up-coming special offers.
All prices are for senior stylists we also have excellent fully qualified junior
stylists who offer 25/50% off all full price treatments but work a bit slower than
the senior stylists.
All prices are estimates and we recommend you call in for your free consultation
and patch test prior to your 1st appointment with us.
Notice of 12 hours must be given for all cancellations or a charge will be
incurred.
Trying to find that special something for that special someone
can be the hardest thing in the world. Especially when you
want to show just how much you care for and appreciate
them.
Here at Room 907 we want to make that problem disappear.
Our skinare specialists are on hand to answer any questions
you might have. They are always willing to sit down and help
you decide which the best package for your individual needs
is.
Disco Date allow 3 hours
Was £50
Now £42
Getting ready for a night out?
Then you'll need your nails doing. This includes manicure, pedicure,
eyelash extensions or spray tan.
Body and Soul allow 2 hours
Was £55
Now £45
Body polish treatment including full body massage.
Prepare For The Sun
allow 4 hours
Was £71
Now £55
Legs waxed??
If not try this! Half leg, bikini and underarm
wax, eye brow shape, eye lash tint, manicure
and pedicure. (patch test required 24hrs
prior)
Post Holiday Package allow 2 ½ hours
Was £80
Now £68
When you come back off your holiday and your skin feels like sand
paper let us smooth you over.
Dead sea mud wrap combined with a full body massage. Does it get any
better??
In order to get the full experience we kindly
ask you to arrive 10 minutes before your
appointment time. This will enable you to
relax and fill in one of our consultation forms.
Please note that we require at least 24 hours
notice to cancel any appointment.
Unfortunately if sufficient notice is not given a
cancellation fee will be incurred.
Be aware that if you are late for your
appointment your therapist may not be able to
give you your full treatment time.
Gift vouchers are available for all treatments
and start at £5. These make a wonderful
present for that special person.
A New You allow 4 hours
Was £89
Now £75
This includes a facial, eyebrow shape, manicure, pedicure and a relaxing
back massage. It'll leave you feeling brand new.
Spoil Them!!
allow 4 hours
Was £96
Now £80
Make them feel like a million $$$ - full body
massage, facial, manicure and pedicure.
New Pregnancy Package allow 3 hours
Was £71
Now £60
Let us pamper you!!
Included in this wonderful indulgence is a luxury manicure and
pedicure a relaxing back massage and a choice of an eye brow shape or
an eyelash tint. (patch test needed 24 hours prior to treatment.)
Special Occasion Package allow 3 hours
Was £80
Now £68
Full leg, bikini and underarm waxing plus eye lash tinting, eye brows
shaping, manicure and pedicure. (All this is done 2 days before the big
day)
Payment is by cash, credit/debit card only.
We regret that we are unable to accept
cheques.
Opening Hours
Sunday/Monday
Tuesday to Friday
Saturday
Closed
9am to 9pm
9am to 5pm
Men's De-Stress allow 2 hours
Was £66
Now £50
Deciding what present to get him just got a whole lot easier. Try this
one!
To unwind and relax he receives a deep cleansing back treatment, male
aroma facial and a scalp massage.
Time For Men
allow 2 hours 30 mins
Was £75
Now £63
This includes a back and scalp massage, Aroma face cleanse and foot
conditioning treatment.