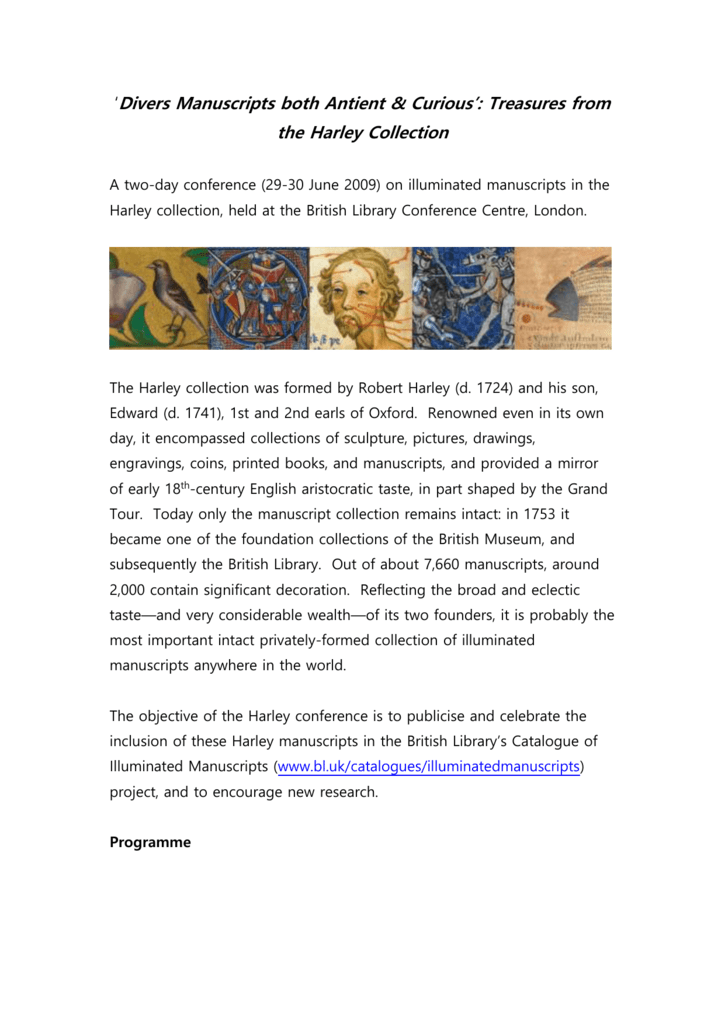 'Divers Manuscripts both Antient & Curious': Treasures from
the Harley Collection
A two-day conference (29-30 June 2009) on illuminated manuscripts in the
Harley collection, held at the British Library Conference Centre, London.
The Harley collection was formed by Robert Harley (d. 1724) and his son,
Edward (d. 1741), 1st and 2nd earls of Oxford. Renowned even in its own
day, it encompassed collections of sculpture, pictures, drawings,
engravings, coins, printed books, and manuscripts, and provided a mirror
of early 18th-century English aristocratic taste, in part shaped by the Grand
Tour. Today only the manuscript collection remains intact: in 1753 it
became one of the foundation collections of the British Museum, and
subsequently the British Library. Out of about 7,660 manuscripts, around
2,000 contain significant decoration. Reflecting the broad and eclectic
taste—and very considerable wealth—of its two founders, it is probably the
most important intact privately-formed collection of illuminated
manuscripts anywhere in the world.
The objective of the Harley conference is to publicise and celebrate the
inclusion of these Harley manuscripts in the British Library's Catalogue of
Illuminated Manuscripts (www.bl.uk/catalogues/illuminatedmanuscripts)
project, and to encourage new research.
Programme
Keynote speaker: Professor Jeffrey Hamburger, Kuno Francke Professor of
German Art & Culture, Harvard University, 'The Hand of God and the Hand
of the Scribe: Collaboration in the Scriptorium of the Abbey of Arnstein'.
Special demonstration: Patricia Lovett, professional scribe and illuminator,
'Gold on Parchment: a Consideration and Demonstration of the Tools and
Materials used in Medieval Manuscripts'.
Other speakers

Professor Richard Gameson, Professor in the Department of History,
Durham University

Dr Marie-Thérèse Gousset, Ingéniuer de Recherche du Ministère de la
Culture, Centre de Recherche sur les Manuscrits Enluminés, Bibliothèque
nationale de France, Paris,

Dr Frances Harris, Head of Modern Historical Manuscripts, The British
Library,

Professor Anne Hedeman, Professor of Art History and Medieval Studies,
University of Illinois, Champaign-Urbana

Dr Colum Hourihane, Director, Index of Christian Art, Princeton, New Jersey

Dr Deirdre Jackson, Project Officer, Catalogue of Illuminated Manuscripts,
British Library

Professor James Laidlaw, Department of French, University of Edinburgh,
Project Director, The Making of the Queen's Manuscript

Dr Julian Luxford, Lecturer, School of Art History, University of St Andrews

Dr Francesca Manzari, Ricercatore di Storia dell'arte medievale, Università
di Roma

Dr Marigold Anne Norbye, Teaching Fellow in Medieval Latin and Latin
Palaeography, Department of Greek and Latin, University College London

Maud Perez-Simon, PhD candidate, Université Paris III-Sorbonne Nouvelle

Sarah Pittaway, PhD candidate, University of Birmingham

Dr Kathryn Rudy, Curator of Illuminated Manuscripts, Koninklijke
Bibliotheek, The Hague

Dr Joerg Voellnagel, Assistant Curator, Staatliche Museen zu Berlin

Alison Walker, PhD candidate, University of California, Los Angeles

Dr Hanno Wijsman, Postdoctoral researcher ('veni') in medieval history,
History Department, Faculty of Arts, University of Leiden

Dr Catherine Yvard, Project Officer, Gothic Ivories Project, Courtauld
Institute of Art
To register:
Send a cheque in pounds sterling for the relevant registration fee, made
payable to The British Library, and your name, title, and institution, and
email address to The British Library, 96 Euston Road, London NW1 2DB,
Attention: Gareth Burfoot. Overseas attendees may pay on the day;
contact [email protected] for further information.
Registration fees:
Standard
£40
AMARC members £35
Students
£20
Coffee and tea, two sandwich lunches, and Monday evening reception
provided.