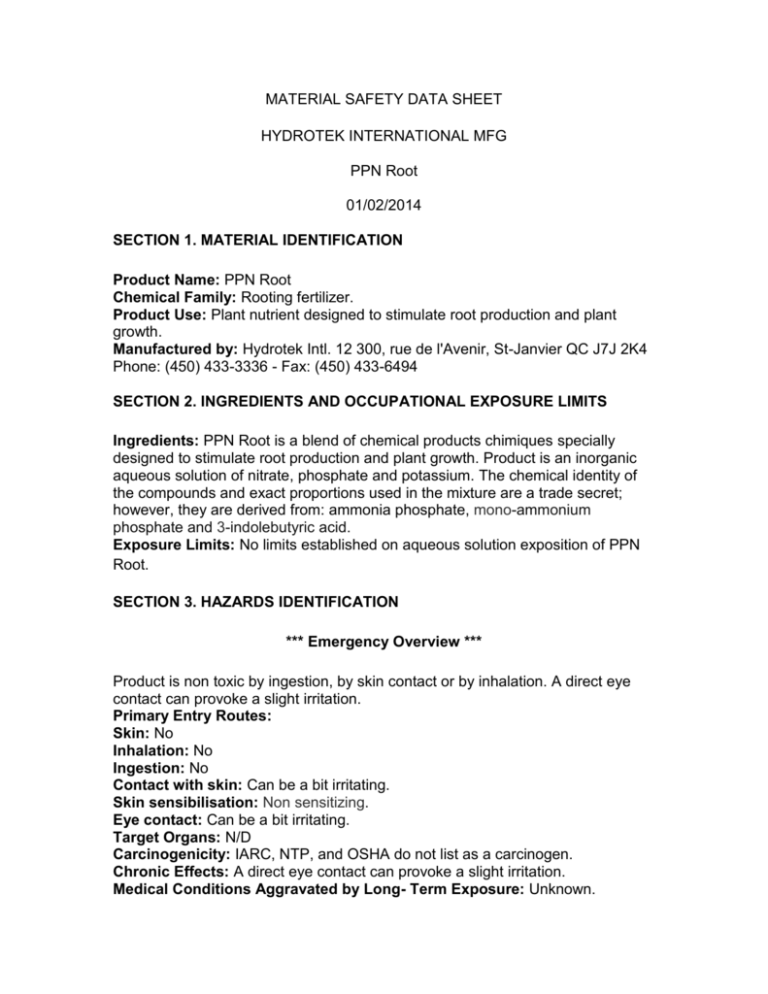 MATERIAL SAFETY DATA SHEET
HYDROTEK INTERNATIONAL MFG
PPN Root
01/02/2014
SECTION 1. MATERIAL IDENTIFICATION
Product Name: PPN Root
Chemical Family: Rooting fertilizer.
Product Use: Plant nutrient designed to stimulate root production and plant
growth.
Manufactured by: Hydrotek Intl. 12 300, rue de l'Avenir, St-Janvier QC J7J 2K4
Phone: (450) 433-3336 - Fax: (450) 433-6494
SECTION 2. INGREDIENTS AND OCCUPATIONAL EXPOSURE LIMITS
Ingredients: PPN Root is a blend of chemical products chimiques specially
designed to stimulate root production and plant growth. Product is an inorganic
aqueous solution of nitrate, phosphate and potassium. The chemical identity of
the compounds and exact proportions used in the mixture are a trade secret;
however, they are derived from: ammonia phosphate, mono-ammonium
phosphate and 3-indolebutyric acid.
Exposure Limits: No limits established on aqueous solution exposition of PPN
Root.
SECTION 3. HAZARDS IDENTIFICATION
*** Emergency Overview ***
Product is non toxic by ingestion, by skin contact or by inhalation. A direct eye
contact can provoke a slight irritation.
Primary Entry Routes:
Skin: No
Inhalation: No
Ingestion: No
Contact with skin: Can be a bit irritating.
Skin sensibilisation: Non sensitizing.
Eye contact: Can be a bit irritating.
Target Organs: N/D
Carcinogenicity: IARC, NTP, and OSHA do not list as a carcinogen.
Chronic Effects: A direct eye contact can provoke a slight irritation.
Medical Conditions Aggravated by Long- Term Exposure: Unknown.
SECTION 4. FIRST AID MEASURES
Eye Contact: Do not allow victim to rub or keep eyes tightly shut. Remove
contact lenses then gently lift eyelids and flush immediately and continuously
with flooding amounts of water for at least 15 minutes. Consult a physician or
ophthalmologist if pain or irritation develops.
Skin Contact: Wash exposed area with soap and water. For reddened or
blistered skin, consult a physician.
Ingestion: Give several glasses of water for dilution, and encourage vomiting. If
symptoms persist seek medical attention.
Inhalation: Remove exposed person to fresh air and support breathing, if
necessary. Consult a physician as soon as possible.
SECTION 5. FIRE AND EXPLOSION DATA
Flash Point: Not flammable.
Burning Rate: Non-combustible.
Self ignition temperature: 397°C
Shocks sensitivity: None
Static discharge sensitivity: The static discharge sensitivity is improbable.
Fire-Fighting Instructions: Any appropriate way to extinguish local flames.
Fire Fighting Equipment: Because fire may produce toxic thermal
decomposition products, wear a self-contained breathing apparatus (SCBA) with
a full-face piece.
SECTION 6. ACCIDENTAL RELEASE MEASURES
Spill/Leak Procedures: Wipe up with absorbent towels or mop
SECTION 7. HANDLING AND STORAGE
Handling Precautions: Avoid ingestion, skin contact, eye contact, and
inhalation.
Fire and explosion protection: No particular measure. Product is not
combustible nor explosive.
Storage Requirements: Keep in tightly closed containers stored in a cool, dry,
ventilated area.
Storage incompatibility: General: Segregate from incompatible substances.
Temperature tolerance: Protect from temperatures over 24°C. Product
properties may change if stored above indicated temperature for extended
periods of time.
SECTION 8. EXPOSURE CONTROLS / PERSONAL PROTECTION
Engineering Controls: Provide general or local exhaust ventilation systems to
maintain airborne concentrations as low as possible.
Respiratory Protection: If this product is used as directed, respiratory protection
is not required. Seek professional advice prior to respirator selection and use.
Protective Clothing: Wear, when the possibility of skin or clothing contamination
may exist. Wear neoprene or nitrile gloves when directly handling the product.
Eye Protection: Contact lenses pose a special hazard. Soft lenses may absorb
irritants, and all contact lenses concentrate irritants. Particles may adhere to
contact lenses and cause corneal damage.
Other protection: Wash thoroughly with water and soap after handling.
SECTION 9. PHYSICAL AND CHEMICAL PROPERTIES
Boiling point: Desintegration >100°C
Vapour pressure: Unknown
Density: (air=1) : NA
Freezing point: -1°C
Vanishing point: NA
Physical State: Aqueous solution.
Odor: Organic acid
Appearance: Brown colour liquid.
Evaporation speed (butyl acetate=1): NA
Relative density (water=1): 1.13
Densitiy at 25°C: 1.13
pH: 5-7
Water solubility (20°C): 98%
SECTION 10. STABILITY AND REACTIVITY
Stability: Stable at room temperature in closed containers, under normal storage
and handling conditions.
Incompatibility: None
Hazardous Decomposition Products: NA
Polymerization: Hazardous polymerization does not occur.
SECTION 11. TOXICOLOGICAL INFORMATION
Considered non-toxic
SECTION 12. ECOLOGICAL INFORMATION
Ecotoxicity: Unknown
Environmental Degradation: Unknown.
SECTION 13. DISPOSAL CONSIDERATIONS
Waste Disposal: Follow Federal, State, and local regulations.
SECTION 14. TRANSPORTATION INFORMATION
DOT Transportation Data (49 CFR 172.101): Not regulated
Appropriate name for transport: N/A
Hazard classification: N/A
Number one: N/A
Packing group: N/A
Quantity to report: N/A
IATA/ICA0 – State: Non-regulated
Appropriate name for transport: N/A
Hazard classification: N/A
Number one: N/A
Packing group: N/A
Quantity to report: N/A
IMO – State: Non-regulated
Appropriate name for transport: N/A
Hazard classification: N/A
Number one: N/A
Packing group: N/A
Quantity to report: N/A
Flashing point: N/A
SECTION 15. REGULATORY INFORMATION
EPA Regulations: Not listed
SECTION 16. OTHER INFORMATION
Hydrotek's PPN Root is a plant nutrition product. Information assembled for this
Material Safety Data Sheet is for the use of this product as intended by the
manufacturer. Users should take all precautions recommended herein while
working with this product. Hydrotek provides the information contained herein in
good faith, but makes no representation as to its comprehensiveness or
accuracy. This document is intended only as a guide to the appropriate
precautionary handling of the material by a properly trained person using this
product. Individuals receiving the information must exercise their independent
judgment in using this product.