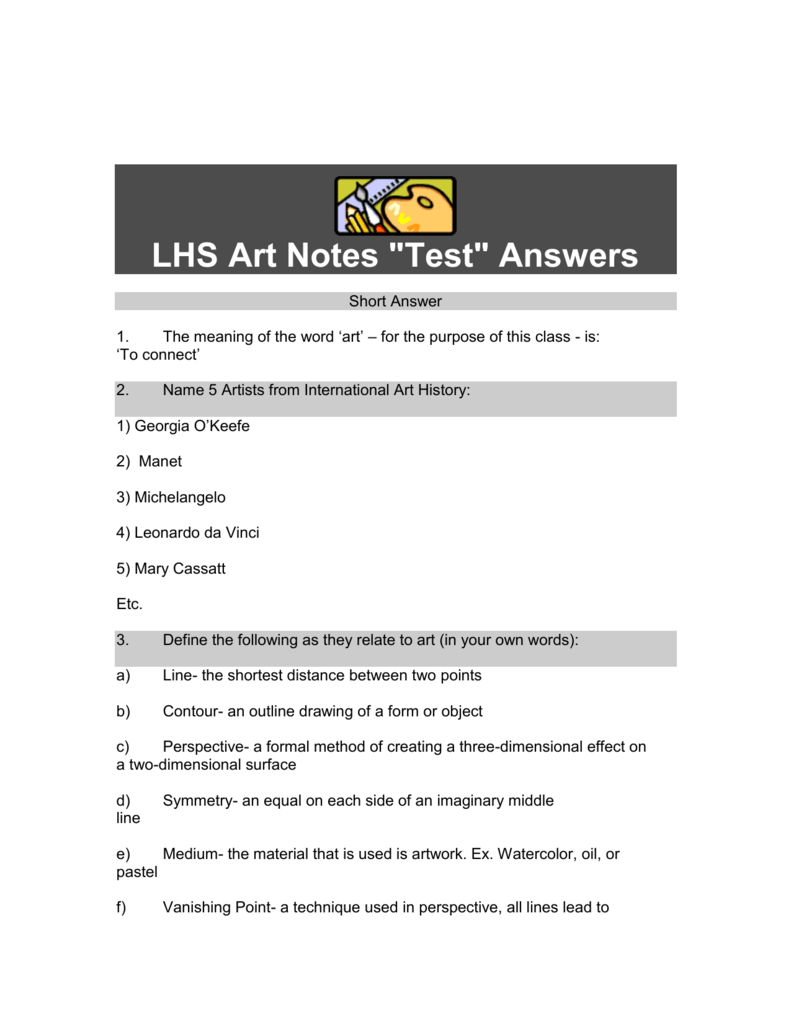 LHS Art Notes "Test" Answers
Short Answer
1.
The meaning of the word 'art' – for the purpose of this class - is:
'To connect'
2.
Name 5 Artists from International Art History:
1) Georgia O'Keefe
2) Manet
3) Michelangelo
4) Leonardo da Vinci
5) Mary Cassatt
Etc.
3.
Define the following as they relate to art (in your own words):
a)
Line- the shortest distance between two points
b)
Contour- an outline drawing of a form or object
c)
Perspective- a formal method of creating a three-dimensional effect on
a two-dimensional surface
d)
line
Symmetry- an equal on each side of an imaginary middle
e)
Medium- the material that is used is artwork. Ex. Watercolor, oil, or
pastel
f)
Vanishing Point- a technique used in perspective, all lines lead to
this point which may be on or off the canvas
g)
Abstract- not realistic though often based on an actual object
h)
Non-objective- an abstract artwork not based on anything in reality
i)
Positive Shapes- shapes or forms on a two-dimensional surface
j)
Negative Space- space that surrounds an object or form
2.
Color is one of the most expressive elements an artist uses. Define
the following terms as they apply to color:
a)
Color- an element of art and design that pertains to a particular hue
of one or many mixtures of pigments seen when light is reflected off a surface
b)
Pigment- powdered earth, minerals, or chemicals ground and mixed with a
binder such as oil.
c)
Neutrals- complementary colors mixed to make a dull subdued color
d)
Value- differences in the lightness and darkness of a hue
e)
Color Triad- the colors spaced an equal distance on the color wheel ex.
Red, yellow blue
f)
Analogous colors- colors that exist side by side on the color wheel
g)
Complementary colors- opposite each other on the color wheel (one
primary and one secondary
h)
Monochromatic- variations of the same color
3.
Name the major visible bands of color created by passing a ray of light
through a prism:
I. red
II. orange
III. yellow
IV. green
V. blue
VI. indigo
VII. violet
4.
How many triads in a standard color wheel?
three
Egyptian Art
1.
What do we call the Egyptian form of writing?
A) Hieroglyphics
2.
Some of Egypt's most famous buildings were called:
B) Pyramids
Greek Art
1. Name the three styles of Greek column capitals: doric_, ionic and
corinthian.
2.
What two colors did the Greeks like to use when designing their vases?
__________orange______ and _________black_______.
3.
What kind of stories did these vases tell? Myths and Legends
4.
Who was often shown in the pictures on the vases? Heroes, gods,
goddesses, monsters, and athletes
5.
What special event were the Greeks making these vases for most often?
The Olympics
Gothic Art
1.
The basic spirit of the 1000 years of Gothic Art was:
A)Religious
2.
Which is a famous building from this time in art history?
C) Notre Dame Cathedral, Paris
3.
True or false: Gothic buildings are simple and plain looking and
really, really, short?
FALSE
4.What is a diptych? A triptych? Draw an example of each below.
A diptych is is any object with two flat plates attached at a hinge.
A triptych is a work of art (usually a panel painting) which is divided into three
sections, or three carved panels which are hinged together and folded..
5. Artists began making prints out of wood at this time. Is it true or false that a
print is like a stamp?
TRUE
Leonardo da Vinci
1) How many of Leonardo's paintings survived?
C) Under 20 (but this source says: Fifteen works are generally attributed
either in whole or in large part to him, most of them paintings on panel but including a
mural, a large drawing on paper and two works in the early stages of preparation. A
further six paintings are disputed, there are four recently attributed works, and two are
copies of lost work. None of Leonardo's paintings are signed, and this list draws on the
opinions of various scholars.)
2) Are all of Leonardo's paintings finished?
NO
3) His two most famous paintings are called: _Mona Lisa_____ and
___The Last Supper____.
4) Leonardo was born in a town in Italy called:
C)Vinci
5) Which are NOT jobs that Leonardo performed? There are 3:
Janitor
Police
King
6) Leonardo was invited to live with the King of what country?
C)France
7).True or False: Leonardo invented the parachute in 1480?
TRUE
8).True or False: Leonardo would write backwards so that his notes had to be
held in a mirror to be read?
TRUE
9).True or False: No one is sure who the model for "The Mona Lisa" was?
TRUE
10).What makes "The Mona Lisa"special? Give three points:
Mysterious smile, notoriety/famous, art icon, mysterious background
Vincent van Gogh
1).What nationality was Vincent? ___________Dutch__________
2).He started to paint when he was:
A) 12
B)70
C)27
3).Circle the jobs van Gogh tried before he started to paint. There are four:
Farmer
Police Officer
Worker
Priest
Dentist
Fireman
Bookseller
Teacher
Art Dealer
Model
Construction
4).In the painting 'Sunflowers', does Vincent show the artist¡¦s skill or the crazy
joyfulness of the flowers or does he paint them realistically? He paints the crazy
joyfulness of the flowers
5).Were van Gogh¡¦s brush strokes made fast or slow? Very Fast!!
6).Name 2 Art Magazines:
Art Forum
Art in America
Art Speak
Canadian Art
ETC.
7).Compare Modernist Art with Post-Modern Art briefly:
See Ms. Deck
8).What are the steps one might follow when conducting a critical analysis of a
work or art?
1.
2.
3.
4.
5.
first impressions
describe
analyze
interpret
judgment
Matching: Write the correct answer ¡V from the list below- in the space beside
the description.
Acrylic paint
Mural
Artist
Felt
Sketch
Display
Clay
Portfolios
Studio
Eraser
Portrait
Arts Festival Title
Landscape
Media
Ruler
Primary Colors
Secondary Colors
1.________portrait______A picture of a person.
2.________eraser____________A tool for correcting mistakes.
3.________sketch____________A quick simple drawing.
4.________acrylic___________A permanent paint that will ruin clothes.
5.________ruler_____________A measuring tool.
6.________arts festival_____ A celebration of the arts in society.
7.________felt______________A soft fabric.
8.________clay______________A sculpture material.
9.________artist____________A person who ¡§connects¡¨.
10._______media_____________Another word for things used to make art.
11._______landscape_________Another name for a picture showing the outside
world.
12._______title_____________The name you give an artwork you make.
13._______studio___________A place where artists work.
14._______mural_____________A large wall painting.
15._______display___________What you do with finished art projects.
16._______primary colors____ Red, yellow, blue.
17._______secondary colors__ Orange, green, purple.