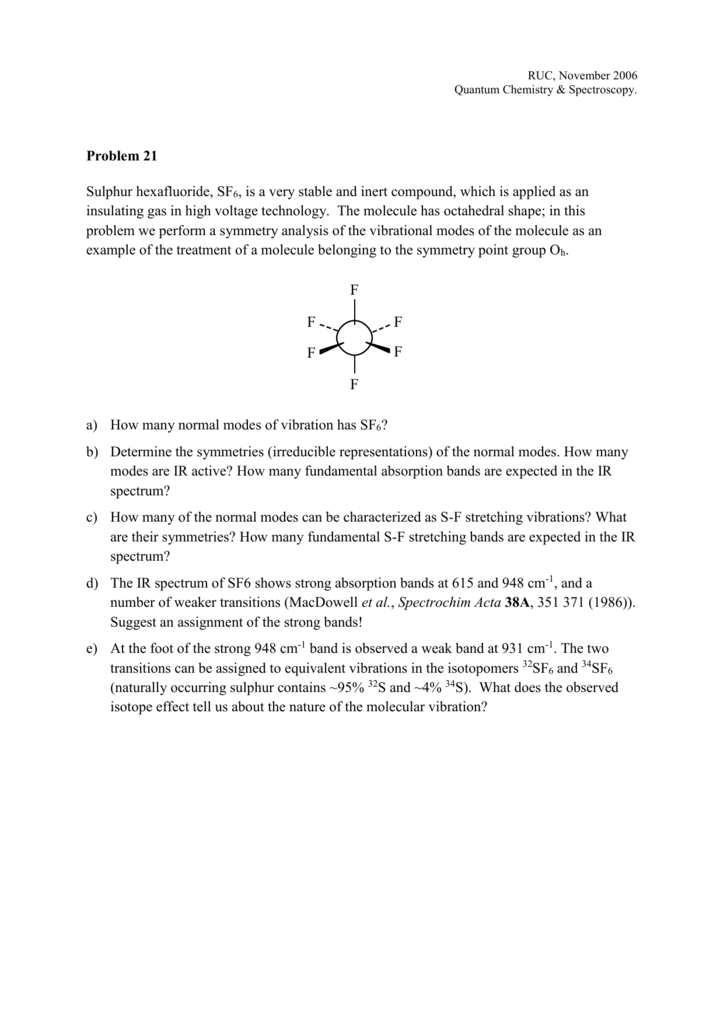 RUC, November 2006
Quantum Chemistry & Spectroscopy.
Problem 21
Sulphur hexafluoride, SF6, is a very stable and inert compound, which is applied as an
insulating gas in high voltage technology. The molecule has octahedral shape; in this
problem we perform a symmetry analysis of the vibrational modes of the molecule as an
example of the treatment of a molecule belonging to the symmetry point group Oh.
F
F
F
F
F
F
a) How many normal modes of vibration has SF6?
1
2
b) Determine the symmetriesF (irreducible representations) of the normal modes. How many
modes are IR active? How many fundamental absorption bands are expected in the IR
F
F
F
spectrum?
c) How many of the Fnormal modes can be characterized
F as S-F stretching
F vibrations? What
are their symmetries? How many fundamental S-F stretching bands are expected in the IR
F
spectrum?
d) The IR spectrum of SF6 shows strong absorption bands at 615 and 948 cm-1, and a
number of weaker transitions (MacDowell et al., Spectrochim Acta 38A, 351 371 (1986)).
Suggest an assignment of the strong bands!
e) At the foot of the strong 948 cm-1 band is observed a weak band at 931 cm-1. The two
transitions can be assigned to equivalent vibrations in the isotopomers 32SF6 and 34SF6
(naturally occurring sulphur contains ~95% 32S and ~4% 34S). What does the observed
isotope effect tell us about the nature of the molecular vibration?