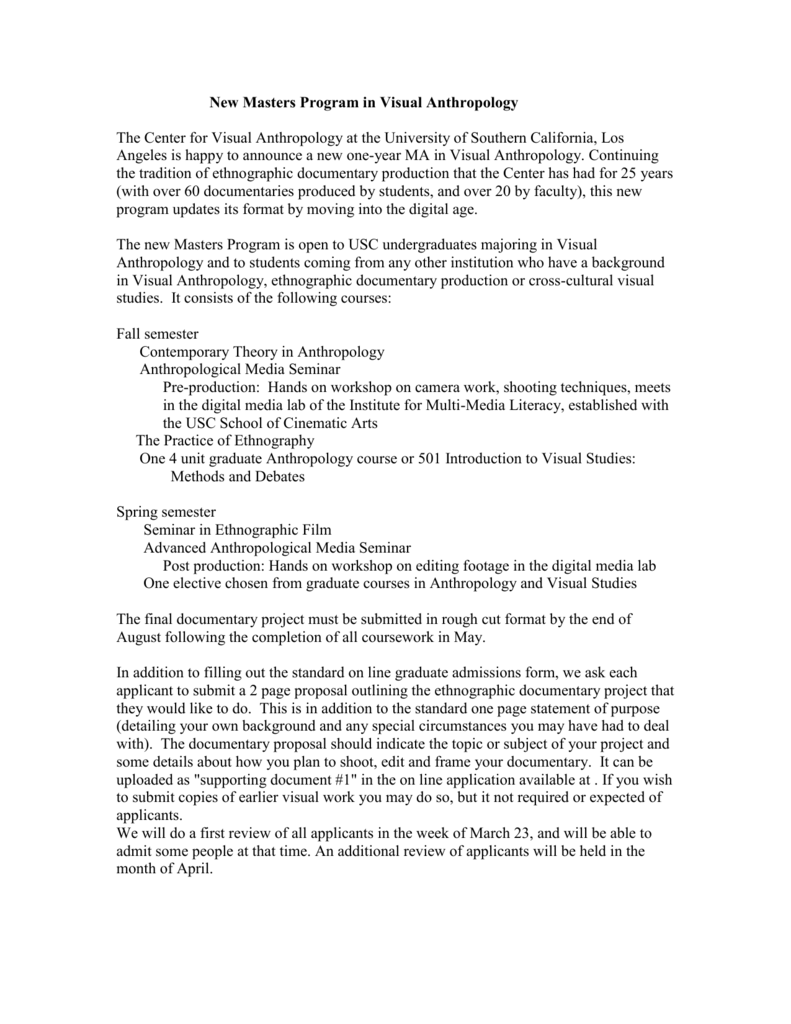 New Masters Program in Visual Anthropology
The Center for Visual Anthropology at the University of Southern California, Los
Angeles is happy to announce a new one-year MA in Visual Anthropology. Continuing
the tradition of ethnographic documentary production that the Center has had for 25 years
(with over 60 documentaries produced by students, and over 20 by faculty), this new
program updates its format by moving into the digital age.
The new Masters Program is open to USC undergraduates majoring in Visual
Anthropology and to students coming from any other institution who have a background
in Visual Anthropology, ethnographic documentary production or cross-cultural visual
studies. It consists of the following courses:
Fall semester
Contemporary Theory in Anthropology
Anthropological Media Seminar
Pre-production: Hands on workshop on camera work, shooting techniques, meets
in the digital media lab of the Institute for Multi-Media Literacy, established with
the USC School of Cinematic Arts
The Practice of Ethnography
One 4 unit graduate Anthropology course or 501 Introduction to Visual Studies:
Methods and Debates
Spring semester
Seminar in Ethnographic Film
Advanced Anthropological Media Seminar
Post production: Hands on workshop on editing footage in the digital media lab
One elective chosen from graduate courses in Anthropology and Visual Studies
The final documentary project must be submitted in rough cut format by the end of
August following the completion of all coursework in May.
In addition to filling out the standard on line graduate admissions form, we ask each
applicant to submit a 2 page proposal outlining the ethnographic documentary project that
they would like to do. This is in addition to the standard one page statement of purpose
(detailing your own background and any special circumstances you may have had to deal
with). The documentary proposal should indicate the topic or subject of your project and
some details about how you plan to shoot, edit and frame your documentary. It can be
uploaded as "supporting document #1" in the on line application available at . If you wish
to submit copies of earlier visual work you may do so, but it not required or expected of
applicants.
We will do a first review of all applicants in the week of March 23, and will be able to
admit some people at that time. An additional review of applicants will be held in the
month of April.