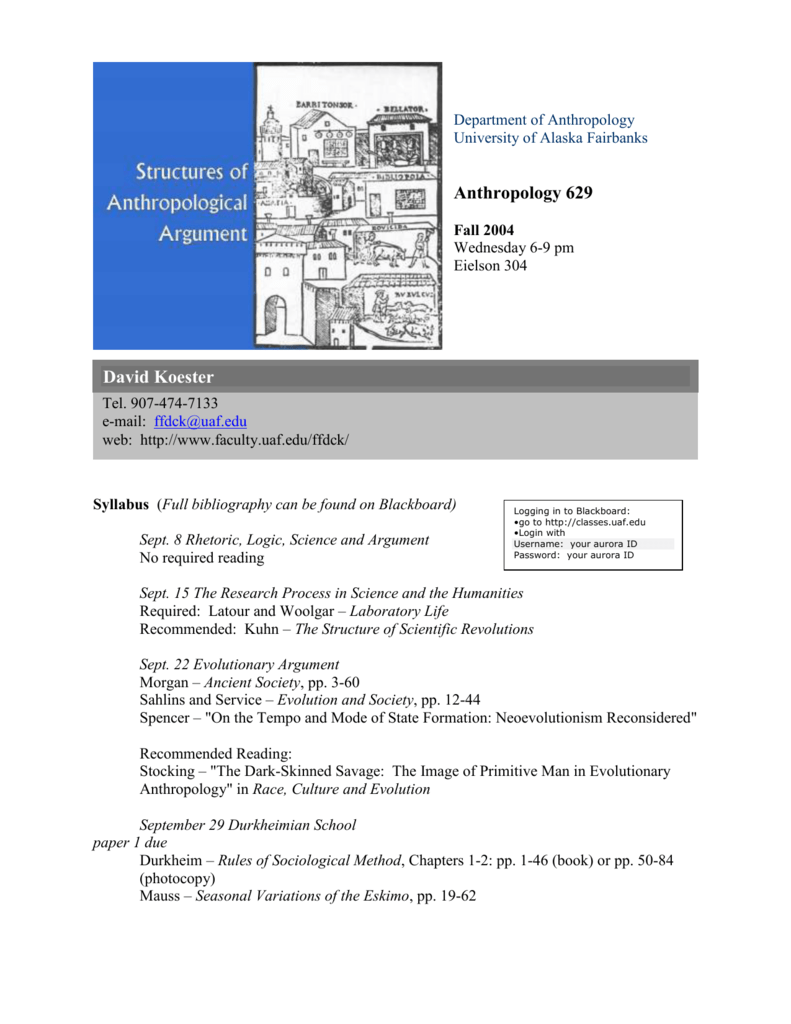 Department of Anthropology
University of Alaska Fairbanks
Anthropology 629
Fall 2004
Wednesday 6-9 pm
Eielson 304
David Koester
Tel. 907-474-7133
e-mail: [email protected]
web: http://www.faculty.uaf.edu/ffdck/
Syllabus (Full bibliography can be found on Blackboard)
Sept. 8 Rhetoric, Logic, Science and Argument
No required reading
Logging in to Blackboard:
•go to http://classes.uaf.edu
•Login with
Username: your aurora ID
Password: your aurora ID
Sept. 15 The Research Process in Science and the Humanities
Required: Latour and Woolgar – Laboratory Life
Recommended: Kuhn – The Structure of Scientific Revolutions
Sept. 22 Evolutionary Argument
Morgan – Ancient Society, pp. 3-60
Sahlins and Service – Evolution and Society, pp. 12-44
Spencer – "On the Tempo and Mode of State Formation: Neoevolutionism Reconsidered"
Recommended Reading:
Stocking – "The Dark-Skinned Savage: The Image of Primitive Man in Evolutionary
Anthropology" in Race, Culture and Evolution
September 29 Durkheimian School
paper 1 due
Durkheim – Rules of Sociological Method, Chapters 1-2: pp. 1-46 (book) or pp. 50-84
(photocopy)
Mauss – Seasonal Variations of the Eskimo, pp. 19-62
October 6 Boasian Anthropology
Boas - "Alternating Sounds," "The Ethnological Significance of Esoteric Doctrines,"
"The Documentary Function of the Text," "The Mythology of the Bella Coola Indians,"
""The Study of Geography"
Benedict - "The Science of Custom"
October 13 Politicized and Applied Anthropology
Boas – "The Negro's Past"
Das – Critical Events ch. 6, pp. 137-174
Merry – "Legal Pluralism and Transnational Culture: The Ka Ho'okolokolonui Kanaka
Maoli Tribunal, Hawai'i, 1993"
Sundar – "Toward an anthropology of culpability"
October 20 Biological Argument - The Ol' Polygenous-Monogenous Debate
Wolpoff and Thorne – "The Multiregional Evolution of Humans"
Stringer – "Replacement, continuity and the origin of Homo sapiens"
Stocking, "The Persistence of Polygenist Thought in Post-Darwinian Anthropology"
October 27 Models, Metaphors and Themes
paper 2 due
Howell - "Nature in culture or culture in nature? Chewong ideas of 'humans' and other
species"
Ortner - "Patterns of History: Cultural Schemas in the Foundings of Sherpa Religious
Institutions."
Feld - "The boy who became a muni bird," Chapter 1 in Sound and Sentiment
November 3 Archaeological Argument – Bering Strait Prehistory
Rainey – Eskimo Prehistory: The Okvik Site on the Punuk Islands
Ackerman – "Prehistory of the Asian Eskimo Zone"
Fitzhugh and Arutiunov – "Prehistory of Siberia and the Bering Sea"
November 10 Ethnographic Writing
Geertz, Clifford – "Thick Description"
Narayan, Kirin – "Ethnography and Fiction: Where is the Border?"
Das, Veena – Critical Events, ch. 2, pp. 24-54
Additional recommended reading:
Malinowski - "Introduction" in Argonauts of the Western Pacific
Evans-Pritchard - "Fieldwork and the Empirical Tradition," Ch. 4 in Social Anthropology
November 17 Indigenous Issues and Anthropological Argument
Keskitalo – "Research as an Inter-Ethnic Relation"
Moore – "The changing nature of anthropological knowledge"
Das - Critical Events, pp. 84-117
November 24 Culture as a System
paper 3 due
Geertz - "Person, Time and Conduct in Bali"
Sahlins - "La Pensée Bourgeoise – Western Society as Culture"
Ortner – "Theory in Anthropology since the 60s"
December 1 Gender and Culture
Goodale - "Gender, sexuality and marriage: a Kaulong model of nature and culture"
Collier and Rosaldo - "Politics and gender in simple societies"
Shapiro - "Transsexualism: Reflection on the Persistence of Gender and the Mutability
of Sex"
Das Critical Events ch. 3, pp. 55-83, ch. 5, pp. 118-136
December 8 Language and Culture
Whorf - "The Relation of Habitual Thought and Behavior to Language"
Rosaldo, Knowledge and Passion, Chapter 3 "Knowledge, identity, and order in an
egalitarian world"
Friedrich - "Poetic Language and the Imagination: A Reformulation of the Sapir
Hypothesis"
Additional Recommended Reading:
Sapir - "The Unconscious Patterning of Behavior in Society"
Final paper (4) due December 16, 4pm.
Requirements:
Required reading and class participation (20% of grade)
Class assignments - 5-minute presentation most class periods (20%)
4 papers (5-8 pages) with assigned questions, topics and lengths - (60%)
Students with Disabilities:
The University of Alaska Fairbanks is committed to equal opportunity for students experiencing disabilities.
Students with disabilities are encouraged to contact the instructor early in the course so that arrangements may
be made to ensure a positive and productive educational experience.