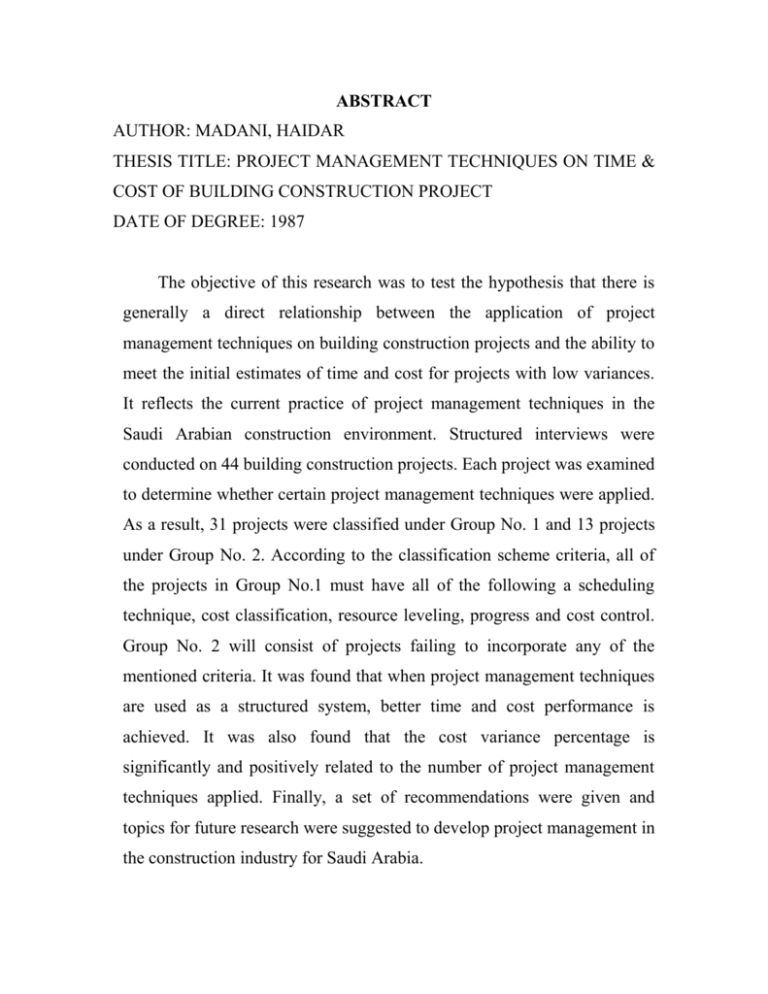 ABSTRACT
AUTHOR: MADANI, HAIDAR
THESIS TITLE: PROJECT MANAGEMENT TECHNIQUES ON TIME &
COST OF BUILDING CONSTRUCTION PROJECT
DATE OF DEGREE: 1987
The objective of this research was to test the hypothesis that there is
generally a direct relationship between the application of project
management techniques on building construction projects and the ability to
meet the initial estimates of time and cost for projects with low variances.
It reflects the current practice of project management techniques in the
Saudi Arabian construction environment. Structured interviews were
conducted on 44 building construction projects. Each project was examined
to determine whether certain project management techniques were applied.
As a result, 31 projects were classified under Group No. 1 and 13 projects
under Group No. 2. According to the classification scheme criteria, all of
the projects in Group No.1 must have all of the following a scheduling
technique, cost classification, resource leveling, progress and cost control.
Group No. 2 will consist of projects failing to incorporate any of the
mentioned criteria. It was found that when project management techniques
are used as a structured system, better time and cost performance is
achieved. It was also found that the cost variance percentage is
significantly and positively related to the number of project management
techniques applied. Finally, a set of recommendations were given and
topics for future research were suggested to develop project management in
the construction industry for Saudi Arabia.