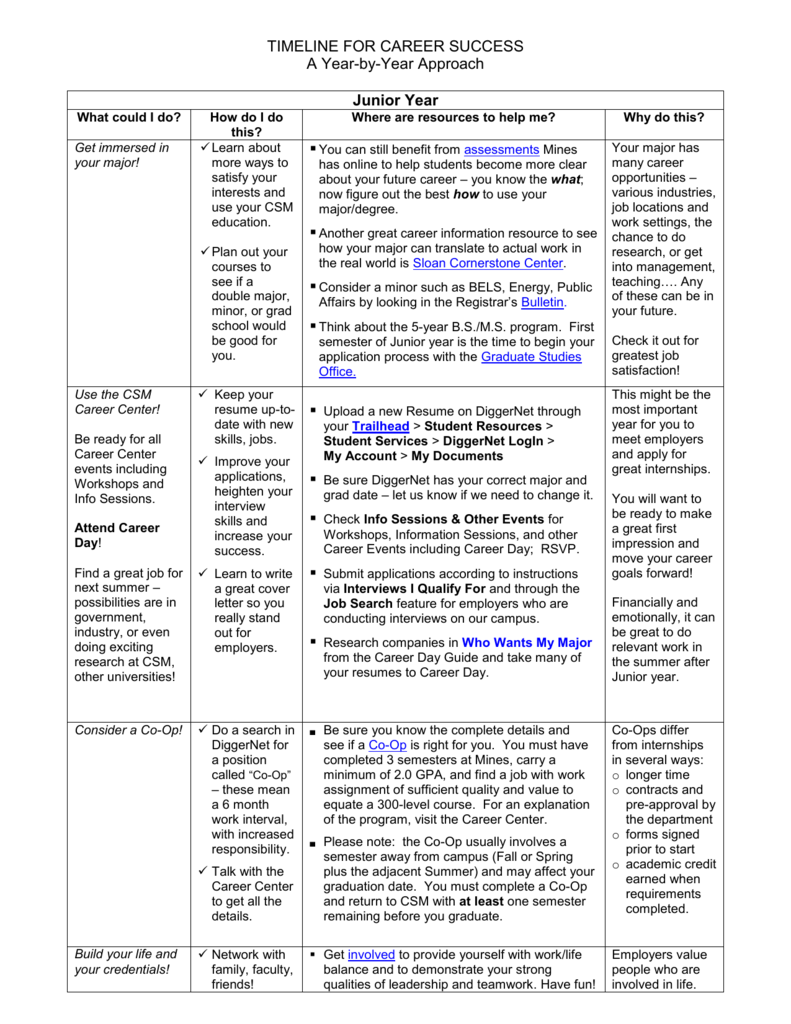 TIMELINE FOR CAREER SUCCESS
A Year-by-Year Approach
Junior Year
What could I do?
Get immersed in
your major!
How do I do
this?
 Learn about
more ways to
satisfy your
interests and
use your CSM
education.
 Plan out your
courses to
see if a
double major,
minor, or grad
school would
be good for
you.
Use the CSM
Career Center!
Be ready for all
Career Center
events including
Workshops and
Info Sessions.
Attend Career
Day!
 Keep your
resume up-todate with new
skills, jobs.
 Improve your
applications,
heighten your
interview
skills and
increase your
success.
Find a great job for
next summer –
possibilities are in
government,
industry, or even
doing exciting
research at CSM,
other universities!
 Learn to write
a great cover
letter so you
really stand
out for
employers.
Consider a Co-Op!
 Do a search in
DiggerNet for
a position
called "Co-Op"
– these mean
a 6 month
work interval,
with increased
responsibility.
Build your life and
your credentials!
Where are resources to help me?
 You can still benefit from assessments Mines
has online to help students become more clear
about your future career – you know the what;
now figure out the best how to use your
major/degree.
 Another great career information resource to see
how your major can translate to actual work in
the real world is Sloan Cornerstone Center.
 Consider a minor such as BELS, Energy, Public
Affairs by looking in the Registrar's Bulletin.
 Think about the 5-year B.S./M.S. program. First
semester of Junior year is the time to begin your
application process with the Graduate Studies
Office.
 Upload a new Resume on DiggerNet through
your Trailhead > Student Resources >
Student Services > DiggerNet LogIn >
My Account > My Documents
 Be sure DiggerNet has your correct major and
grad date – let us know if we need to change it.
 Check Info Sessions & Other Events for
Workshops, Information Sessions, and other
Career Events including Career Day; RSVP.
 Submit applications according to instructions
via Interviews I Qualify For and through the
Job Search feature for employers who are
conducting interviews on our campus.
 Research companies in Who Wants My Major
from the Career Day Guide and take many of
your resumes to Career Day.
Be sure you know the complete details and
see if a Co-Op is right for you. You must have
completed 3 semesters at Mines, carry a
minimum of 2.0 GPA, and find a job with work
assignment of sufficient quality and value to
equate a 300-level course. For an explanation
of the program, visit the Career Center.
 Talk with the
Career Center
to get all the
details.
Please note: the Co-Op usually involves a
semester away from campus (Fall or Spring
plus the adjacent Summer) and may affect your
graduation date. You must complete a Co-Op
and return to CSM with at least one semester
remaining before you graduate.
 Network with
family, faculty,
friends!
 Get involved to provide yourself with work/life
balance and to demonstrate your strong
qualities of leadership and teamwork. Have fun!
Why do this?
Your major has
many career
opportunities –
various industries,
job locations and
work settings, the
chance to do
research, or get
into management,
teaching…. Any
of these can be in
your future.
Check it out for
greatest job
satisfaction!
This might be the
most important
year for you to
meet employers
and apply for
great internships.
You will want to
be ready to make
a great first
impression and
move your career
goals forward!
Financially and
emotionally, it can
be great to do
relevant work in
the summer after
Junior year.
Co-Ops differ
from internships
in several ways:
o longer time
o contracts and
pre-approval by
the department
o forms signed
prior to start
o academic credit
earned when
requirements
completed.
Employers value
people who are
involved in life.