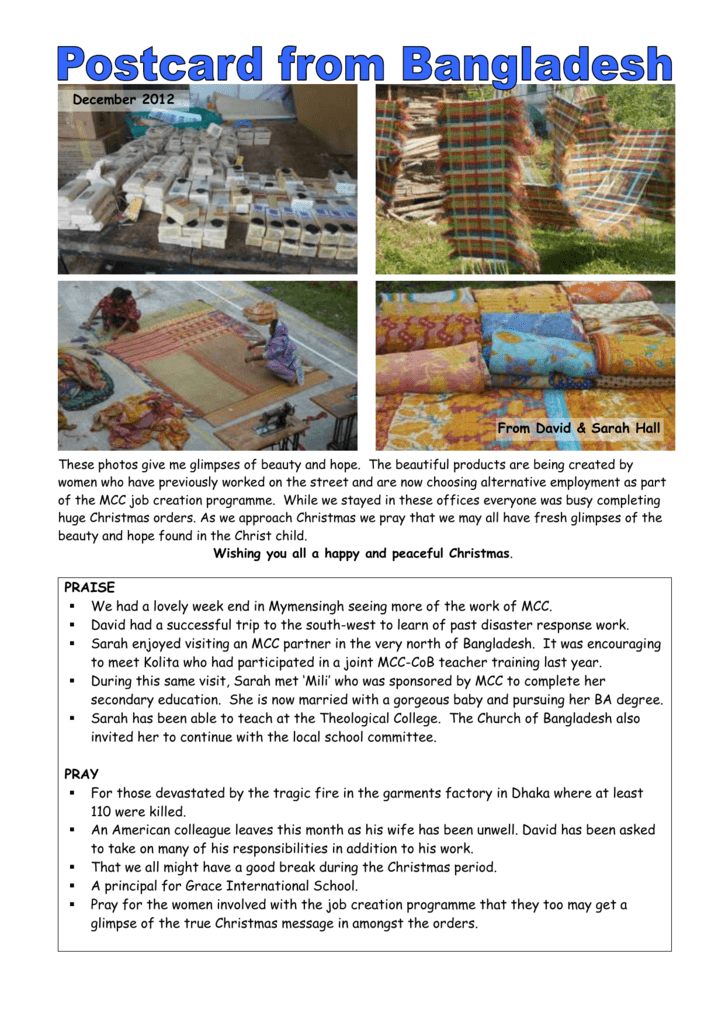 December 2012
From David & Sarah Hall
These photos give me glimpses of beauty and hope. The beautiful products are being created by
women who have previously worked on the street and are now choosing alternative employment as part
of the MCC job creation programme. While we stayed in these offices everyone was busy completing
huge Christmas orders. As we approach Christmas we pray that we may all have fresh glimpses of the
beauty and hope found in the Christ child.
Wishing you all a happy and peaceful Christmas.
PRAISE
 We had a lovely week end in Mymensingh seeing more of the work of MCC.
 David had a successful trip to the south-west to learn of past disaster response work.
 Sarah enjoyed visiting an MCC partner in the very north of Bangladesh. It was encouraging
to meet Kolita who had participated in a joint MCC-CoB teacher training last year.
 During this same visit, Sarah met 'Mili' who was sponsored by MCC to complete her
secondary education. She is now married with a gorgeous baby and pursuing her BA degree.
 Sarah has been able to teach at the Theological College. The Church of Bangladesh also
invited her to continue with the local school committee.
PRAY
 For those devastated by the tragic fire in the garments factory in Dhaka where at least
110 were killed.
 An American colleague leaves this month as his wife has been unwell. David has been asked
to take on many of his responsibilities in addition to his work.
 That we all might have a good break during the Christmas period.
 A principal for Grace International School.
 Pray for the women involved with the job creation programme that they too may get a
glimpse of the true Christmas message in amongst the orders.