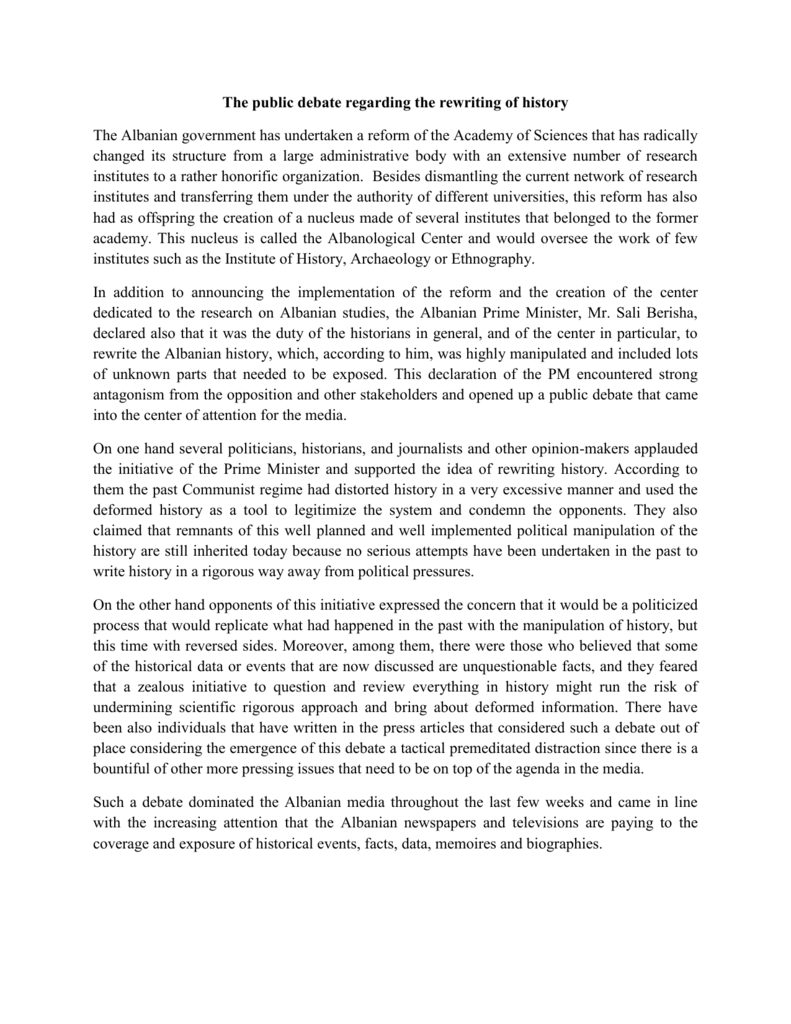 The public debate regarding the rewriting of history
The Albanian government has undertaken a reform of the Academy of Sciences that has radically
changed its structure from a large administrative body with an extensive number of research
institutes to a rather honorific organization. Besides dismantling the current network of research
institutes and transferring them under the authority of different universities, this reform has also
had as offspring the creation of a nucleus made of several institutes that belonged to the former
academy. This nucleus is called the Albanological Center and would oversee the work of few
institutes such as the Institute of History, Archaeology or Ethnography.
In addition to announcing the implementation of the reform and the creation of the center
dedicated to the research on Albanian studies, the Albanian Prime Minister, Mr. Sali Berisha,
declared also that it was the duty of the historians in general, and of the center in particular, to
rewrite the Albanian history, which, according to him, was highly manipulated and included lots
of unknown parts that needed to be exposed. This declaration of the PM encountered strong
antagonism from the opposition and other stakeholders and opened up a public debate that came
into the center of attention for the media.
On one hand several politicians, historians, and journalists and other opinion-makers applauded
the initiative of the Prime Minister and supported the idea of rewriting history. According to
them the past Communist regime had distorted history in a very excessive manner and used the
deformed history as a tool to legitimize the system and condemn the opponents. They also
claimed that remnants of this well planned and well implemented political manipulation of the
history are still inherited today because no serious attempts have been undertaken in the past to
write history in a rigorous way away from political pressures.
On the other hand opponents of this initiative expressed the concern that it would be a politicized
process that would replicate what had happened in the past with the manipulation of history, but
this time with reversed sides. Moreover, among them, there were those who believed that some
of the historical data or events that are now discussed are unquestionable facts, and they feared
that a zealous initiative to question and review everything in history might run the risk of
undermining scientific rigorous approach and bring about deformed information. There have
been also individuals that have written in the press articles that considered such a debate out of
place considering the emergence of this debate a tactical premeditated distraction since there is a
bountiful of other more pressing issues that need to be on top of the agenda in the media.
Such a debate dominated the Albanian media throughout the last few weeks and came in line
with the increasing attention that the Albanian newspapers and televisions are paying to the
coverage and exposure of historical events, facts, data, memoires and biographies.