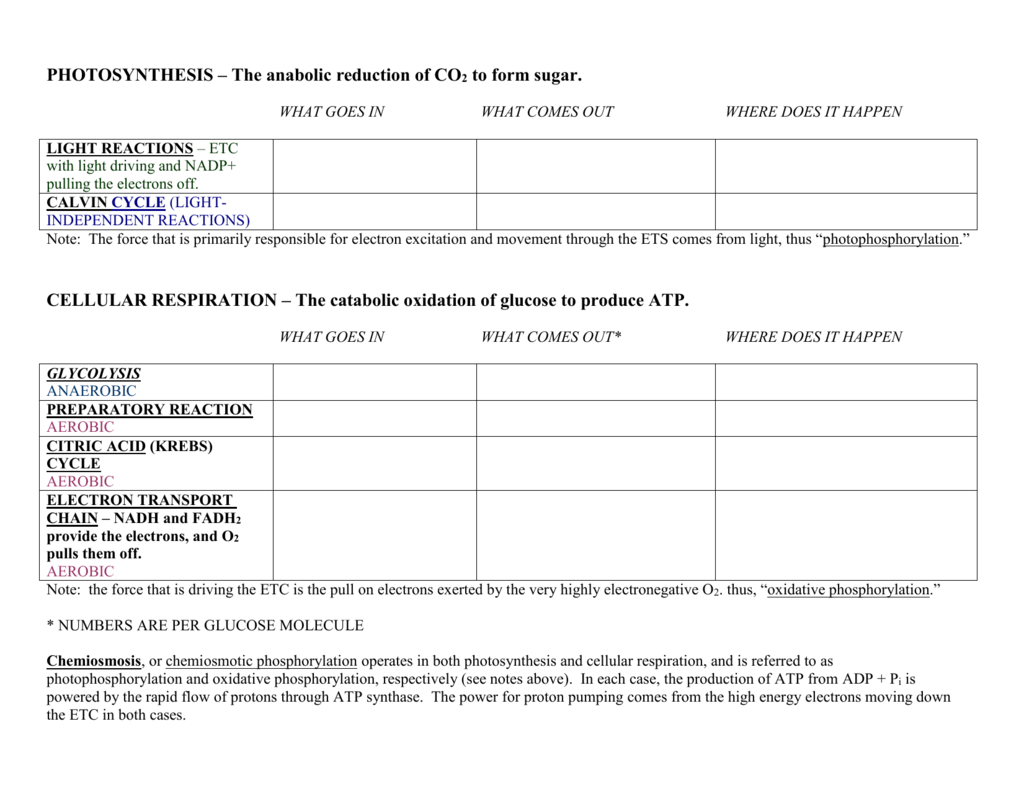 PHOTOSYNTHESIS – The anabolic reduction of CO2 to form sugar.
WHAT GOES IN
WHAT COMES OUT
WHERE DOES IT HAPPEN
LIGHT REACTIONS – ETC
with light driving and NADP+
pulling the electrons off.
CALVIN CYCLE (LIGHTINDEPENDENT REACTIONS)
Note: The force that is primarily responsible for electron excitation and movement through the ETS comes from light, thus "photophosphorylation."
CELLULAR RESPIRATION – The catabolic oxidation of glucose to produce ATP.
WHAT GOES IN
WHAT COMES OUT*
WHERE DOES IT HAPPEN
GLYCOLYSIS
ANAEROBIC
PREPARATORY REACTION
AEROBIC
CITRIC ACID (KREBS)
CYCLE
AEROBIC
ELECTRON TRANSPORT
CHAIN – NADH and FADH2
provide the electrons, and O2
pulls them off.
AEROBIC
Note: the force that is driving the ETC is the pull on electrons exerted by the very highly electronegative O2. thus, "oxidative phosphorylation."
* NUMBERS ARE PER GLUCOSE MOLECULE
Chemiosmosis, or chemiosmotic phosphorylation operates in both photosynthesis and cellular respiration, and is referred to as
photophosphorylation and oxidative phosphorylation, respectively (see notes above). In each case, the production of ATP from ADP + Pi is
powered by the rapid flow of protons through ATP synthase. The power for proton pumping comes from the high energy electrons moving down
the ETC in both cases.