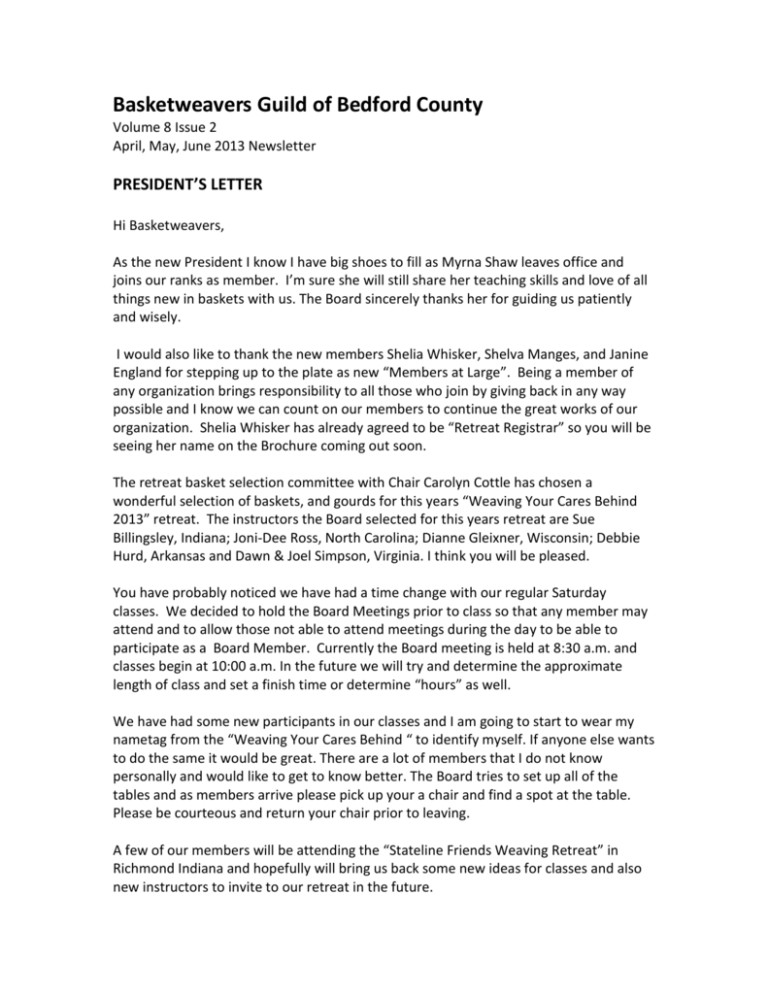 Basketweavers Guild of Bedford County
Volume 8 Issue 2
April, May, June 2013 Newsletter
PRESIDENT'S LETTER
Hi Basketweavers,
As the new President I know I have big shoes to fill as Myrna Shaw leaves office and
joins our ranks as member. I'm sure she will still share her teaching skills and love of all
things new in baskets with us. The Board sincerely thanks her for guiding us patiently
and wisely.
I would also like to thank the new members Shelia Whisker, Shelva Manges, and Janine
England for stepping up to the plate as new "Members at Large". Being a member of
any organization brings responsibility to all those who join by giving back in any way
possible and I know we can count on our members to continue the great works of our
organization. Shelia Whisker has already agreed to be "Retreat Registrar" so you will be
seeing her name on the Brochure coming out soon.
The retreat basket selection committee with Chair Carolyn Cottle has chosen a
wonderful selection of baskets, and gourds for this years "Weaving Your Cares Behind
2013" retreat. The instructors the Board selected for this years retreat are Sue
Billingsley, Indiana; Joni-Dee Ross, North Carolina; Dianne Gleixner, Wisconsin; Debbie
Hurd, Arkansas and Dawn & Joel Simpson, Virginia. I think you will be pleased.
You have probably noticed we have had a time change with our regular Saturday
classes. We decided to hold the Board Meetings prior to class so that any member may
attend and to allow those not able to attend meetings during the day to be able to
participate as a Board Member. Currently the Board meeting is held at 8:30 a.m. and
classes begin at 10:00 a.m. In the future we will try and determine the approximate
length of class and set a finish time or determine "hours" as well.
We have had some new participants in our classes and I am going to start to wear my
nametag from the "Weaving Your Cares Behind " to identify myself. If anyone else wants
to do the same it would be great. There are a lot of members that I do not know
personally and would like to get to know better. The Board tries to set up all of the
tables and as members arrive please pick up your a chair and find a spot at the table.
Please be courteous and return your chair prior to leaving.
A few of our members will be attending the "Stateline Friends Weaving Retreat" in
Richmond Indiana and hopefully will bring us back some new ideas for classes and also
new instructors to invite to our retreat in the future.
Spring is coming soon and Phil did not see his shadow on Groundhog Day so hopefully it
will be here soon. I'm looking forward to the surge of energy I get when the sun is
shining and everything starts to turn green and blossom. Have a Happy Easter; I look
forward to seeing you soon.
Best Regards,
Karen Ash
2013 BOARD & COMMITTEE MEMBERS
Karen Ash – President
Barbara Hammonds – Vice President & Retreat Chair
Denise Jay – Secretary
Kathy Mirfin – Treasurer
Carolyn Cottle - Member at Large
Sheila Whisker - Member at Large
Shelva Manges - Member at Large & Retreat Registrar
Janine England - Member at Large
Judy Appleby – Program Chair
Dorene Beckley – Publicist
Linda Dennie - Historian
Karon Ritchey - Membership Chair
NEW MEMBERS
Donna Cornman, Bedford, PA
DUES FOR 2013
We have 37 paid members for 2013. Anyone who has not sent in dues and wishes to
renew can contact Karon Ritchey at 814-623-8691 or send dues to Karon's attention at
300 E. Watson St. Bedford, PA 15522. Please make checks payable to BGBC.
Membership remains at $15.00 a year. Application is on our website.
www.bedfordbasketguild.com
The annual "WEAVING YOUR CARES BEHIND" Retreat will be held October 25,26,27,
2013 at the Travelodge (formerly Bedford Inn). Brochures should be coming out in April
and registrations will begin July 1st, 2013.
CLASSES SCHEDULED-2013
Becca's Gift Basket
APRIL
The April 13th class will be taught by Bev Geller. Becca's Gift Basket will feature a
woven basket with a sharp top "D" handle. The basket will be a start/stop & twill weave
with a base of 8 inches square that will taper to an oval opening. Height, not including
handle is approx. 5 inches. Finished basket will make a nice gift or Easter Basket. Cost
of class is $38.00 for Members - $43.00 for Non-members. Deposit of $18.00 to be sent
to Beverly Geller at 937 Ponderosa Road, Schellsburg, PA 15559 by March 30th. Skill
Level - Advanced Beginner & beyond. Any question call Bev at 814-733-4956.
MAY
May's Guild Offering will feature workshops/classes with Venie Hinson from Ohio. Venie
holds a BFA from Kent State University with an emphasis on fiber arts. She began
exploring and improvising basket design and construction techniques and teaching
basketry full time in Ohio in 1989, and nationally in 2002.
Workshops/Classes on May 17th and 18th will be held at the Everett Assembly of God
located at 161 Blackstone Road, Everett, PA 15557. A donation will be taken for the use
of the church.
On Friday, May 17th Venie will lead two workshops.
***At 3:00 p.m., Venie will share tips and tricks she has learned over the last 25 years
on creating a well shaped basket. Cost of the workshop is $20.00 and includes a copy of
Venie's new book "Mastering Shaping for Baskets". Cost for attending the workshop
without a copy of the book is $5.00.
***At 6:00 p.m. Venie will teach a workshop on marbling. Marbling is the art of floating
colors on a solution then combing the solution to create wonderful, colorful patterns.
The cost is $29.00 which will give each participant the opportunity to marble 3
hardwood veneer strips or a scarf. The strips can be cut into weavers or spokes and
used to enhance any basket.
Pizza will be ordered for dinner Friday evening with the cost split between those
participating.
All That Jazz
Flying Geese
On Saturday, May 18th @ 9:00 a.m. Venie will teach two different baskets.
***The first option is "All That Jazz", for all levels of weaving experience "All That Jazz"
will allow weavers to jazz up the outside of their double walled basket by using a variety
of colored spokes, a great contrast to the interior of the basket woven with natural
reed. Jazz it up even more with seagrass weavers worked in several techniques. Add
oak side handles and feet to complete this spacious double walled basket. Basket size:
14" high x 11"wide x 12" long. Cost of this 8 hour class is $89.00.
***The second option is "Flying Geese", for Intermediate/Advanced levels of weaving
experience. Inspired by the "flying geese" border found on old quilts, this basket begins
with a solid black walnut slotted base with reed and black walnut overlay spokes. Work
paper-thin maple in vertically curled rows to create the triangular "flying geese" pattern.
End with a stained black walnut handle and uniquely curled double lashing. Basket size:
16" high x 9"wide x 12" long. Cost of this 6 - 8 hour class is $79.00.
Sloppy Joes will be provided for lunch on Saturday. Please bring an item to share --salad, dessert, beverage, vegetable or fruit tray, paper products, plastic ware or rolls.
Please note when signing up for classes what item you would like to share.
To enroll in workshops/classes make a check payable to Venie Henson and mail to the
attention of Judy Appleby, 501 W Frick Road, Waterfall, PA 16689 for the full cost of the
workshops/classes. Checks must be received by April 26th. Sign up early as space is
limited. Contact Judy at 814-685-3433 with any questions.
JUNE
June 8th - Annual Dye Party. This year's Dye Party will be hosted by Guild member,
Beverly Geller, 937 Ponderosa Rd., Schellsburg, PA 15559. Register no later than May
24th by mailing a check for $10.00 to Beverly. Participants should bring their own reed
to dye, or a project to work on and dye to share. Participants are asked to bring a
covered dish to share. Chairs, drinks, plates, napkins, utensils will be supplied. Dye Party
will begin at 9:00 a.m.