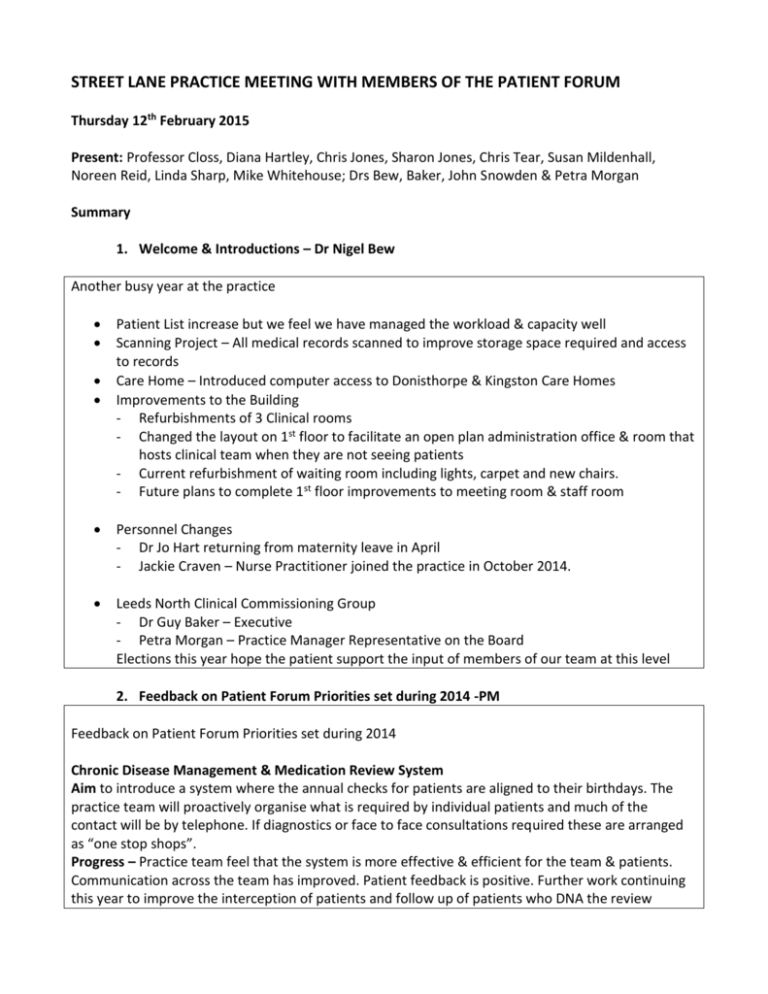 STREET LANE PRACTICE MEETING WITH MEMBERS OF THE PATIENT FORUM
Thursday 12th February 2015
Present: Professor Closs, Diana Hartley, Chris Jones, Sharon Jones, Chris Tear, Susan Mildenhall,
Noreen Reid, Linda Sharp, Mike Whitehouse; Drs Bew, Baker, John Snowden & Petra Morgan
Summary
1. Welcome & Introductions – Dr Nigel Bew
Another busy year at the practice




Patient List increase but we feel we have managed the workload & capacity well
Scanning Project – All medical records scanned to improve storage space required and access
to records
Care Home – Introduced computer access to Donisthorpe & Kingston Care Homes
Improvements to the Building
- Refurbishments of 3 Clinical rooms
- Changed the layout on 1st floor to facilitate an open plan administration office & room that
hosts clinical team when they are not seeing patients
- Current refurbishment of waiting room including lights, carpet and new chairs.
- Future plans to complete 1st floor improvements to meeting room & staff room

Personnel Changes
- Dr Jo Hart returning from maternity leave in April
- Jackie Craven – Nurse Practitioner joined the practice in October 2014.

Leeds North Clinical Commissioning Group
- Dr Guy Baker – Executive
- Petra Morgan – Practice Manager Representative on the Board
Elections this year hope the patient support the input of members of our team at this level
2. Feedback on Patient Forum Priorities set during 2014 -PM
Feedback on Patient Forum Priorities set during 2014
Chronic Disease Management & Medication Review System
Aim to introduce a system where the annual checks for patients are aligned to their birthdays. The
practice team will proactively organise what is required by individual patients and much of the
contact will be by telephone. If diagnostics or face to face consultations required these are arranged
as "one stop shops".
Progress – Practice team feel that the system is more effective & efficient for the team & patients.
Communication across the team has improved. Patient feedback is positive. Further work continuing
this year to improve the interception of patients and follow up of patients who DNA the review
appointments.
Patient Liaison Service
Aim – to set up a systematic way that we can be sure patients have received advice and been
signposted correctly to manage their condition. Facilitate support for carers and investigate involving
patients in an "expert patient role"
Wanted to encourage patients to utilise technology available to enable improved management of
their condition by communicating with the practice team through the website & system online.
Progress
 Successfully implemented systematic system & over 200 patients have been assisted by the
service. Patient evaluation of the service and the impact on their health & wellbeing is positive
 Developed system to encourage expert patients or volunteers to work through 3rd sector
organisation
 No of patient's with log on access to system has increased by over 1000, since the beginning of
the project. (1600) Patients are using access to book appointments, order prescriptions, send
us diagnostic results / health information and review their medical records to see test results.
Based on evaluation from the patient liaison project at SLP LNCCG is commissioning this service to be
made available in all practices.


Describe a couple of Patient Liaison examples
Show U Tube video encouraging Patient online access
Many aspects of the Patient Liaison Service and Technology were discussed. The patient Forum were
impressed with the overall progress and felt that the evaluation results and case studies were
powerful examples of why a service such as this is required in the practice.
3. Patient Survey – NB
DOH implemented new Friends & Family Test / Question that they require Health providers to ask &
publish the figures.
Although we have issues with how they have designed this to happen or monitor this we have
organised link through the website to encourage patients to enter their views
Due to many of our patients being involved with evaluation / surveys required for the patient liaison
project our aim is not to repeat the patient survey that we did last year. – Do patients support this
view
- Survey results from Website
- Feedback captured from NHS choices / Complaints / Compliments
The patients understood the challenge for the practice in getting feedback and supported our concern
to control the amount of feedback requests we send out to patients because of survey fatigue.
Therefore there will not be a patient level survey but patients will be encouraged to go onto a
feedback link via our website.
4. Priorities for 2015 - GB
Something we have been working on more recently is the challenge of continuity and access to the
clinical team
Introduced New Clinical Schedule
 Visits System
 2 Evening Surgeries per week
 Patient Review Clinics (extra appointments that can be flexible to enable reception / GP /
Nurse/ Patient to book a phone appointment / face to face review with the most appropriate
clinician) More effective if a patient discussed a clinical issue / results of test with the GP that
has ordered the tests. A number of systems have been introduced to support this to assist
Reception team in giving appropriate messages to patients and being able to book them into
appropriate appointments.
 Utilise technology to manage conditions effectively
Patient Liaison Service
 Continue expanding and improving the potential of this service at the practice
 Feedback from Training Event
 Would like patient views
Patient Forum supported our proposals to continue working on general access to the clinical team
through our "work smarter" objectives. There was recognition that the list has increased while being
able to maintain good access at the practice and the need to continue this work to maintain
standards.
Patients fully support the role out and any input we can have with the patient liaison service
5. Question / Answer Session
General discussion & debate about whether the patient forum should meet more often or whether
the mixed model of meetings with virtual contact with members of the patient group was the way to
continue.
Views Expressed
 Would like more meetings
 Practice would not have the capacity / resource to have as many GPs / Managers represented
if there were more meetings.
 No need to meet unless we have issues that need to be discussed and where action is
required.
 If the patient group wants to organise the meetings themselves then the practice will support
this.
 Enjoyed meetings that have been focused on specific topics such as the Patient Liaison Service
extra meeting in September.
Members of the patient Forum were going to feedback to the practice if they required any changes to
the organisation of the patient forum.