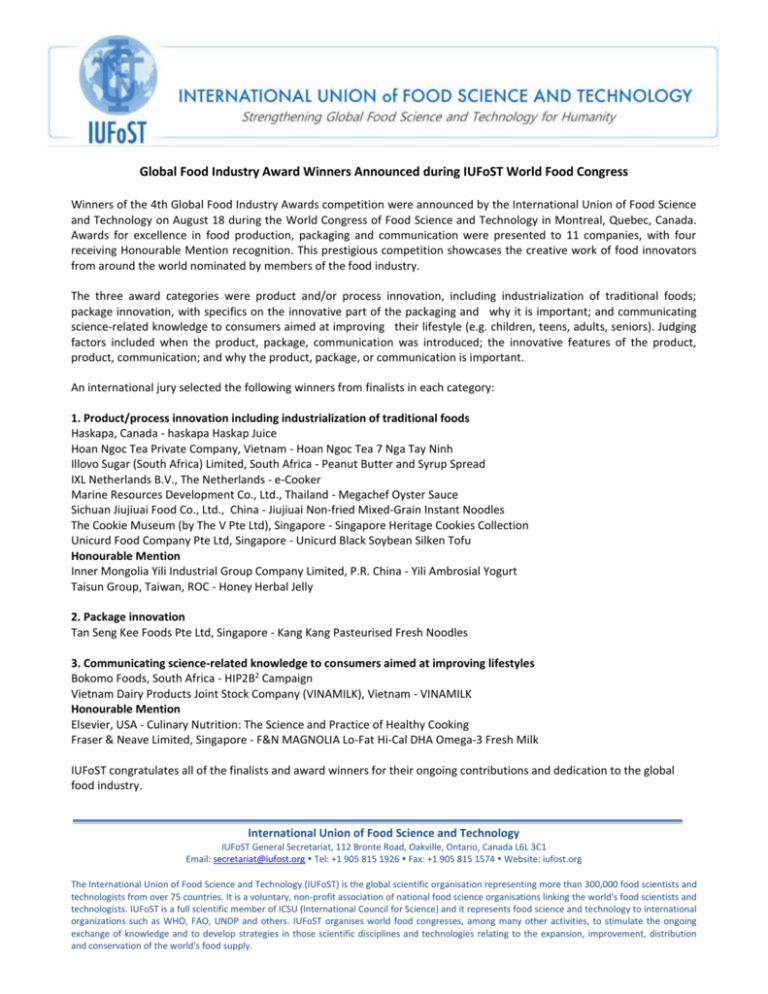 Global Food Industry Award Winners Announced during IUFoST World Food Congress
Winners of the 4th Global Food Industry Awards competition were announced by the International Union of Food Science
and Technology on August 18 during the World Congress of Food Science and Technology in Montreal, Quebec, Canada.
Awards for excellence in food production, packaging and communication were presented to 11 companies, with four
receiving Honourable Mention recognition. This prestigious competition showcases the creative work of food innovators
from around the world nominated by members of the food industry.
The three award categories were product and/or process innovation, including industrialization of traditional foods;
package innovation, with specifics on the innovative part of the packaging and why it is important; and communicating
science-related knowledge to consumers aimed at improving their lifestyle (e.g. children, teens, adults, seniors). Judging
factors included when the product, package, communication was introduced; the innovative features of the product,
product, communication; and why the product, package, or communication is important.
An international jury selected the following winners from finalists in each category:
1. Product/process innovation including industrialization of traditional foods
Haskapa, Canada - haskapa Haskap Juice
Hoan Ngoc Tea Private Company, Vietnam - Hoan Ngoc Tea 7 Nga Tay Ninh
Illovo Sugar (South Africa) Limited, South Africa - Peanut Butter and Syrup Spread
IXL Netherlands B.V., The Netherlands - e-Cooker
Marine Resources Development Co., Ltd., Thailand - Megachef Oyster Sauce
Sichuan Jiujiuai Food Co., Ltd., China - Jiujiuai Non-fried Mixed-Grain Instant Noodles
The Cookie Museum (by The V Pte Ltd), Singapore - Singapore Heritage Cookies Collection
Unicurd Food Company Pte Ltd, Singapore - Unicurd Black Soybean Silken Tofu
Honourable Mention
Inner Mongolia Yili Industrial Group Company Limited, P.R. China - Yili Ambrosial Yogurt
Taisun Group, Taiwan, ROC - Honey Herbal Jelly
2. Package innovation
Tan Seng Kee Foods Pte Ltd, Singapore - Kang Kang Pasteurised Fresh Noodles
3. Communicating science-related knowledge to consumers aimed at improving lifestyles
Bokomo Foods, South Africa - HIP2B2 Campaign
Vietnam Dairy Products Joint Stock Company (VINAMILK), Vietnam - VINAMILK
Honourable Mention
Elsevier, USA - Culinary Nutrition: The Science and Practice of Healthy Cooking
Fraser & Neave Limited, Singapore - F&N MAGNOLIA Lo-Fat Hi-Cal DHA Omega-3 Fresh Milk
IUFoST congratulates all of the finalists and award winners for their ongoing contributions and dedication to the global
food industry.
International Union of Food Science and Technology
IUFoST General Secretariat, 112 Bronte Road, Oakville, Ontario, Canada L6L 3C1
Email: secretariat@iufost.org  Tel: +1 905 815 1926  Fax: +1 905 815 1574  Website: iufost.org
The International Union of Food Science and Technology (IUFoST) is the global scientific organisation representing more than 300,000 food scientists and
technologists from over 75 countries. It is a voluntary, non-profit association of national food science organisations linking the world's food scientists and
technologists. IUFoST is a full scientific member of ICSU (International Council for Science) and it represents food science and technology to international
organizations such as WHO, FAO, UNDP and others. IUFoST organises world food congresses, among many other activities, to stimulate the ongoing
exchange of knowledge and to develop strategies in those scientific disciplines and technologies relating to the expansion, improvement, distribution
and conservation of the world's food supply.