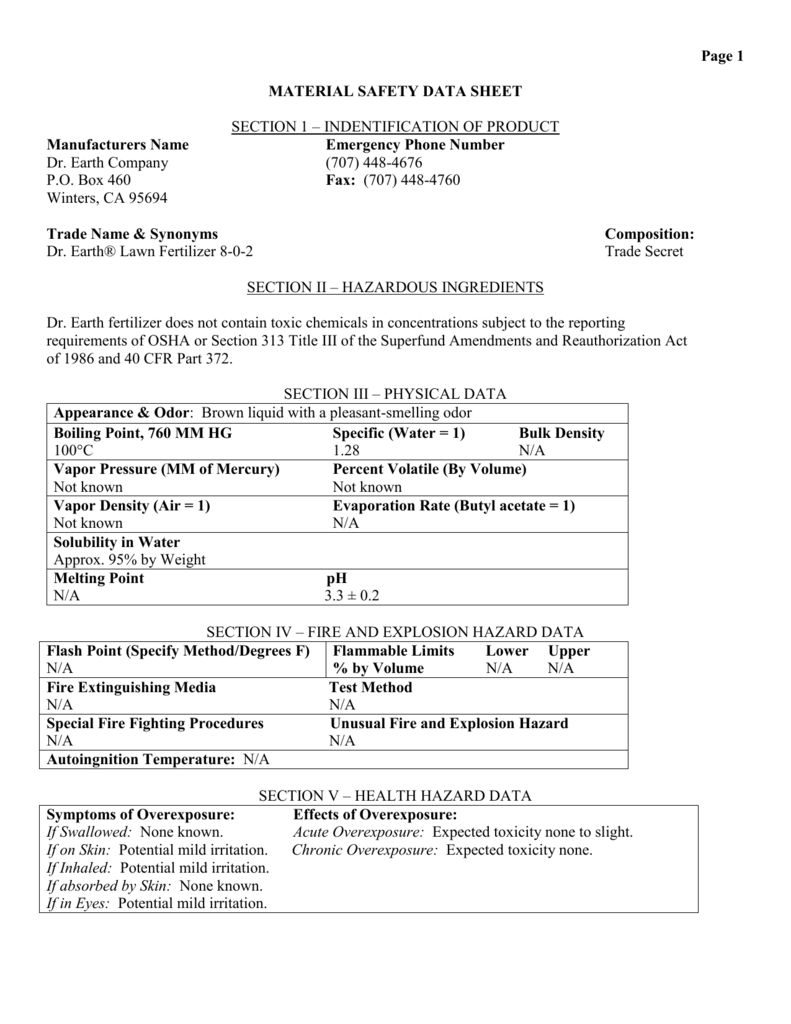 Page 1
MATERIAL SAFETY DATA SHEET
Manufacturers Name
Dr. Earth Company
P.O. Box 460
Winters, CA 95694
SECTION 1 – INDENTIFICATION OF PRODUCT
Emergency Phone Number
(707) 448-4676
Fax: (707) 448-4760
Trade Name & Synonyms
Dr. Earth® Lawn Fertilizer 8-0-2
Composition:
Trade Secret
SECTION II – HAZARDOUS INGREDIENTS
Dr. Earth fertilizer does not contain toxic chemicals in concentrations subject to the reporting
requirements of OSHA or Section 313 Title III of the Superfund Amendments and Reauthorization Act
of 1986 and 40 CFR Part 372.
SECTION III – PHYSICAL DATA
Appearance & Odor: Brown liquid with a pleasant-smelling odor
Boiling Point, 760 MM HG
Specific (Water = 1)
Bulk Density
100°C
1.28
N/A
Vapor Pressure (MM of Mercury)
Percent Volatile (By Volume)
Not known
Not known
Vapor Density (Air = 1)
Evaporation Rate (Butyl acetate = 1)
Not known
N/A
Solubility in Water
Approx. 95% by Weight
Melting Point
pH
N/A
3.3 ± 0.2
SECTION IV – FIRE AND EXPLOSION HAZARD DATA
Flash Point (Specify Method/Degrees F) Flammable Limits
Lower Upper
N/A
% by Volume
N/A
N/A
Fire Extinguishing Media
Test Method
N/A
N/A
Special Fire Fighting Procedures
Unusual Fire and Explosion Hazard
N/A
N/A
Autoingnition Temperature: N/A
SECTION V – HEALTH HAZARD DATA
Symptoms of Overexposure:
Effects of Overexposure:
If Swallowed: None known.
Acute Overexposure: Expected toxicity none to slight.
If on Skin: Potential mild irritation.
Chronic Overexposure: Expected toxicity none.
If Inhaled: Potential mild irritation.
If absorbed by Skin: None known.
If in Eyes: Potential mild irritation.
Page 2
Emergency and First Aid Procedures:
If Swallowed: Contact a physician if large quantities are ingested.
If on Skin: Wash with water.
If in Eyes: Flush with plenty of water.
If Inhaled: No treatment necessary.
Suspected Cancer Agent?
X NO:
This product's ingredients are not found in the lists below.
YES: _ Federal OSHA _ NTP _ IARC _ Cal/OSHA
Medical Conditions Aggravated by Exposure: None known
Notes to Physician: Treated patient symptomatically.
SECTION VI – REACTIVITY DATA
Stability
Unstable
Conditions to Avoid
N/A
Stable
X
Incompatibility (Materials to Avoid):
N/A
Hazardous Decomposition Products:
N/A
SECTION VII – SPILL OR LEAK PROCEDURES
Steps to be taken in case material is released or spilled: Wash with water.
Neutralizing Chemicals: N/A
Waste Disposal Method: Follow all applicable Federal, State and local regulations.
SECTION VIII – SPECIAL PROTECTION INFORMATION
Respiratory Protection (Specify type): N/A
Mechanical (General): N/A
Ventilation: None
Local Exhaust: N/A
Protection Gloves: N/A
Eye Protection: N/A
Other Protective Equipment: N/A
SECTION IX – SPECIAL PRECAUTIONS
Precautionary Statements: Avoid contact with skin and eyes. Do not ingest.
Other Handling and Storage Requirements: Keep lid tightly closed. Store in a dry area,
above freezing (45°F) and below 105°F, and out of direct sunlight. KEEP OUT OF REACH
OF CHILDREN!
All information, recommendations and suggestions appearing herein concerning our products are based upon tests and data believed to be to be reliable.
However, it is the user's responsibility to determine the safety, toxicity and suitability for his own use of the product described herein. Since the actual use
by others is beyond our control, we make no guarantee, expressed or implied, as to the effects of such use, the results to be obtained, or safety and toxicity of
the product; nor do we assume any liability arising out of use, by others, of the product referred to herein. The information herein is not to be construed as
absolutely complete since additional information may be necessary or desirable when particular or exceptional conditions or circumstances exist or because
of applicable laws or government regulations.