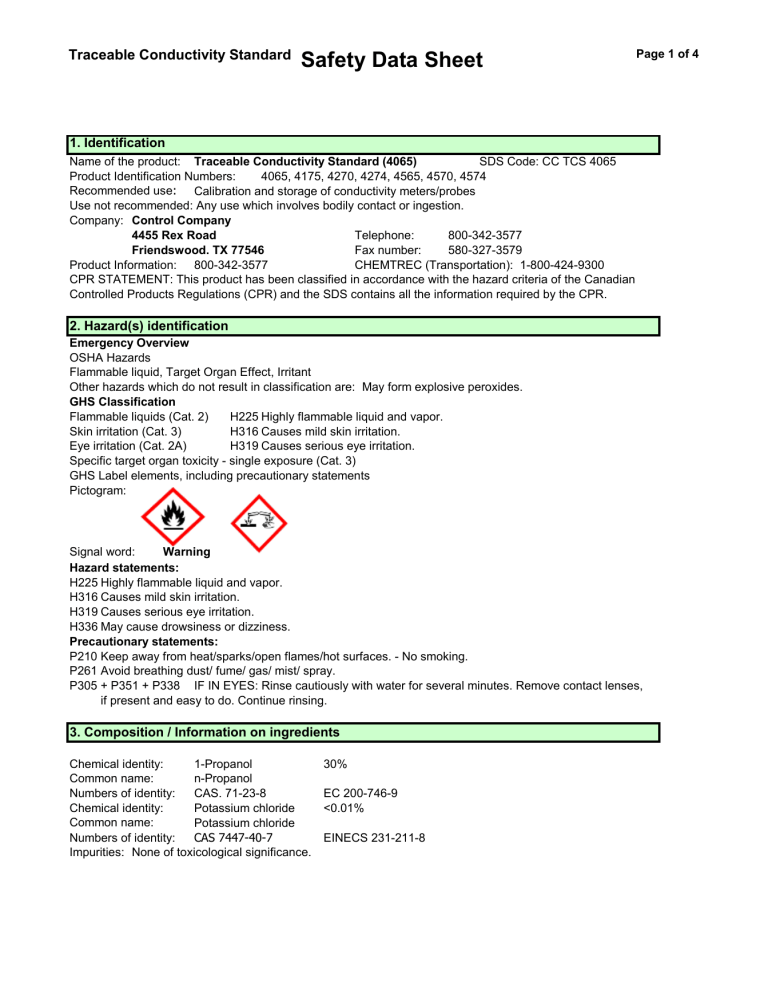 Traceable Conductivity Standard
Safety Data Sheet
Page 1 of 4
1. Identification
Name of the product: Traceable Conductivity Standard (4065)
SDS Code: CC TCS 4065
Product Identification Numbers:
4065, 4175, 4270, 4274, 4565, 4570, 4574
Recommended use: Calibration and storage of conductivity meters/probes
Use not recommended: Any use which involves bodily contact or ingestion.
Company: Control Company
4455 Rex Road
Telephone:
800-342-3577
Friendswood. TX 77546
Fax number:
580-327-3579
Product Information: 800-342-3577
CHEMTREC (Transportation): 1-800-424-9300
CPR STATEMENT: This product has been classified in accordance with the hazard criteria of the Canadian
Controlled Products Regulations (CPR) and the SDS contains all the information required by the CPR.
2. Hazard(s) identification
Emergency Overview
OSHA Hazards
Flammable liquid, Target Organ Effect, Irritant
Other hazards which do not result in classification are: May form explosive peroxides.
GHS Classification
Flammable liquids (Cat. 2)
H225 Highly flammable liquid and vapor.
Skin irritation (Cat. 3)
H316 Causes mild skin irritation.
Eye irritation (Cat. 2A)
H319 Causes serious eye irritation.
Specific target organ toxicity - single exposure (Cat. 3)
GHS Label elements, including precautionary statements
Pictogram:
Signal word:
Warning
Hazard statements:
H225 Highly flammable liquid and vapor.
H316 Causes mild skin irritation.
H319 Causes serious eye irritation.
H336 May cause drowsiness or dizziness.
Precautionary statements:
P210 Keep away from heat/sparks/open flames/hot surfaces. - No smoking.
P261 Avoid breathing dust/ fume/ gas/ mist/ spray.
P305 + P351 + P338 IF IN EYES: Rinse cautiously with water for several minutes. Remove contact lenses,
if present and easy to do. Continue rinsing.
3. Composition / Information on ingredients
Chemical identity:
1-Propanol
Common name:
n-Propanol
Numbers of identity:
CAS. 71-23-8
Chemical identity:
Potassium chloride
Common name:
Potassium chloride
Numbers of identity:
CAS 7447-40-7
Impurities: None of toxicological significance.
30%
EC 200-746-9
<0.01%
EINECS 231-211-8
Traceable Conductivity Standard
Safety Data Sheet
Page 2 of 4
4. First-aid measures
P304+313 +341 IF INHALED: If breathing is difficult, remove victim to fresh air and keep at rest in a
position comfortable for breathing. Consult a physician.
P302+352
IF
IF ON
ON SKIN:
SKIN: Wash
Wash with
with soap
soap and
and water
water. Rinse until odor is gone.
P305+351+338 IF IN EYES: Rinse continuously with water for several minutes.
Remove contact lenses if present and easy to do; continue rinsing.
P301+330+331 IF SWALLOWED: Rinse mouth. Do NOT induce vomiting.
Most important symptoms and effects, both acute and delayed: Severe eye irritation. Skin irritation.
5. Firefighting measures
Suitable extinguishing equipment:
Water spray, alcohol-resistant foam, dry chemical or carbon dioxide.
Emergency procedures:
Eliminate ignition source. Evacuate unnecessary personnel. Call appropriate fire fighting crew.
Special protective equipment for firefighters
Wear self contained breathing apparatus for fire fighting if necessary.
Hazardous decomposition products formed under fire conditions. - Carbon oxides, ammonia, nitrogen oxides.
Use water spray to cool unopened containers.
6. Accidental release measures
Use personal protective equipment. Avoid breathing, mist or vapors. Ensure adequate ventilation.
Remove all sources of ignition. Evacuate personnel to safe areas. Be aware of possible accumulating
vapors which could form explosive concentrations. Vapors can accumulate in low areas.
Environmental precautions:
Prevent further leakage or spillage if safe to do so. Do not let product enter drains.
Methods and materials for containment and cleaning up
Contain spillage, and then absorb with industrial absorbent, or collect with an electrically protected
vacuum cleaner or by wet-brushing and place in container for disposal according to local regulations.
See also Sec. 13.
7. Handling and storage
Precautions for safe handling:
Avoid contact with skin and eyes. Avoid inhalation of vapors or mist.
Use explosion-proof equipment. Keep away from sources of ignition - No smoking.
Prevent the build up of electrostatic charge.
Conditions for safe storage:
Keep container tightly closed in a dry and well-ventilated place.
Containers which have been opened must be resealed and kept upright to prevent leakage.
8. Exposure controls / personal protection
Information on the system design:
Exposure Limits:
Reference 29CFR 1910.1000 Table Z-1
Component Name, CAS#
OSHA PEL
ACGIH TLV
1-Propanol
71-23-8
200 ppm
100 ppm
Personal protective equipment
Respiratory protection:
Where appropriate use a full-face supplied air respirator.
Hand protection:
Rubber gloves.
Eye protection:
Safety glasses with side-shields.
Skin and body protection:
Chemical resistant apron or protective suit if splashing or repeated contact
with solution is likely; flame retardant and antistatic properties are recommended.
Hygiene measures
Handle in accordance with good industrial hygiene and safety practice.
Traceable Conductivity Standard
Safety Data Sheet
Page 3 of 4
Wash hands and face before breaks and immediately after handling the product.
9. Physical and chemical properties
Appearance:
Clear, colorless liquid
Odor:
Alcoholic solvent
Odor threshold:
No data available
pH-value:
Approx. 7-9
Melting point:
no data available
Freezing Point:
no data available
Initial boiling point:
no data available
Flash point:
no data available
Evaporation rate:
no data available
Flammability (solid, gas): Not applicable
Explosion limits:
Lower: 2.1 V% Upper: 13.7V% (Isopropyl alcohol)
Vapor pressure: (highest partial vapor pressure) at 20°C: Not available
Vapor density:
Not available
Auto-ignition temperature: Not available
Relative density (water=1.00):
no data available
Solubility: Totally soluble in water at 20°C
Decomposition temperature: Not available
Partition coefficient: Log Kow = Not applicable to mixture.
Viscosity: Like water
10. Stability and reactivity
Chemical stability: No decomposition, if used according to specifications.
Possibility of hazardous reactions: May form explosive mixture with air.
Conditions to avoid:
Heat, flames and sparks. Extremes of temperature and direct sunlight.
Materials to avoid:
Aluminum, Acids, Oxidizing agents, Halogenated compounds, Acid anhydrides
Hazardous decomposition products: Carbon oxides, product vapors.
11. Toxicological information
There is no data available for the product.
Routes of Entry: Absorbed through skin. Eye contact. Inhalation.
1-Propanol
Oral Toxicity LD 50:
Rat 8,038 mg/kg
Dermal Toxicity LD 50:
Rabbit 4,000 mg/kg
Inhalation Toxicity, LC50:
Rat 20000 ppm, 1 hr
Eye Irritation (Rabbit)
Severe irritation
Dermal Irritation (Rabbit)
No irritation
Chronic Effects on Humans:
No component >0.1% is listed by NTP, IARC, OSHA or ACGIH as a suspect or potential carcinogen.
California Prop. 65 chemicals: This product does not contain any chemicals known to State of
California to cause cancer, birth defects, or any other reproductive harm.
Contains material which may cause damage to the following organs: kidneys, liver, CNS,
Signs and Symptoms of Exposure:
Central nervous system depression, prolonged or repeated exposure
can cause:, nausea, dizziness, narcosis or drowsiness.
12. Ecological information
BOD and COD: Not available.
Ecotoxicity: Not available for the product.
Ecotoxicity:
1-Propanol
Toxicity to fish:
LC50 - Pimephales promelas (fathead minnow) - 4,555 mg/l - 96 h
Toxicity to daphnia and EC50 - Daphnia magna (Water flea) - 3,642 mg/l - 48 h
Products of Biodegradation:
The product is miscible in water and readily biodegradable in both water and soil. Accumulation is not expected.
Traceable Conductivity Standard
Safety Data Sheet
Page 4 of 4
Mobility in soil No data available
Results of PBT and vPvB assessment
PBT/vPvB assessment not available as chemical safety assessment not required/not conducted
13. Disposal considerations
Product as made has the characteristic of ignitability, like " Unlisted Hazardous Waste D001", RQ 100#.
Burn in a chemical incinerator equipped with an afterburner and scrubber.
Dispose in accordance with local, state and federal regulations.
14. Transport information
DOT (US) Proper shipping name:
UN1219 Isopropyl alcohol Solution, 3
Packing group: II
Reportable Quantity (RQ):
Not possible in one non bulk package
Marine pollutant: No
May also be shipped Consumer Commodity ORM-D
The description shown may not apply to all shipping situations. Consult 49CFR, OSHA or appropriate
Dangerous Goods Regulations, for additional description requirements (e.g., technical name, labeling)
and mode-specific or quantity-specific shipping requirements,
15. Regulatory information
OSHA Hazards: Hazard Communication Standard (29 CFR 1910.1200).
Flammable liquid, Target Organ Effect, Irritant
SARA 302 Components:
None
SARA 313 Components:
None
Inventory Status:
All components are on TSCA, EINECS/ELINCS, AICS, and DSL.
Federal and State Regulations:
State Right to Know lists (RTK):
n-Propanol : MA, PA, NJ
Water: Ma, PA, NJ
OSHA: Hazardous by definition of Hazard Communication Standard (29 CFR 1910.1200).
Flammable liquid, Target Organ Effect, Irritant
WHMIS (Canada): CLASS B-2: Flammable liquid with a flash point lower than 37.8°C (100°F). CLASS D-2B:
CLASS B-2: Flammable liquid with a flash point lower than 37.8°C (100°F). CLASS D-2B:
Material causing other toxic effects: None
California Prop. 65 Components:
This product does not contain any chemicals known to State of California
to cause cancer, birth defects, or any other reproductive harm.
16. Other information
SDS Preparation date:
March 9, 2015
Hazard Categories:
Health
Fire
Pressure Reactivity Reference 49 CFR 171.8,
Immediate
Yes
Yes
No
No
OSHA 29 CFR 1910.1200 and
Delayed
Yes
No
XXX
XXX SARA 302/311/312/313.
HMIS Hazard ratings: Health 2 Fire 3
Instability 0 Other B (Goggles, gloves)
Hazard Ratings: Least: 0 Slight: 1 Moderate: 2 High: 3 Extreme: 4
HMIS® is a registered trade and service mark of the NPCA.
Note: The information in this SDS was obtained from current reputable and competent sources.
However, the data is provided without warranty, expressed or implied, regarding its correctness or accuracy.
It is the user's responsibility to determine safe conditions for the use of this product and to assume liability for
loss, injury, damage or expense resulting from improper use of this product.
This MSDS is designed for workplace employees, emergency personnel and for other conditions and situations
where there is a greater potential for large-scale or prolonged exposure, in accordance with requirements of the
U.S. Government's Occupational Safety and Health Administration (OSHA).