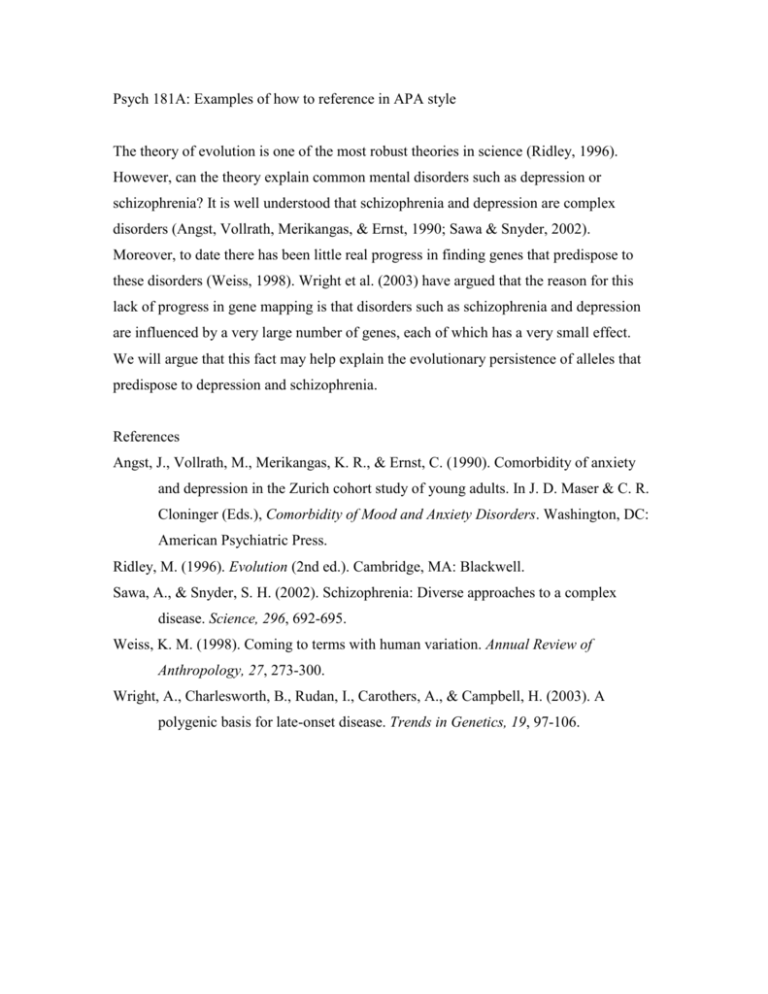 Psych 181A: Examples of how to reference in APA style
The theory of evolution is one of the most robust theories in science (Ridley, 1996).
However, can the theory explain common mental disorders such as depression or
schizophrenia? It is well understood that schizophrenia and depression are complex
disorders (Angst, Vollrath, Merikangas, & Ernst, 1990; Sawa & Snyder, 2002).
Moreover, to date there has been little real progress in finding genes that predispose to
these disorders (Weiss, 1998). Wright et al. (2003) have argued that the reason for this
lack of progress in gene mapping is that disorders such as schizophrenia and depression
are influenced by a very large number of genes, each of which has a very small effect.
We will argue that this fact may help explain the evolutionary persistence of alleles that
predispose to depression and schizophrenia.
References
Angst, J., Vollrath, M., Merikangas, K. R., & Ernst, C. (1990). Comorbidity of anxiety
and depression in the Zurich cohort study of young adults. In J. D. Maser & C. R.
Cloninger (Eds.), Comorbidity of Mood and Anxiety Disorders. Washington, DC:
American Psychiatric Press.
Ridley, M. (1996). Evolution (2nd ed.). Cambridge, MA: Blackwell.
Sawa, A., & Snyder, S. H. (2002). Schizophrenia: Diverse approaches to a complex
disease. Science, 296, 692-695.
Weiss, K. M. (1998). Coming to terms with human variation. Annual Review of
Anthropology, 27, 273-300.
Wright, A., Charlesworth, B., Rudan, I., Carothers, A., & Campbell, H. (2003). A
polygenic basis for late-onset disease. Trends in Genetics, 19, 97-106.