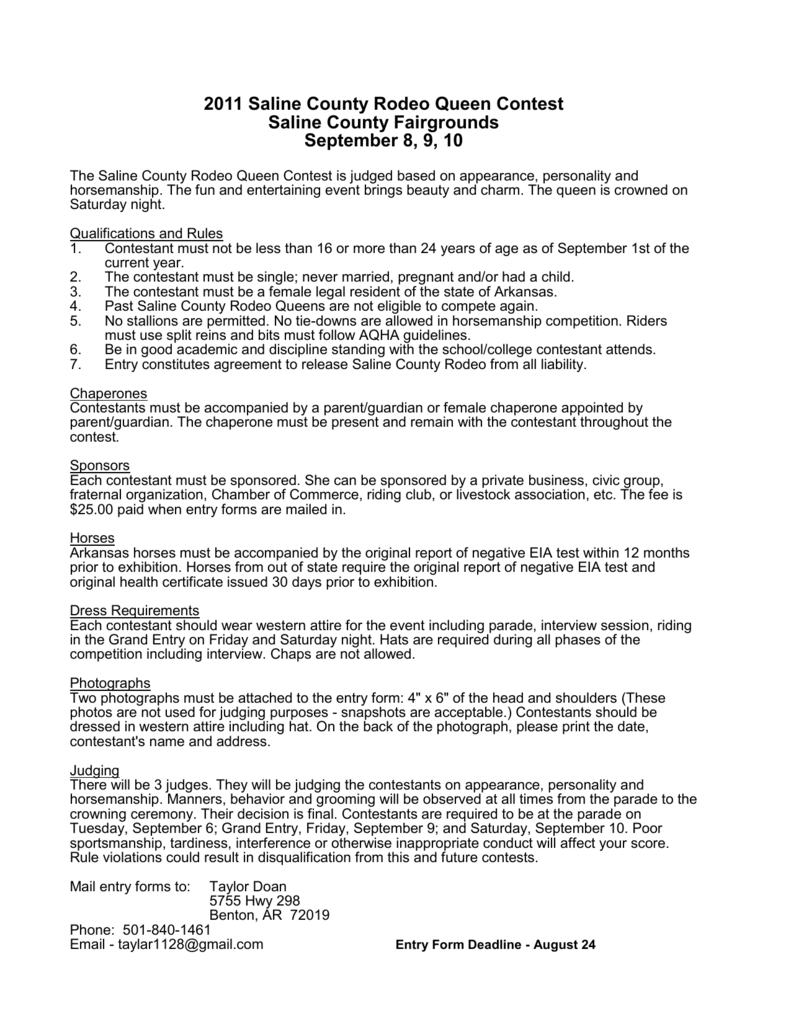 2011 Saline County Rodeo Queen Contest
Saline County Fairgrounds
September 8, 9, 10
The Saline County Rodeo Queen Contest is judged based on appearance, personality and
horsemanship. The fun and entertaining event brings beauty and charm. The queen is crowned on
Saturday night.
Qualifications and Rules
1.
Contestant must not be less than 16 or more than 24 years of age as of September 1st of the
current year.
2.
The contestant must be single; never married, pregnant and/or had a child.
3.
The contestant must be a female legal resident of the state of Arkansas.
4.
Past Saline County Rodeo Queens are not eligible to compete again.
5.
No stallions are permitted. No tie-downs are allowed in horsemanship competition. Riders
must use split reins and bits must follow AQHA guidelines.
6.
Be in good academic and discipline standing with the school/college contestant attends.
7.
Entry constitutes agreement to release Saline County Rodeo from all liability.
Chaperones
Contestants must be accompanied by a parent/guardian or female chaperone appointed by
parent/guardian. The chaperone must be present and remain with the contestant throughout the
contest.
Sponsors
Each contestant must be sponsored. She can be sponsored by a private business, civic group,
fraternal organization, Chamber of Commerce, riding club, or livestock association, etc. The fee is
$25.00 paid when entry forms are mailed in.
Horses
Arkansas horses must be accompanied by the original report of negative EIA test within 12 months
prior to exhibition. Horses from out of state require the original report of negative EIA test and
original health certificate issued 30 days prior to exhibition.
Dress Requirements
Each contestant should wear western attire for the event including parade, interview session, riding
in the Grand Entry on Friday and Saturday night. Hats are required during all phases of the
competition including interview. Chaps are not allowed.
Photographs
Two photographs must be attached to the entry form: 4" x 6" of the head and shoulders (These
photos are not used for judging purposes - snapshots are acceptable.) Contestants should be
dressed in western attire including hat. On the back of the photograph, please print the date,
contestant's name and address.
Judging
There will be 3 judges. They will be judging the contestants on appearance, personality and
horsemanship. Manners, behavior and grooming will be observed at all times from the parade to the
crowning ceremony. Their decision is final. Contestants are required to be at the parade on
Tuesday, September 6; Grand Entry, Friday, September 9; and Saturday, September 10. Poor
sportsmanship, tardiness, interference or otherwise inappropriate conduct will affect your score.
Rule violations could result in disqualification from this and future contests.
Mail entry forms to:
Taylor Doan
5755 Hwy 298
Benton, AR 72019
Phone: 501-840-1461
Email - [email protected]
Entry Form Deadline - August 24
2011 RODEO QUEEN ENTRY FORM
Contestant's Name
Telephone
Address
City
Birth Date
Age
Zip
Hair Color
School Name (if applicable
Eye Color
Email
Horse Information
Club Memberships
Community Activities
Honors and Awards
Special Interests and Hobbies
Future Plans
Daughter of
Telephone
Other Family Members
Sponsor Organization (required)
Contact Name
Email
Address
City
Sponsor Signature
Zip
Telephone
By signature below, contestant/parent/guardian certifies they have read, understand and
agree to comply with the rules and regulations of this contest and further assume all liability and
responsibility for any loss, accident or injury resulting from participation in this event. Competition
information and photos may be used for publicity purposes.
Contestant Signature
Date
Mail entry and Photographs to:
Parent/Guardian Signature (If contestant is a minor.)
Saline County Rodeo Queen Contest
5755 Hwy 298
Benton, AR 72019
Email: [email protected]
Print name, date and address on the back of photographs to submit with entry.