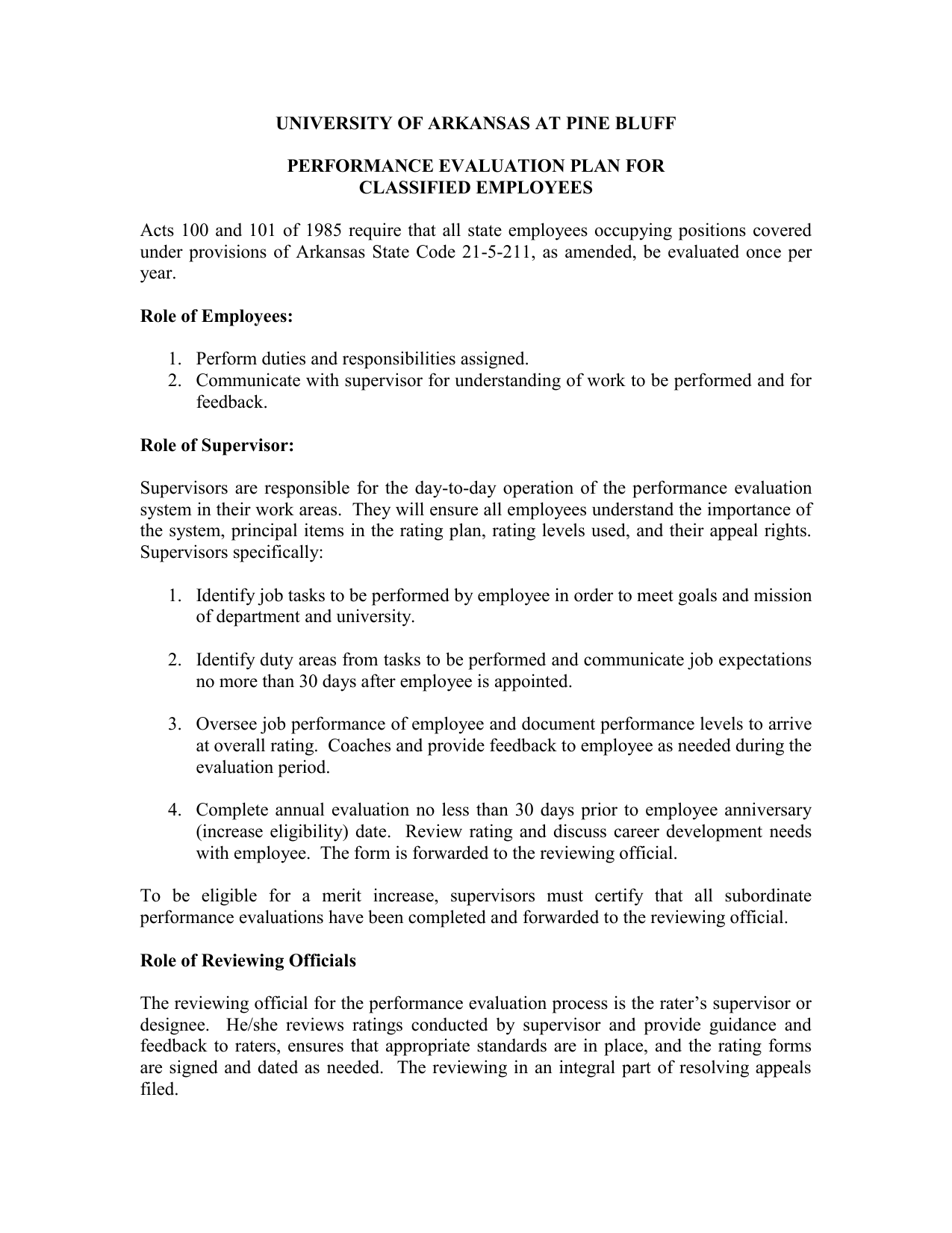 UNIVERSITY OF ARKANSAS AT PINE BLUFF
PERFORMANCE EVALUATION PLAN FOR
CLASSIFIED EMPLOYEES
Acts 100 and 101 of 1985 require that all state employees occupying positions covered
under provisions of Arkansas State Code 21-5-211, as amended, be evaluated once per
year.
Role of Employees:
1. Perform duties and responsibilities assigned.
2. Communicate with supervisor for understanding of work to be performed and for
feedback.
Role of Supervisor:
Supervisors are responsible for the day-to-day operation of the performance evaluation
system in their work areas. They will ensure all employees understand the importance of
the system, principal items in the rating plan, rating levels used, and their appeal rights.
Supervisors specifically:
1. Identify job tasks to be performed by employee in order to meet goals and mission
of department and university.
2. Identify duty areas from tasks to be performed and communicate job expectations
no more than 30 days after employee is appointed.
3. Oversee job performance of employee and document performance levels to arrive
at overall rating. Coaches and provide feedback to employee as needed during the
evaluation period.
4. Complete annual evaluation no less than 30 days prior to employee anniversary
(increase eligibility) date. Review rating and discuss career development needs
with employee. The form is forwarded to the reviewing official.
To be eligible for a merit increase, supervisors must certify that all subordinate
performance evaluations have been completed and forwarded to the reviewing official.
Role of Reviewing Officials
The reviewing official for the performance evaluation process is the rater's supervisor or
designee. He/she reviews ratings conducted by supervisor and provide guidance and
feedback to raters, ensures that appropriate standards are in place, and the rating forms
are signed and dated as needed. The reviewing in an integral part of resolving appeals
filed.
Scoring
The overall rating category is determined at the discretion of the rating official based on
the relative importance of each standard as determined by the rater.
Any written disciplinary reprimand will preclude the award of a merit increase of a job
series promotion for the current rating period.
An unsatisfactory rating in any core standard precludes awarding an Exceed Standard or
Above Average overall rating.
The rating scale is as follows:
E = Exceeds Standard – Performance consistently exceeds position requirement and
management expectations. Resourcefulness and depth of knowledge are of the highest
quality. Assignments are accomplished in an exceptional manner with minimal direction
and are characterized by outstanding achievements seldom accomplished within the
university.
AA = Above Average – On a regular basis, performance is characterized by high quality
and quantity of work that exceeds most position requirements, key objectives, and
management expectations. Employee demonstrates outstanding skills and abilities, and
assignments are accomplished in a highly effective manner with limited guidance and
direction.
S = Satisfactory – Performance meets all or most and may occasionally exceed work
objectives and management expectations. Employee demonstrates good knowledge of
job duties, and assignments are accomplished effectively with normal supervisory
guidance.
U= Unsatisfactory – Performance does not consistently meet management expectations;
requires more than normal guidance and direction. Improvement and/or development are
necessary if the rater elects to continue employment with the incumbent.