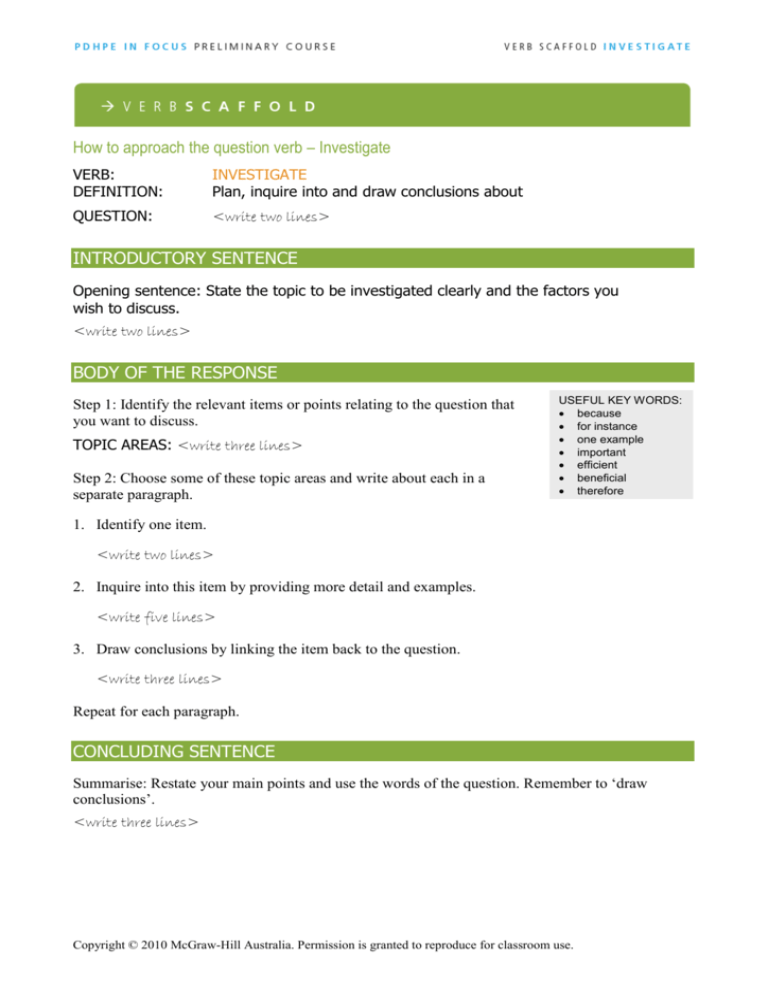 How to approach the question verb – Investigate
VERB:
DEFINITION:
INVESTIGATE
Plan, inquire into and draw conclusions about
QUESTION:
<write two lines>
INTRODUCTORY SENTENCE
Opening sentence: State the topic to be investigated clearly and the factors you
wish to discuss.
<write two lines>
BODY OF THE RESPONSE
Step 1: Identify the relevant items or points relating to the question that
you want to discuss.
TOPIC AREAS: <write three lines>
Step 2: Choose some of these topic areas and write about each in a
separate paragraph.
USEFUL KEY WORDS:
 because
 for instance
 one example
 important
 efficient
 beneficial
 therefore
1. Identify one item.
<write two lines>
2. Inquire into this item by providing more detail and examples.
<write five lines>
3. Draw conclusions by linking the item back to the question.
<write three lines>
Repeat for each paragraph.
CONCLUDING SENTENCE
Summarise: Restate your main points and use the words of the question. Remember to 'draw
conclusions'.
<write three lines>
Copyright © 2010 McGraw-Hill Australia. Permission is granted to reproduce for classroom use.