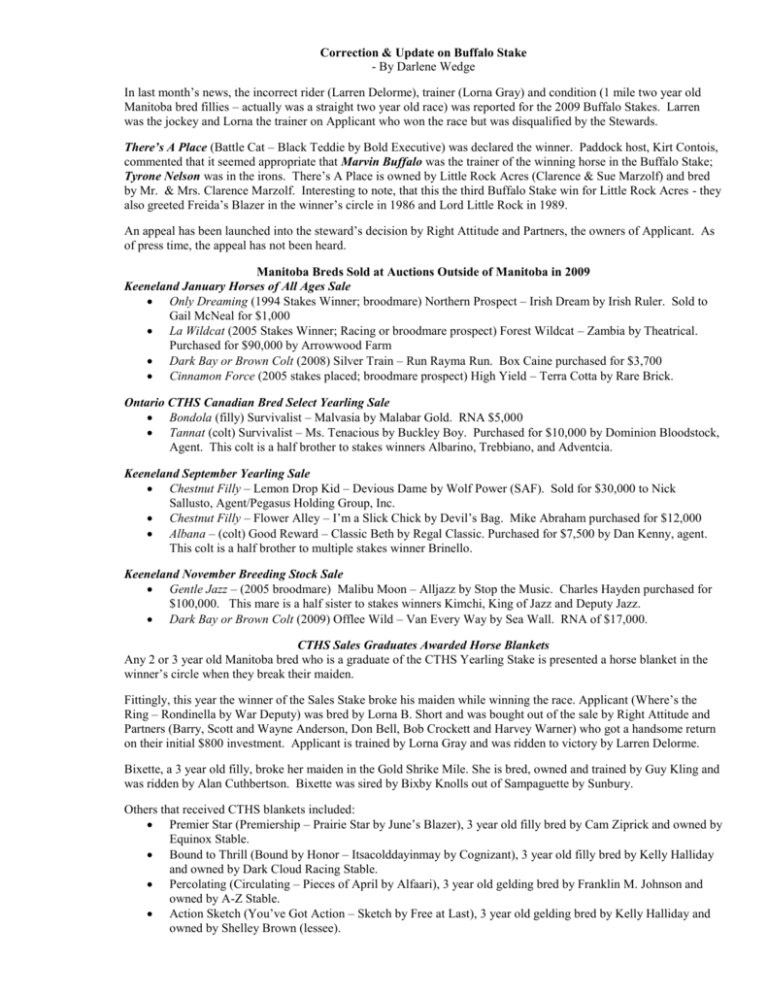 Correction & Update on Buffalo Stake
- By Darlene Wedge
In last month's news, the incorrect rider (Larren Delorme), trainer (Lorna Gray) and condition (1 mile two year old
Manitoba bred fillies – actually was a straight two year old race) was reported for the 2009 Buffalo Stakes. Larren
was the jockey and Lorna the trainer on Applicant who won the race but was disqualified by the Stewards.
There's A Place (Battle Cat – Black Teddie by Bold Executive) was declared the winner. Paddock host, Kirt Contois,
commented that it seemed appropriate that Marvin Buffalo was the trainer of the winning horse in the Buffalo Stake;
Tyrone Nelson was in the irons. There's A Place is owned by Little Rock Acres (Clarence & Sue Marzolf) and bred
by Mr. & Mrs. Clarence Marzolf. Interesting to note, that this the third Buffalo Stake win for Little Rock Acres - they
also greeted Freida's Blazer in the winner's circle in 1986 and Lord Little Rock in 1989.
An appeal has been launched into the steward's decision by Right Attitude and Partners, the owners of Applicant. As
of press time, the appeal has not been heard.
Manitoba Breds Sold at Auctions Outside of Manitoba in 2009
Keeneland January Horses of All Ages Sale
 Only Dreaming (1994 Stakes Winner; broodmare) Northern Prospect – Irish Dream by Irish Ruler. Sold to
Gail McNeal for $1,000
 La Wildcat (2005 Stakes Winner; Racing or broodmare prospect) Forest Wildcat – Zambia by Theatrical.
Purchased for $90,000 by Arrowwood Farm
 Dark Bay or Brown Colt (2008) Silver Train – Run Rayma Run. Box Caine purchased for $3,700
 Cinnamon Force (2005 stakes placed; broodmare prospect) High Yield – Terra Cotta by Rare Brick.
Ontario CTHS Canadian Bred Select Yearling Sale
 Bondola (filly) Survivalist – Malvasia by Malabar Gold. RNA $5,000
 Tannat (colt) Survivalist – Ms. Tenacious by Buckley Boy. Purchased for $10,000 by Dominion Bloodstock,
Agent. This colt is a half brother to stakes winners Albarino, Trebbiano, and Adventcia.
Keeneland September Yearling Sale
 Chestnut Filly – Lemon Drop Kid – Devious Dame by Wolf Power (SAF). Sold for $30,000 to Nick
Sallusto, Agent/Pegasus Holding Group, Inc.
 Chestnut Filly – Flower Alley – I'm a Slick Chick by Devil's Bag. Mike Abraham purchased for $12,000
 Albana – (colt) Good Reward – Classic Beth by Regal Classic. Purchased for $7,500 by Dan Kenny, agent.
This colt is a half brother to multiple stakes winner Brinello.
Keeneland November Breeding Stock Sale
 Gentle Jazz – (2005 broodmare) Malibu Moon – Alljazz by Stop the Music. Charles Hayden purchased for
$100,000. This mare is a half sister to stakes winners Kimchi, King of Jazz and Deputy Jazz.
 Dark Bay or Brown Colt (2009) Offlee Wild – Van Every Way by Sea Wall. RNA of $17,000.
CTHS Sales Graduates Awarded Horse Blankets
Any 2 or 3 year old Manitoba bred who is a graduate of the CTHS Yearling Stake is presented a horse blanket in the
winner's circle when they break their maiden.
Fittingly, this year the winner of the Sales Stake broke his maiden while winning the race. Applicant (Where's the
Ring – Rondinella by War Deputy) was bred by Lorna B. Short and was bought out of the sale by Right Attitude and
Partners (Barry, Scott and Wayne Anderson, Don Bell, Bob Crockett and Harvey Warner) who got a handsome return
on their initial $800 investment. Applicant is trained by Lorna Gray and was ridden to victory by Larren Delorme.
Bixette, a 3 year old filly, broke her maiden in the Gold Shrike Mile. She is bred, owned and trained by Guy Kling and
was ridden by Alan Cuthbertson. Bixette was sired by Bixby Knolls out of Sampaguette by Sunbury.
Others that received CTHS blankets included:
 Premier Star (Premiership – Prairie Star by June's Blazer), 3 year old filly bred by Cam Ziprick and owned by
Equinox Stable.
 Bound to Thrill (Bound by Honor – Itsacolddayinmay by Cognizant), 3 year old filly bred by Kelly Halliday
and owned by Dark Cloud Racing Stable.
 Percolating (Circulating – Pieces of April by Alfaari), 3 year old gelding bred by Franklin M. Johnson and
owned by A-Z Stable.
 Action Sketch (You've Got Action – Sketch by Free at Last), 3 year old gelding bred by Kelly Halliday and
owned by Shelley Brown (lessee).




Battle Advance (Battle Cat –What Four by Cognizant), 2 year old gelding bred by Kelly Halliday and owned
by A-Z Stable.
Ryn'N Coke Press (Act Smart – Understanding Lady by Cognizant), 3 year old gelding bred by Watson Bay
Stables and owned by Prestige Stables.
Mt. Charles (Going Commando – Nasty Millie by Bashful Cloud), 2 year old gelding bred by Cam Ziprick
and Charles Fouillard and owned by A-Z Stable and Charles Fouillard.
Maub (Smile Again – Cemmec by Rebmec), 3year old filly bred and owned by Dr. Betty Hughes.