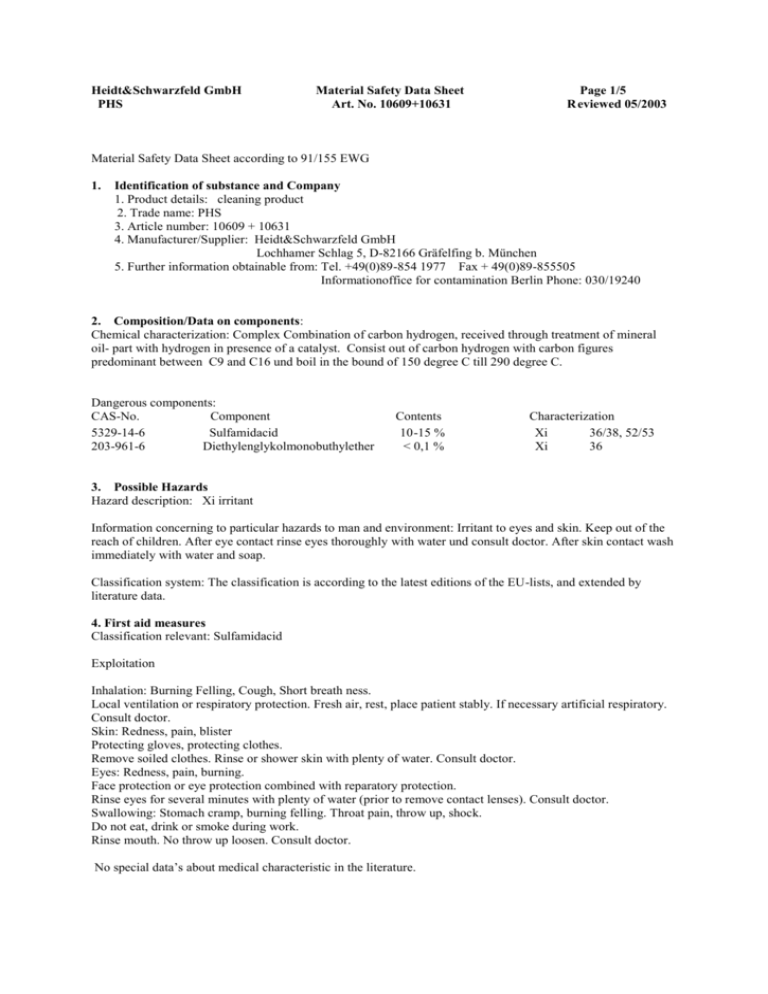 Heidt&Schwarzfeld GmbH
PHS
Material Safety Data Sheet
Art. No. 10609+10631
Page 1/5
R eviewed 05/2003
Material Safety Data Sheet according to 91/155 EWG
1.
Identification of substance and Company
1. Product details: cleaning product
2. Trade name: PHS
3. Article number: 10609 + 10631
4. Manufacturer/Supplier: Heidt&Schwarzfeld GmbH
Lochhamer Schlag 5, D-82166 Gräfelfing b. München
5. Further information obtainable from: Tel. +49(0)89-854 1977 Fax + 49(0)89-855505
Informationoffice for contamination Berlin Phone: 030/19240
2. Composition/Data on components:
Chemical characterization: Complex Combination of carbon hydrogen, received through treatment of mineral
oil- part with hydrogen in presence of a catalyst. Consist out of carbon hydrogen with carbon figures
predominant between C9 and C16 und boil in the bound of 150 degree C till 290 degree C.
Dangerous components:
CAS-No.
Component
5329-14-6
Sulfamidacid
203-961-6
Diethylenglykolmonobuthylether
Contents
10-15 %
< 0,1 %
Characterization
Xi
36/38, 52/53
Xi
36
3. Possible Hazards
Hazard description: Xi irritant
Information concerning to particular hazards to man and environment: Irritant to eyes and skin. Keep out of the
reach of children. After eye contact rinse eyes thoroughly with water und consult doctor. After skin contact wash
immediately with water and soap.
Classification system: The classification is according to the latest editions of the EU-lists, and extended by
literature data.
4. First aid measures
Classification relevant: Sulfamidacid
Exploitation
Inhalation: Burning Felling, Cough, Short breath ness.
Local ventilation or respiratory protection. Fresh air, rest, place patient stably. If necessary artificial respiratory.
Consult doctor.
Skin: Redness, pain, blister
Protecting gloves, protecting clothes.
Remove soiled clothes. Rinse or shower skin with plenty of water. Consult doctor.
Eyes: Redness, pain, burning.
Face protection or eye protection combined with reparatory protection.
Rinse eyes for several minutes with plenty of water (prior to remove contact lenses). Consult doctor.
Swallowing: Stomach cramp, burning felling. Throat pain, throw up, shock.
Do not eat, drink or smoke during work.
Rinse mouth. No throw up loosen. Consult doctor.
No special data's about medical characteristic in the literature.
Heidt&Schwarzfeld GmbH
PHS
Material Safety Data Sheet
Art. No. 10609+10631
Page 2/5
Reviewed 05/2003
5. Fire fighting measures
Suitable extinguishing agents: Sand, extinguishing powder, CO², use only extinguisher with gas nozzle.
No suitable extinguishing agents: water
Special hazards about the product and its burning products: In case of fire – corrosive sulfurdioxid.
Special protecting equipment for fire fighting: Surrounding-air-independent respiratory protection equipment.
Wear a tightly sealed suit.
Other details: Use acid resistant equipment. Do not allow product or extinguish- water to reach sewage system.
Due to PH-Value postponement toxic effect to water organism.
6. Accidental release measures
Person-related safety precautions: Remove flammable spring. Ensure proper air conditioning.
Measures for environmental protection: Prevent seepage into sewage system and ground water.
Measures for cleaning: Absorb with liquid-binding material (sand, sawdust, silica, universal binders).
In no case use:
n.s.
Additional information: It will be emphasized to point 8 (Explosive demarcation and protection equipment)
and point 13 (Indication for deposit).
7. Handling and storage
Information for a safety handling: Pay attention to the usual hygienic rules while handling chemicals. Keep out
of the reach of children. Keep receptacle dry and tightly sealed.
Avoid pouring or spraying inside. Proper ventilation is required.
In formations to protect burning and explosion:
Requirements to be met by storerooms and receptacles: Do not use food receptacles – hazard of mistake.
Receptacles must be clearly labelled. Store only in original receptacles. Use unbreakable receptacles instead of
glass receptacles. Keep receptacles tightly sealed and on a proper ventilated place.
Information about storage in one common storage facility: void
Additional information about storage:
none
Storage class: void
8. Exposure controls and personal protection gear
Additional information about design of technical facilities:
Ingredients with limit values that require monitoring at the workplace:
5329-14-6
Sulfamidacid
not available
112-34-5
Diethylenglykolmonobutylether 100 mg/m³ Topdemercation: Overlaplimit=1= The
concentration should never be higher than the limiting value.
No risk to damage foetus if keeping of the MAK- and the BAT-Value.
Workplace outfit/Ventilation: Ensure proper ventilation of workplace. Due to steam/gas are heavier than air,
take care for a proper ventilation in the floor area too. Equipment to announce gas hazard is required. These must
work automatically, if tightness of the plat or regular checks are not ensured. Doors in gastight partitions must
close automatically. Shat or ducts must be protected against soak of gas.
Equipment: Use only closed equipment. Equipment parts with gas should be warmed up only to the permitted
pressure limit. During warm up watch pressure and temperature. Absorb running out pf the substance if the
receptacle is damaged. Lead waste air outside. Pay attention to the emission limit. Do not open equipment and
burner while they are hot. Container and ducts must be marked clearly. Ducts must be lockable from a safety
place.
Note the expositions limits.
Exposition limit and personally protective equipment
Respiratory protection
Not necessary if handled according to order.
In accidental situations (passing of the emission limit est.) – respiratory protection is required.
Use isolation equipment (not filter equipment).
Hand protection
Not necessary if handled according to order.
Heidt&Schwarzfeld GmbH
PHS
Material Safety Data Sheet
Art. No. 10609+10631
Page 3/5
Reviewed 05/2003
Material of gloves
To protect frost-bit due to fast unbend gas leather gloves are permitted, but not necessary if handled according to
order.
Eye protection
Sufficient eye protection should be worn.
Body protection
Flam hamper, antistatic protection clothing should be worn, but not necessary if handled according to order.
Bounds and supervision of environmental: According to official rules.
9. Physical and chemical properties:
Universal measures
Form
Colour
Fluid, gaseous
Odour
clear
characteristic
Important to protect health- and environmental /safety
Boilingpoint/boilingrange:
n.v.
Melting point
n.v.
Flash point:
n.v.
Danger of explosion:
n.v.
Explosion limits:
- Lower
n.v.
- Upper:
n.v.
self-inflammable
n.v.
Steam pressure:
n.v.
Density
1,072 (20 degree C)
Solubility
- with water
miscible
grease soluble
n.v.
viscosity (mm²/s 20 C)
n.v.
PH
1
Transitive speed
n.v.
10. Stability and reactivity
Decomposition substances
In addition with nitrosierenden Agentien - can arise carcinogenic nitrosamine. Sulphur trioxide (with nitre acid
and metal bit rat), nitrogen oxide (nitre acid and metal nitrate), explosive nitrogen chloride ( with chlorine).
Dangerous chemical reactions: Strong exothermic reaction, heat in addition with leach, metal nitrate.
Hazard of explosion: In addition with chlorine.
Strong exothermic reaction, heat, arising of dangerous gas or steam in addition with: metal nitrate -<nitrogen
chloride, nitre acid -<nitrogen dioxide
11. Toxicological information
Relevant for classification: Sulfamid acid
No data´s in literature about toxic characteristic.
12. Ecological information
Universal information
Class of water hazard: 1
Do not allow undiluted product or large quantities of it to reach ground water, water course or sewage system.
Heidt&Schwarzfeld GmbH
PHS
Material Safety Data Sheet
Art. No. 10609+10631
Page 4/5
R eviewed 05/2003
Ökotoxicity
Not known
Mobility
Not known
Decomposition
Not known
Bioakkumalationspotential
Not known
Other hazardous effects
Not known
13. Disposal considerations:
Product recommendation: Only permitted if utilization not possible. Disposal must be made according to EU
waste catalogue 060199. Keep receptacles in a proper ventilated room.
Packaging: Use up completely, use water to thinning the concentrate. Packaging. Disposal/recycling must be
made according to official regulations.
14.Transport Information: ADR
Class: -Packaging group: -Technical term:
Kemler-No.
--
UN-No.
--
Hazardslip. -
From site of decree no dangerous good
15. Regulations
-Labelling according to EU guidelines: The product hasn't been classified and marked according to the rules of
the Commission. (88/379/EWG).
- National regulations:
GefStoffV (October 1993)
-Risk symbols: Xi irritant
EG-No. 67/548/EWG, 1999/45/EG, ggf. 76/769/EWG
-Risk phrases: R 36/38 Irritant to eyes and skin
Safety phrases: S 2 Keep out of the reach of children
S 24 Avoid contact with skin
S 24/25 Avoid contact with eyes and skin
-Classification according to VbF:
n.u.
-Water hazard class: WGK 1 (Self-assessment) slightly hazardous for water
16. Other information:
Relevant regulations: ZH 1/701
ZH 1/703
ZH 1/706
(rules for the usage of respiratory protection)
(rules for the usage of eye- and face protection)
(rules for the usage of protection cloves)
-Organisational Protecting information (vgl. TRGS 555)
Instruction/training about the use of chemicals when starting work, and thereafter once per year. This
instructions must be documented. Young people may only work according the "Jugendschutzgesetz"
TGS 200
Classification and labeling of products and contents.
Publication March 2002, BarbBI. 3/2002 S. 53-64
TRGS 201
Classification of waste and handling
Publication July 2002, BarbBI. 7-8/2002 S. 140-142
TRGS 400
Determine and classification of hazards about hazardous material at the workplace
Publication March 1998, BarbBI. 3/1998 S 53-56, in addition with chancges BarbBI. 3/1999 S. 62
Heidt&Schwarzfeld GmbH
PHS
Material Safety Data Sheet
Art. No. 10609+10631
Page 5/5
Reviewed 05/2003
TRGS 500
Protective measures, minimum standards
Publication March 1998, BarbBI. 3/1998 S. 57-59
TRGS 440
Determine and classification of hazards about hazardous products at the workplache: Determine of substitute products.
Publication March 2001, BarbBL. 3/2001 S. 105-112, last time changning BarbBL. 3/2002 S. 68-70
TRGS 555
Work instruction and instruction according § 20 GefStoffV
Publication December 1977, BarbBI. 12/1997 S. 49-58
This declaration is according our present knowledge. However, they shall not constitute a quarantee for any
specific product features and shall not establish a legally valid contractual relationship.
Based on the present knowledge and should describe our product on safety requirements. Note official guidelines
by yourself. No guarantee for mistakes in printing, copies ect.