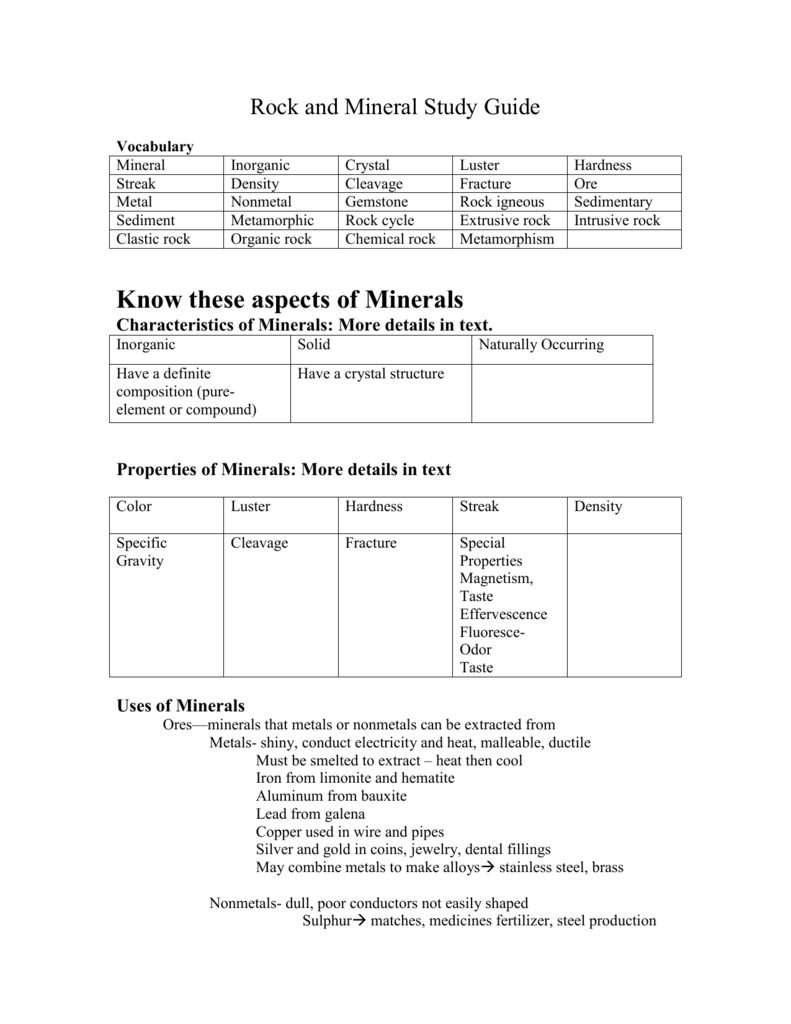 Rock and Mineral Study Guide
Vocabulary
Mineral
Streak
Metal
Sediment
Clastic rock
Inorganic
Density
Nonmetal
Metamorphic
Organic rock
Crystal
Cleavage
Gemstone
Rock cycle
Chemical rock
Luster
Fracture
Rock igneous
Extrusive rock
Metamorphism
Hardness
Ore
Sedimentary
Intrusive rock
Know these aspects of Minerals
Characteristics of Minerals: More details in text.
Inorganic
Solid
Naturally Occurring
Have a definite
composition (pureelement or compound)
Have a crystal structure
Properties of Minerals: More details in text
Color
Luster
Hardness
Streak
Specific
Gravity
Cleavage
Fracture
Special
Properties
Magnetism,
Taste
Effervescence
FluoresceOdor
Taste
Density
Uses of Minerals
Ores—minerals that metals or nonmetals can be extracted from
Metals- shiny, conduct electricity and heat, malleable, ductile
Must be smelted to extract – heat then cool
Iron from limonite and hematite
Aluminum from bauxite
Lead from galena
Copper used in wire and pipes
Silver and gold in coins, jewelry, dental fillings
May combine metals to make alloys stainless steel, brass
Nonmetals- dull, poor conductors not easily shaped
Sulphur matches, medicines fertilizer, steel production
Fluorite fluorine in toothpastes
Corundum Emery boards
Halite table salt
Gypsum drywall
Gemstones- durable, hard, beautiful minerals that can be
cut and polished
Precious Gems most rare and valuable include ruby,
emerald, diamond, sapphires
Semi-precious tourmaline, amethyst, zircon, garnet
turquoise,
Pearls are gems but not minerals oysters
Amber is a gem but not a mineral tree sap
Know these aspects of Rocks
Rocks are made from one or more minerals
Igneous Rock
Classified by texture and composition
May be fine-grained or coarse grained
May look glassy if cool quickly
May see crystals if cool slowly
Intrusive- form inside the Earth
Extrusive- form at the Earth's surface
Look at Igneous worksheet for additional details.
Sedimentary Rock
Made from sediments
Clastic cemented together by pressure or water
Organic made from once living organisms
Chemical made from evaporation
Look at Sedimentary worksheet for additional details.
Metamorphic
Made from pressure and heat changing igneous or sedimentary rock
Foliated- layers
Unfoliated- no layers
Shale slate
Granite Gneis
Chalk marble
Please check metamorphic worksheets for additional details.