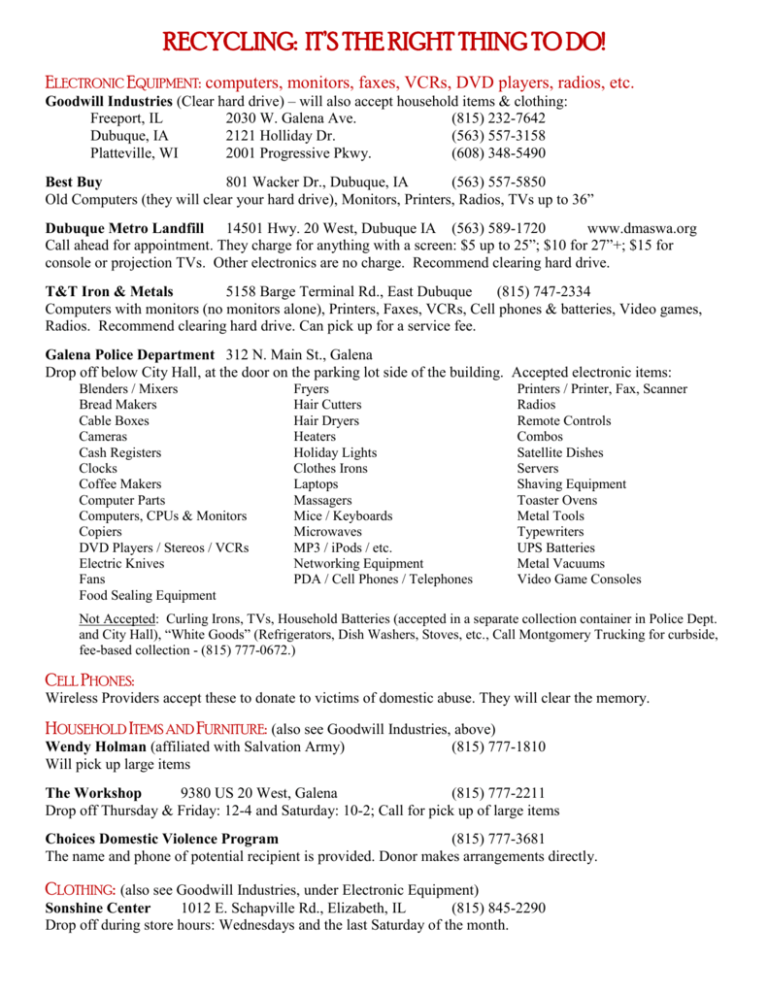 RECYCLING: IT'S THE RIGHT THING TO DO!
ELECTRONIC EQUIPMENT: computers, monitors, faxes, VCRs, DVD players, radios, etc.
Goodwill Industries (Clear hard drive) – will also accept household items & clothing:
Freeport, IL
2030 W. Galena Ave.
(815) 232-7642
Dubuque, IA
2121 Holliday Dr.
(563) 557-3158
Platteville, WI
2001 Progressive Pkwy.
(608) 348-5490
Best Buy
801 Wacker Dr., Dubuque, IA
(563) 557-5850
Old Computers (they will clear your hard drive), Monitors, Printers, Radios, TVs up to 36"
Dubuque Metro Landfill 14501 Hwy. 20 West, Dubuque IA (563) 589-1720
www.dmaswa.org
Call ahead for appointment. They charge for anything with a screen: $5 up to 25"; $10 for 27"+; $15 for
console or projection TVs. Other electronics are no charge. Recommend clearing hard drive.
T&T Iron & Metals
5158 Barge Terminal Rd., East Dubuque
(815) 747-2334
Computers with monitors (no monitors alone), Printers, Faxes, VCRs, Cell phones & batteries, Video games,
Radios. Recommend clearing hard drive. Can pick up for a service fee.
Galena Police Department 312 N. Main St., Galena
Drop off below City Hall, at the door on the parking lot side of the building. Accepted electronic items:
Blenders / Mixers
Bread Makers
Cable Boxes
Cameras
Cash Registers
Clocks
Coffee Makers
Computer Parts
Computers, CPUs & Monitors
Copiers
DVD Players / Stereos / VCRs
Electric Knives
Fans
Food Sealing Equipment
Fryers
Hair Cutters
Hair Dryers
Heaters
Holiday Lights
Clothes Irons
Laptops
Massagers
Mice / Keyboards
Microwaves
MP3 / iPods / etc.
Networking Equipment
PDA / Cell Phones / Telephones
Printers / Printer, Fax, Scanner
Radios
Remote Controls
Combos
Satellite Dishes
Servers
Shaving Equipment
Toaster Ovens
Metal Tools
Typewriters
UPS Batteries
Metal Vacuums
Video Game Consoles
Not Accepted: Curling Irons, TVs, Household Batteries (accepted in a separate collection container in Police Dept.
and City Hall), "White Goods" (Refrigerators, Dish Washers, Stoves, etc., Call Montgomery Trucking for curbside,
fee-based collection - (815) 777-0672.)
CELL PHONES:
Wireless Providers accept these to donate to victims of domestic abuse. They will clear the memory.
HOUSEHOLD ITEMS AND FURNITURE: (also see Goodwill Industries, above)
Wendy Holman (affiliated with Salvation Army)
Will pick up large items
(815) 777-1810
The Workshop
9380 US 20 West, Galena
(815) 777-2211
Drop off Thursday & Friday: 12-4 and Saturday: 10-2; Call for pick up of large items
Choices Domestic Violence Program
(815) 777-3681
The name and phone of potential recipient is provided. Donor makes arrangements directly.
CLOTHING: (also see Goodwill Industries, under Electronic Equipment)
Sonshine Center
1012 E. Schapville Rd., Elizabeth, IL
(815) 845-2290
Drop off during store hours: Wednesdays and the last Saturday of the month.
MEDICATIONS:
Galena Police Department 312 N. Main St., Galena
Monday-Friday, 8.00 a.m.- 4.30 p.m. Med Return Drug Collection Unit, front lobby of the Police Department.
The unit accepts: prescriptions, prescription patches, medications and ointments, over-the-counter medications,
vitamins, sample medications, and pet medications. Remove all personal information from prescriptions.
The unit does not accept: hydrogen peroxide, thermometers, inhalers, aerosol cans, over-the-counter ointments,
lotions and liquids, and medications for businesses or clinics.
WASTE DISPOSAL & RECYCLING INFORMATION
2013 GTA EVENTS
Saturday, May 4:
Saturday, October 12:
Vulture Day (Roadside Clean-up)
Vulture Day & Household Hazardous Waste
GTA'S HOUSEHOLD HAZARDOUS WASTE (HHW) COLLECTION
Saturday, October 12, 9:00 a.m. to 12:00 p.m. in the Marina parking lot, off Territory Drive. The collection is
open to all Jo Daviess County residents for household waste only, not business or farm-scale items. For more
information, contact Emily Lubcke at elubcke@thegalenaterritory.com or (815) 777-2000.
HHW consists of products used around the home that contain ingredients which may harm people and the
environment when stored or disposed of improperly and are usually labeled "caution" or "warning." Typical
products accepted include, but are not limited to:
Cleaners: floor and furniture polish, oven cleaner, drain opener, disinfectants, rug cleaners.
Home Improvement: oil-based paint, stain, thinner, stripper, varnish, caulk, adhesives.
Pesticides / Herbicides: garden chemicals, insect repellant, mouse / rat poison, pet spray, mothballs.
Automotive: gasoline, wiper fluid, car wax, cleaners, solvents, brake fluid, body putty.
Other: pool chemicals, photo processing chemicals, artist paints, and household batteries.
NOT accepted: latex paint, lead-acid batteries, antifreeze.
PERMANENT HHW COLLECTION SITE
3333 Kishwaukee St., Rockford
(815)-987-5570
Saturday 8:00 a.m.- 4:00 p.m. & Sunday 12:00 p.m.- 4:00 p.m., except major holiday weekends. At the
intersection of Kishwaukee & Sandy Hollow Road. It is currently run by Clean Harbors through the Rock
River Reclamation District. They may be able to accept larger volumes from businesses or farms.
CFLs (compact fluorescent light bulbs): Jo Carroll Energy will no longer be collecting CFLs in the 5-gallon
buckets previously located in the Owners' Club lobby. You may use the following outlets at no charge:
Lowe's
4100 Dodge Street, Dubuque, IA
Menards
Progressive Parkway, Platteville, WI
2755 Illinois 26, Freeport, IL
TrueValue
116 North Main St., Stockton, IL
RECYCLING CENTERS
Montgomery Trucking
Freeport Recycling Center
Groeling Salvage Inc.
929 Fulton, Galena
657 N. Van Buren Avenue, Freeport
217 E. Douglas, Freeport
(815) 777-0672
(815) 232-2906
(815) 232-2525
ORGANIC WASTE, DEVLOR RENEWAL: Contact Angela Devere
(815) 281-1392.
Located at the old Savanna Army Depot, Building 1100 off McIntyre Road, Devlor Renewal covers Jo Daviess
and Carroll Counties. They accept cardboard rolls, coffee grounds and filters, eggshells, fireplace ashes, grass
clippings and sawdust. They do not take black walnut tree leaves or twigs, dairy products or pet waste.
Disclaimer: While every effort has been made to ensure the information contained herein is accurate, portions may be incorrect or not
current. Any person or entity that relies on any information contained herein does so at his or her own risk.